AgTech cashing in on global demand with sustainable food alternatives
By Jenny Cornuelle Krusoe
The world population is expected to add 2 billion more people by 2050, further pinching already scarce resources such as fresh water and arable land. One major opportunity to ensure the world is fed will come from our vast and largely unexplored oceans, where AltaSea and others are working to develop sustainable aquaculture options.
For instance, AltaSea partner Catalina Sea Ranch is anticipating its first harvest of Mediterranean mussels and other shellfish this winter. Global mussel production amounts to about 2 million metric tons, worth more than $1 billion, and is growing fast, especially in the United States.
The Mediterranean mussel has been introduced to coastal marine environments throughout the world and is not considered invasive. Compared to the Blue Mussel, the Mediterranean is larger, faster growing, provides significantly more meat content and is more tolerant of higher heat and salinity.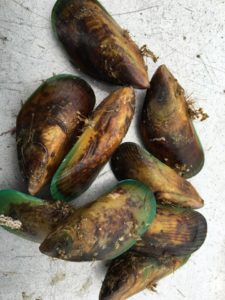 As well, local aquaculture such as Catalina's promises to reduce the carbon costs of growing mussels for the Southern California market. Some 33.7 million pounds of mussels were imported into the United States in 2012, according to the National Marine Fisheries Service. Most were harvested off Canada's Prince Edward Island, a continent away from Los Angeles, so local cultivation can help the planet in more than one way.
Catalina Sea Ranch is also developing spawning and grow-out technologies for the native Purple Hinge Rock Scallop. This species of scallop blankets nearby oil platforms and presents a prime market opportunity for the "first to cultivate" this high-value shellfish prized by local chefs.
In short, Catalina Sea Ranch's seafood initiatives are an excellent and sustainable addition to America's dining options, particularly as climate changes affect many traditional seafood populations. And Catalina's work isn't the only sustainable ocean-based food source worth further strong support.
For instance, Dutch entrepreneur Willem Sodderland suggests replacing wheat with seaweed in pastas. He is raising €2.5 million to expand his company Seamore.
"Seaweed is incredibly healthy, nutritious and the most sustainable food on the planet," Sodderland told the Financial Times recently. "You don't need land to grow it, just sunlight and seawater."
Seamore's "I Sea Pasta" product uses the himanthalia elongata species, which is harvested off Ireland's Atlantic coast and is sold in health-food shops and supermarkets in Europe and Australia. It can be prepared in a similar way to pasta or soaked and used in salads.
Seamore is one of a dozen"agtech" start-ups that made funding pitches at the recent Rabobank Farm to Fork summit in Sydney, Australia. Among the other ideas seeking financial backing: sustainable animal feed from fly larvae feasting on food waste; online platforms to source skilled farm labor; and drones to harvest grapes.
The sector is responding to a huge challenge facing the world. The UN Food and Agriculture Organization predicts food supplies will need to increase 60 per cent by 2050 to meet global demand. Asia's rapidly expanding middle class already is demanding more resource-intensive protein-rich foods, even as climate change threatens crop yields.
"Over the past five years, a lot of things have come together to make agricultural technologies more interesting for investors," said Manuel González, Rabobank North America's head of start-up innovation. "Consumers want more sustainable food that is good for them and we have more people to feed at a time when climate change is happening. This makes food technologies more important."
Companies developing solutions that replace traditional protein sources such as meat and eggs attracted $88 million in investment in the first six months of 2016, according to AgFunder.
Sodderland said many of the solutions to global food security are already known but need better marketing to shift consumer preferences. Seamore's next product will be "I Sea Bacon," which is based on palmaria palmata seaweed, or dulse.
"Seaweed is already a big industry in Asia and people have known for a long time that it is a fantastic food source," Sodderland said. "In Ireland, they eat dulse, which tastes like beef jerky when dried. It's my ambition to serve up 1 billion portions of seaweed to consumers by 2030."
That combination of ambition, innovation and funding support will be needed many times over as the world seeks to feed its billions of people in a sustainable way. s
Jenny Cornuelle Krusoe is the executive director of AltaSea at the Port of Los Angeles. Krusoe, a California native based in San Pedro, has a national reputation as a nonprofit executive and senior advisor on organizational and program design and fund development. Krusoe has been a member of the leadership team since the innovative ocean sustainability and marine science campus was first conceived.
https://altaseamedia.s3.us-west-1.amazonaws.com/wp-content/uploads/2017/01/31135339/mussel-closeup.jpg
747
1600
Natasha Berendzen
https://altasea.org/wp-content/uploads/2020/12/AltaSea_Logo.png
Natasha Berendzen
2017-01-16 07:00:13
2017-01-13 14:27:48
Can Sustainable Ocean Technologies Help Feed The World?