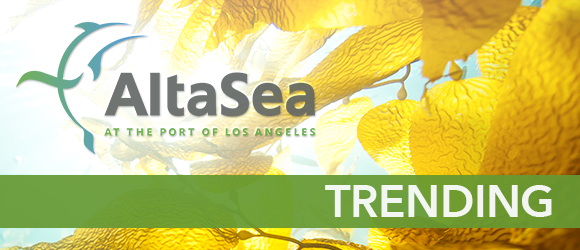 Marine Science
See Plans for the 62-Mile Wall That Would Capture Trash in the Pacific (Huffington Post)
The amount of garbage in the ocean is a growing problem. Last issue we shared a visual representation NASA created about how these garbage patches form. This time we are sharing how The Ocean Cleanup plans to use natural currents to group the trash and then place a 62-mile long wall in the Pacific Ocean that would essentially pile up the garbage. Once condensed, vessels could easily go and pick up the trash.
How Many Fish in the Sea? Genetic Testing Could Answer That (NPR)
Genetic testing isn't just for embryos and crime labs anymore. In Monterey Bay, DNA sequencing from samples of water provide data that reveals what marine life has been swimming there. The technique, already being called transformative, could improve and increase marine monitoring because it is drastically less expensive than doing in-person field surveys. The science isn't perfect though; recent findings found evidence of turkey in the ocean… turns out it was in the fish feed.
99 Percent of Seabird Species Could Be Tainted With Plastic by 2050, Science Says (Audubon)
This photo of a baby bird, its insides filled with pieces of plastic, is a stark visual representation of the impact the immense amount of garbage in our oceans is having on animal life. A recent study found that 59% of seabird species have plastic debris in their organs, and that number is expected to climb to 99% by 2050. It goes beyond just birds, with fish constantly feeding on garbage and the chemicals associated with it, too. It's hard to predict the full extent of the impact of ocean pollution, but it's clear action must be taken to turn the tide on this issue.
Crown Jewel of Cuba's Coral Reefs (NY Times)
Cuba's Jardin de la Reina, a protected marine reserve, is considered one of the world's healthiest reefs. The embargo with the United States has been a double-edged sword, with protection from the damage done by tourism comes the difficulty of getting materials and scientific partnerships. This in-depth article highlights the work being done by local scientists and growing concerns over the impact of an expected wave of tourism coming as the relationship between the U.S. and Cuba evolves.
Sustainable and Innovative Business
What if Your Sneakers and Yoga Mats were Made from Algae instead of Plastic? (Fast Company)
"There's way more algae than we can shake a stick at," said Rob Falken, managing director of Bloom, a new company that hopes their algae-based foam can replace plastic-based foams for common products like yoga mats and sneakers. This unique company is a joint venture between an algae biomass harvesting company and a product and material design and development firm. It seems algae is truly a green solution: in addition to lowering the carbon footprint caused by petroleum use for plastics, the company harvests algae found in waste streams, helping water authorities deal with increasing algae blooms that usually hurt fish and other wildlife.
Consortium Plans 'Marine Cluster' Similar to Iceland's on Portland Waterfront (Portland Press Herald)
A new coalition in Portland, Maine is preparing to bid on a seven million dollar bond earmarked for creating marine-related jobs. The University of New England, Southern Maine Community College and a local startup have come together to create an incubator to work with Maine companies, marine scientists, college students and laboratories to develop new marine-related products and businesses. The project is modeled after a similar coalition in Reykjavik, Iceland and also aligns with AltaSea's own approach to bringing together innovative business, science and education.
Education
Science Confidence Grows but STEMs Gains Needed (Pittsburgh Post-Gazette)
What should come as no surprise to anyone in the field of STEM, a new poll finds that though teachers are more confident in teaching science than they were 20 years ago, they think more needs to be done to prepare children for a career in STEM. The study was conducted by Bayer, a pharmaceutical company, as part of their corporate social responsibility efforts.
Community
Thousands Expected at Coastal Cleanup Day (NBC)
The biggest single-day volunteer event on the planet is coming this weekend to LA. Joining more than 600,000 international participants, on Saturday, September 19 an expected 10,000 people will come together from Compton to Malibu with one goal: to clean up the trash along LA County beaches and inland waterways. In doing so they will also receive hands-on education on how to keep the watersheds clean. The LA effort is being led by Heal the Bay.
Should Hotels, Resorts, Homes come to San Pedro, Wilmington Waterfront? (Daily Breeze)
The answer for many in San Pedro is a resounding "yes!" A study commissioned by L.A.'s Harbor Department and the city's Economic Workforce and Development Department will explore the possibility of building hotels, resorts, single-family residences, town houses and condominiums at many publicly owned properties along the San Pedro/Wilmington waterfront, including near the future site of AltaSea. The idea came out of a brainstorming session held by Los Angeles Councilman Joe Buscaino back in March. The councilman's office hopes to provide a playbook for developers by early 2016.
PortTech Pitch Finals & Awards Celebration (Port Tech)
Want to know what's next in clean tech? PortTech, a center for creating sustainable businesses for ports, will host the finals of its PortTech Pitch program. The event will be immediately followed by an announcement of the winner and an awards celebration on September 29. PortTech is one of AltaSea's valued partners.
www.altasea.org
Subscribe to AltaSea: Trending
Privacy Policy | Unsubscribe
AltaSea at the Port of Los Angeles
222 West 6th Street, Suite 1010, San Pedro, CA 90731
https://altaseamedia.s3.us-west-1.amazonaws.com/wp-content/uploads/2018/04/31134647/AltaSea_Logo.png
0
0
Jenn de la Fuente
https://altaseamedia.s3.us-west-1.amazonaws.com/wp-content/uploads/2018/04/31134647/AltaSea_Logo.png
Jenn de la Fuente
2015-09-16 15:00:29
2019-04-15 13:21:22
AltaSea: Trending – September 16, 2015