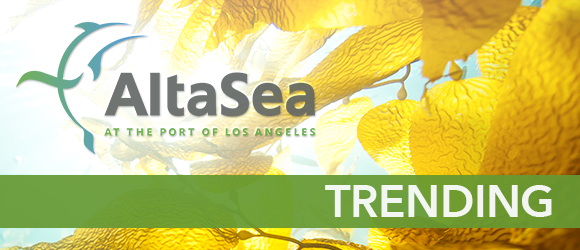 Marine Science
Obama Focuses on Native Issues, Climate Change As He Starts Alaska Visit (NPR)
"There is such a thing as being too late, and that moment is almost upon us." Strong words from President Obama on Monday regarding climate change and its impact on the ocean as he visits Alaska. The President is calling on the world's nations to reduce carbon emissions, and recognizes the United States' role and responsibility in solving the issue.
This Video Shows How Garbage Patches Form in the Ocean (Wired)
The talented team at NASA's visualization studio created this eye-opening animation that layers ocean currents data from NOAA with released particles. The result? A clear and clever look at how patches of garbage form in the ocean. Trust us, it's worth watching.
Newly Discovered Reef is Said to Rival Great Barrier Reef (Mashable)
Pack up your scuba gear and head to Australia, where you'll find not only the Great Barrier Reef but a new site filled with "colorful sponge gardens beyond scientists expectations." Recent footage of Wilson's Promontory, taken from a remotely operated vehicle with cameras, provides a first look at the rich and abundant marine ecosystem there. The scientific community will be watching to see what other discoveries come from this reef.
Climate Change Has Massive Impact on Global Distribution of Marine Biodiversity (Science World Report)
What insights emerge when you combine models about the movement of ocean temperature bands with information about organisms' thermal tolerance and habitat preference? Sadly, a new study using this fascinating combination of data has yielded some concerning results, particularly for tropical areas, where high levels of biodiversity loss were predicted. The question now is, can this loss be prevented?
Sustainable and Innovative Business
Twenty Teams Advancing to Next Phase of The Wave Energy Prize (Renewable Energy Focus)
Wave Energy Conversion (WEC) is a promising new source of energy, but it has been challenging to capture. In response, the U.S. Department of Energy created the Wave Energy Prize, a design-build-test competition that seeks devices that can double the energy captured, thus reducing the cost of wave energy and making it more competitive with traditional energy sources. Out of 92 groups that entered, only 20 have advanced to the next round. Finalists are expected to be announced in March 2016.
Education
Whales, Seals and Sharks: PBS Taking Live Look at California Marine Life (US News and World Report)
Thar she blows! PBS is bringing whales and other sea life into living rooms across America, and tonight is the last chance to catch this three-night series. "Big Blue Live" focuses on marine life in California's Monterey Bay, an area with unique geography and a recent turnaround from severe pollution. Experts are hopeful that increasing the visibility of these animals will lead to people making a deeper connection and caring more about their protection.
Community
Scientists Blame El Niño For Increased Shark Sightings In California (Weather.com)
Part three in our continuing El Niño coverage. It's been a banner year for shark sightings in California and now we may know why. Normally sharks begin migrating toward the warm waters of Mexico, but the warm currents caused by El Niño are pushing bait further north, and the sharks are following their food.
Companies Seek New Methods to Reduce Emissions at Local Ports (The Daily Breeze)
Aaaahh. Residents of port communities in Southern California may soon be able to breathe cleaner air. California regulators have approved a new, lower cost method for ships to reduce their emissions using a giant air filter called METS. Though the shorepower approach (also known as cold ironing or plugging in when docked) is preferred, it's more costly and many ships still do not have the capability. The outcome of this new approval is still unclear though, as legal battles between two companies persist.
Los Angeles Looks to Stormwater to Secure Water Sustainability (Circle of Blue)
Pressure is mounting to find more ways to address California's drought, and Los Angeles may have found one solution in stormwater. The Los Angeles Department of Water and Power presented its Stormwater Capture Master Plan to the Board of Commissioners in August. If enacted, the plan should result in more water and reduce local ocean pollution by catching urban runoff, and its associated pollutants, before it reaches the ocean.
www.altasea.org
Subscribe to AltaSea: Trending
Privacy Policy | Unsubscribe
AltaSea at the Port of Los Angeles
222 West 6th Street, Suite 1010, San Pedro, CA 90731
https://altasea.org/wp-content/uploads/2020/12/AltaSea_Logo.png
0
0
Jenn de la Fuente
https://altasea.org/wp-content/uploads/2020/12/AltaSea_Logo.png
Jenn de la Fuente
2015-09-02 14:59:12
2019-04-15 13:21:51
AltaSea: Trending – September 2, 2015