By David Bloom
Ann Carpenter of Braid Theory is a frequent presence at AltaSea. Now she's organized a one-day conference, IGNITE22, to bring together entrepreneurs, investors and researchers, partly in the hope that they'll want to be a part of AltaSea.
Carpenter and her Braid Theory partners believe enough in the AltaSea vision to partner with the organization. When the La Kretz Blue Economy Incubator opens, Braid Theory will provide its participants with crucial market connections and advice.
In the meantime, Carpenter is a lead organizer of IGNITE22, to be held from 9:00 am to 4:30 pm Thursday, April 12th, at Brouwerij West at CRAFTED at the Port of Los Angeles Complex, just around the corner from AltaSea at 110 E. 22nd Street in San Pedro.
"IGNITE22 is an interactive technology showcase where the entrepreneurs are front and center," Carpenter said. "The whole reason for the event is to get all the players together, entrepreneurs and investors, university researchers who are developing new technology, and the industry partners who may be early adopters and sponsors of pilot projects."
Like the Rising Tide Summit recently co-sponsored by AltaSea and the XPrize Ocean Initiative, IGNITE22 is designed to convene smart people to figure out solutions to some of the many challenges facing our oceans.
Unlike Rising Tide, Carpenter said, IGNITE22 has a broader focus beyond purely ocean-focused technologies. The idea is to cross-pollinate ideas between thinkers, researchers and investors in areas such as "biotech, transportation, clean energy and bluetech."
IGNITE22 speakers will range into areas such as, "Internet of Things, applications and technology that enables machines to work as a team, and converting kelp into biofuel," Carpenter said. "It also allows entrepreneurs or researchers who have developed a solution an opportunity to see the range of industries that would be interested in their technology."
Science has a long history of, accidentally or purposely, encouraging serendipity and cross-pollination. For decades, MIT famously tucked a ragtag collection of researchers from wildly different disciplines into the same battered WWII-era building. Then someone noticed how that building was home to some of the most creative cross-disciplinary thinking on campus, and it became "A Thing".
A one-day conference on the other end of the continent is less likely to have the same outsized impact. But Carpenter is confident in IGNITE22's innovation-building potential, especially when tied to AltaSea's own mix of ocean-focused research, STEM education and sustainable business incubation.
Other likely attendees include companies seeking new investment opportunities and joint pilot projects. Expect TEDTalk-like short presentations, "lightning talks" from California State University partners, and interactive demonstrations.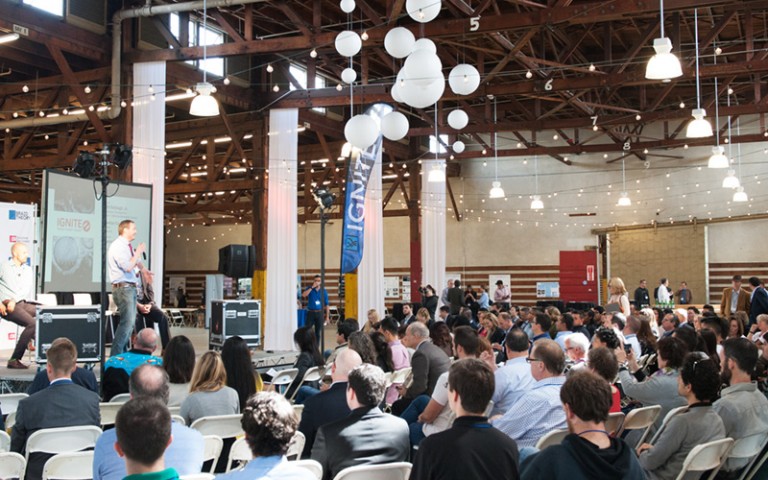 "In last year's IGNITE22, those demonstrations paid off for the brewery hosting this year's event," Carpenter said. Representatives from Brouwerij West were inspired by a presentation from researchers at a northern California university. Now they're interested in working with the scientists to incorporate their research into the brewery's beer.
And Carpenter said one big hope is researchers and entrepreneurs will see what's possible at AltaSea's stage one facilities in a 180,000-sq.-ft. warehouse that is home to the Blue Economy Incubator, STEM classrooms, the operational facilities for several tenants and more.
With any luck, IGNITE22 will set more minds on fire with ideas and possibilities.
For more information about the conference, go to www.ignite22.com. Individual tickets are $95.
https://altaseamedia.s3.us-west-1.amazonaws.com/wp-content/uploads/2018/04/31134626/ignite22-cover-splash.jpg
1500
2000
Natasha Berendzen
https://altasea.org/wp-content/uploads/2020/12/AltaSea_Logo.png
Natasha Berendzen
2018-04-11 10:50:27
2018-04-11 10:50:27
Lighting a Fire with Ann Carpenter and the IGNITE22 Conference