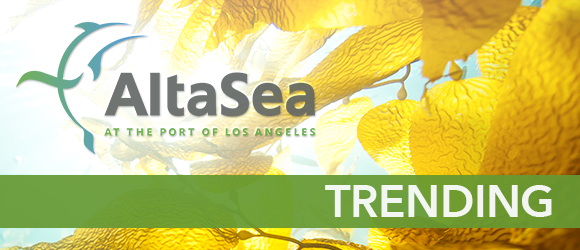 Marine Science
El Niño Vs. The Blob: Which Will Win Out This Winter? (KPCC)
Part two of our El Niño coverage! El Niño may have met its match in The Blob, a stretch of warm water stretching from the Gulf of Alaska all the way to Mexico. The Blob, and the high-pressure ridge of air that created it, are being blamed for locking California in drought. The two weather systems will go head to head this winter; it's not clear which will win out, but the article provides some possible scenarios.
Snot Bot Drone Aids in Whale Research (Huffington Post)
Proving drones can do more than just create cool videos, the new Snot Bot is collecting data from the mucus particles that come from a whale's blowhole. Scientists are excited because the aptly named drone will allow them to collect more information, less invasively, without the cost of a major expedition. It could revolutionize whale research. Among the information a whale's snot can provide: DNA, viruses, bacteria, stress hormones and pregnancy hormones.
Sustainable and Innovative Business
Can a Shower Head Be Efficient And Luxury At Once? (Fast Company)
Want to be water-wise but still enjoy a refreshing shower that doesn't leave you feeling soapy? If you have $400 to spend on a new shower head, you may want to head over to Kickstarter to take a look at this new design that creates a "cozy mist" and claims to use 70% less water than a traditional, low-flow shower head.
CPI to Produce Biomethane from Seaweed (The Chemical Engineer)
More uses for seaweed! The UK's Centre for Process Innovation is leading a new project to try to make biomethane from seaweed. Current biomethane production uses agricultural and food waste, which takes up precious agricultural land. Farmed seaweed could provide another option. The challenge will be finding a way to produce large amounts of seaweed without detrimental impacts to the marine environment.
Wendy Schmidt Ocean Health XPRIZE Awarded to Montana Team (Philanthropy News Digest)
Increased levels of CO2 are killing coral and other ocean life, but pH levels are challenging to monitor. Sunburst Sensors, a Montana based company, took home two prizes worth $1.5 million in this competition to find an accurate and affordable pH sensor. Team DuraFET, a company based in California, shared second place. The devices utilize new technology and will help scientists better monitor and respond to ocean acidification. Kudos also go to prize sponsor Wendy Schmidt and the Schmidt Family Foundation: the competition exemplifies a commitment to innovation, conservation and sustainability.
Education
Microsoft Co-founder Paul Allen Increases Support for University of Hawaii Coral Research (Pacific Business News)
The full effect of dying coral on marine ecosystems is still unknown. Paul Allen's Vulcan Inc. wants to support researchers in not just monitoring this issue, but doing something about it. They've donated $4 million to researchers at the University of Hawaii to create a stock of healthy coral strains that can withstand harsh climates.
Community
Feinstein, Boxer Want to Add 6 More Coastal Sites to California Coast National Monument (KPCC)
Development along the beautiful coastline of California is always looming, even for public lands managed by federal agencies. Senators Dianne Feinstein and Barbara Boxer want to add six sites to the California Coast National Monument to highlight the history of the sites, preserve them and protect wildlife.
"We Couldn't Save Cecil the Lion, But Can We Save the Planet?" (Los Angeles Times)
Peter Kareiva, former Chief Scientist at the Nature Conservancy, is the new director of the Institute of the Environment and Sustainability at UCLA. In this article he talks about why cities, especially Los Angeles, are key to solving environmental issues. (Kareiva is taking the position formerly occupied on an interim basis by Mark Gold, former executive director and president of Heal the Bay and a member of the Southern California Marine Institute Board of Directors. UCLA announced recently that Gold has been appointed associate vice chancellor for environment and sustainability.)
AltaSea Hosts E/V Nautilus at the Port of Los Angeles (AltaSea)
Ocean exploration and education come to life every day aboard the E/V Nautilus. AltaSea was thrilled to get a first-hand look as we welcomed Dr. Bob Ballard and this amazing vessel to the Port of Los Angeles recently. The Ocean Exploration Trust is just one example of the types of innovative organizations that AltaSea is bringing to the community to enrich our understanding of the ocean and help our children grow up with curiosity and compassion about this precious natural resource.
www.altasea.org
Subscribe to AltaSea: Trending
Privacy Policy | Unsubscribe
AltaSea at the Port of Los Angeles
222 West 6th Street, Suite 1010, San Pedro, CA 90731
https://altasea.org/wp-content/uploads/2020/12/AltaSea_Logo.png
0
0
Jenn de la Fuente
https://altasea.org/wp-content/uploads/2020/12/AltaSea_Logo.png
Jenn de la Fuente
2015-08-19 14:55:56
2019-04-15 13:22:21
AltaSea: Trending – August 19, 2015