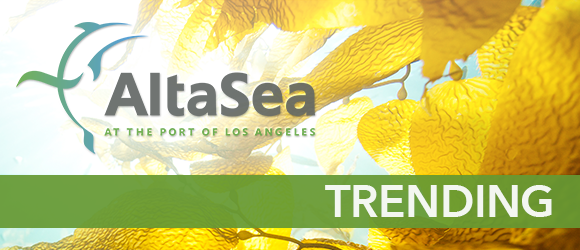 September 14, 2022 Edition
A monthly round-up of news and trends important to the AltaSea community.
UPCOMING ALTASEA EVENTS
Blue Hour 3: The Warehouse (AltaSea) 
This year, Blue Hour will take place on October 8th in one of our historic warehouses at Berth 60.   After two successful years offsite, we are excited to finally be hosting Blue Hour at the AltaSea campus!   With over a dozen artists and organizations participating, this year's event also exemplifies STEAM education for students of all ages, showcasing artists and art schools exploring some of the same issues as the scientists and college labs featured at AltaSea. Support AltaSea's Project Blue education programs to reach the next generation of ocean explorers and innovators by buying a ticket.
Grab a drink, absorb the wonderful art and atmosphere, and dance the night away.
ALTASEA COMMUNITY
California college launches aquaculture certificate programme (The Fish Site)
Santa Monica College in Southern California and AltaSea labs are partnering to create an innovative Aquaculture Certificate programme, allowing students to capitalize on opportunities in the blue economy.
The health of our planet and the future economy will both rely on the resiliency of our oceans. To meet this urgency, Santa Monica College (SMC) students will have the opportunity to explore aquaculture and work with some of the leading businesses and scientists in the field. These groundbreaking collaborations will shepherd in a new era of workforce development in the blue economy.
Air Products and Associated British Ports partner on UK green hydrogen facility (H2 View)
Air Products and Associated British Ports (ABP) announced today their intention to partner in bringing the first large scale, green hydrogen production facility to the UK.
The facility, at the Port of Immingham, would import green ammonia from production locations operated by Air Products and its partners globally. The facility will produce green hydrogen, which would decarbonise hard-to-abate sectors such as transport and industry.
Applications Open for 2023 Season (Ocean Exploration Trust)
Ocean Exploration Trust is now accepting applications for students and educators to participate in the 2023 Nautilus Exploration Program. Gain exposure and experience in the application of science, technology, engineering, and math in ocean exploration aboard Exploration Vessel (E/V) Nautilus. Paid science and engineering internships are available for community college, undergraduate, graduate students, and recent graduates in ocean science, ROV (remotely operated vehicle) engineering, or video engineering. Additionally, classroom and informal educators or anyone with a passion for science communication may apply to be a Science Communication Fellow.
Join our team on deep ocean exploration expeditions across the Central Pacific next season. We are committed to including, amplifying, and making space for more Black, Indigenous, Latinx, Asian, Pacific Islander, Native Hawaiian, LGBTQIA+, and historically marginalized voices in the deep sea and STEAM communities. Apply by December 31, 2022!
AltaSea CEO Arrives from LA for a Visit at Eco Wave Power's Wave Energy Power Station (Renewable Energy Magazine)
Eco Wave Power hosted Terry Tamminen, President and CEO of AltaSea at the Port Los Angeles, at the company's new EWP-EDF One wave energy power station at Jaffa Port, Israel, on Wednesday, Sept. 7. This visit comes just weeks before the expected arrival of Eco Wave Power's first U.S. power station, to be located at AltaSea.
The AltaSea pilot station will be the first U.S. location for Eco Wave Power's technology, which is already deployed in Israel. The Company plans further deployments in Spain, Portugal and other locations, completing the Company's 327.7 MW current project pipeline.
Eco Wave Power entered a collaboration agreement with AltaSea earlier this year and announced plans to install a first of its kind wave energy pilot in AltaSea's 35-acre campus located at the Port of Los Angeles, the nation's busiest seaport.
MARINE SCIENCE
Underwater robots are studying the 'Doomsday Glacier' in Antarctica. What can we learn? (USA Today)
Scientists in west Antarctica have captured a first-of-its-kind seafloor mapping near the world's widest glacier – which is shrinking at a pace that could one day raise global sea levels up to 10 feet, according to the University of South Florida.
U.S., U.K. and Swedish researchers deployed underwater robots close to the seafloor of the Thwaites Glacier to retrieve data, said Dr. Alastair Graham, a geological oceanography associate professor at the University of South Florida. Graham led the study released Monday.
Nearly all marine species threatened by climate change: Study (yahoo!news)
On the current trajectory of global greenhouse gas emissions, nearly all marine species will be at high or critical risk of extinction in less than 80 years, according to a study published Monday by Nature Climate Change.
The study, which was conducted by an international team of researchers, looked at the effects of rising air and water temperatures due to the burning of fossil fuels on the marine animals, plants, protozoans and bacteria found in the upper 100 meters of the world's oceans. In that depth, the study noted, "climate-driven temperature changes are the most severe."
If the world was to continue on its current rate of greenhouse gas emissions, "almost 90% of ~25,000 species are at high or critical risk of extinction," the study concluded.
In the ocean's twilight zone, this diver is discovering vibrant new species (CNN.com)
Hundreds of feet below the ocean's surface, somewhere between the dark ocean floor and the bright blue shallows, lies the twilight zone.
It's a world of the unknown, but in some tropical and subtropical waters coral reefs thrive. Very few scientists have ventured to these deep reefs, known technically as mesophotic coral ecosystems, meaning "middle light," and many assumed that the lack of light and chilly temperatures meant few species could exist there.
But one scientist has been diving into the inky depths to show there's much more to life there than was first thought.
Conservation success stories seen through a camera lens (The Washington Post)
Ralph Pace has taken stunning images of sea turtles, sharks, whales and other marine life. But the California-based photojournalist especially likes telling a "comeback kid" story.
"When I first got to San Diego, you could stay on the beach all day long [and] you wouldn't see a turtle," Pace said of the large Pacific green turtles, which are listed as "threatened" under the Endangered Species Act. "There was conservation on both sides of the border [with Mexico]. Now we're seeing the fruits of our labors."
Pace, who lives in Monterey, California, can watch some of these conservation stories unfold in the stretch of Pacific Ocean that's practically in his backyard.
Robots race against climate change on seafloor (sunlive)
New Zealand's Antarctic scientists are racing to document life on the seafloor in the Ross Sea before ecosystems change, possibly forever, as the world warms.
Underwater robots have been deployed to conduct 'speed sampling', covering distances and depths that divers can't.
The remotely-operated vehicles collect specimens and video footage from places unexplored.
"You wouldn't believe what's below the ice. The amazing colour, amazing diversity and amazing abundance of life. It's definitely way more diverse than around the New Zealand coastline," says NIWA marine ecologist Vonda Cummings.
SUSTAINABLE AND INNOVATIVE BUSINESS
U.S. Secretary of Commerce Gina Raimondo to Deliver Keynote Remarks at Discover Global Markets: The Blue Economy (USDOC – International Trade Commission)
September 20-22, Providence, RI
Secretary Raimondo will address attendees at the 21st edition of Discover Global Markets, the U.S. Department of Commerce's flagship business networking forum for U.S. exporters – where she will provide the latest information on the Department's priorities to the U.S. business community.
Discover Global Markets: The Blue Economy will highlight global opportunities in ocean science technologies, commercial marine, port technology and services, marine renewables, and maritime security and defense sectors, among others.
Participating U.S. companies will also hear from industry leaders such as Orsted North America and Teledyne Marine, and meet with U.S. commercial diplomats and buyers from more than 20 countries.
The Tide Turns Toward Renewable Aquaculture Gear (Hakai Magazine)
Erin Adams steers a refurbished lobster boat down Harraseeket River toward Casco Bay in southern Maine. As she passes the tiny Pound of Tea Island, where gulls lounge and a lone red Adirondack chair sits invitingly at the water's edge, her destination looms in the distance: a four-hectare oyster farm. It's a windy day, and the boat pitches and rolls as Adams slows near a line of floating black oyster cages undulating in the swells.
Watertaxi Rotterdam launches first hydrogen boat (electrive.com)
Dutch operator Watertaxi Rotterdam has launched its first hydrogen boat. The H2 water taxi dubbed MSTX 22 integrates components from various providers, including EKPO and the so-called SWIM consortium of Enviu, Flying Fish and zepp.solutions.
The MSTX 22 has room for up to twelve passengers, and Watertaxi Rotterdam will use it in regular ferry services. The hydrogen-powered vessel measures 8.8 metres, and with 14 kg of hydrogen on board, the water cab can run for nine hours and reaches a top speed of 13 knots (25 kph).
EDUCATION
California Seaweed Festival (California Seaweed Festival)
We had a great time last year in Southern California and thank everyone who joined us in celebrating California seaweeds. This year, we are moving north to the San Francisco Bay area!
Please join us for another weekend of education, celebration, and fun with all things seaweed in 2022! The event will kick off on Friday, October 7th with an afternoon of tide pooling and a networking / poster session at the Bay Conference Center in Tiburon.
We will continue on Saturday October 8th with talks, vendors, discussion panels, food tasting, and fun. Mark your calendars, you will not want to miss this event in Tiburon!
Meet the teenager who helped push Florida toward cleaner energy (NPR)
For most of his 15 years, Levi Draheim led a beachy life on a barrier island on Florida's east coast, swimming, surfing and sailing in the nearshore waves. He dreamed of someday becoming a marine biologist. But Levi's world is changing.
Warming temperatures led to widespread Sargassum seaweed and harmful algae blooms in the Atlantic Ocean and 156-mile Indian River Lagoon, which together encircle the island. The seaweed and algae blooms have left beaches stinking with rotting seaweed and dead marine life. In the Indian River Lagoon, the algae blooms have killed seagrass, leading to an unprecedented die-off of manatees that consume the marine plants. On some days, Levi wore a mask at the beach to guard against the smell.
https://altasea.org/wp-content/uploads/2020/12/AltaSea_Logo.png
0
0
Natasha Berendzen
https://altasea.org/wp-content/uploads/2020/12/AltaSea_Logo.png
Natasha Berendzen
2022-09-14 13:45:17
2022-09-30 13:46:17
AltaSea: Trending – September 14, 2022