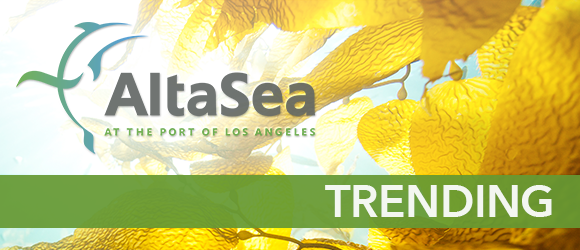 January 11, 2023 Edition
A monthly round-up of news and trends important to the AltaSea community.
UPCOMING ALTASEA EVENTS
Open House Featuring California Fish & Wildlife (AltaSea)
Saturday, February 25 from 10:00am – 12:30pm
Stay tuned for more details!
This event is free and open to the public.
ALTASEA COMMUNITY
AltaSea Is Seeking Volunteers! (AltaSea)
We Are Seeking Volunteers of All Ages and Abilities to Help With:
Receptionist & Administrative On Site Support

Research & Communications Volunteers

Event Support & Community Outreach

Education & Field Trip Volunteers

Tech & Audio Volunteers

Interpretive Docent & Site Visit Support
For more information, please contact dcardenas@altasea.org.
SECNAV Del Toro Names Future Survey Ship After Titanic Discoverer Robert Ballard (USNI News)
A future Pathfinder-class oceanographic survey ship was named after the deep sea explorer who discovered the final resting place of RMS Titanic, the Navy announced on Wednesday.
The future USNS Robert Ballard (T-AGS-67) was named by Secretary of the Navy Carlos Del Toro named after the retired Navy commander who served as the former director of the Center for Ocean Exploration, according to a Navy news release issued Wednesday. Survey ships are typically named after explorers, marine surveyors or oceanographers, like Robert Ballard.
Port of LA to pay for 22 zero-emission trucks next year (Daily Breeze)
The Port of Los Angeles will fund the cost of 22 zero-emission trucks next year through $6 million in grants, officials announced on Tuesday, Dec. 20.
The funding, made through the port's Zero Emission Truck Pilot Program, will provide $3 million each to two licensed motor carriers in the Los Angeles area — MLI Leasing and Performance Team.
The 22 trucks are expected to be in operation within the next year and must make at least 50 trips annually to port terminals.
The ports of LA and Long Beach want to have an entirely zero-emissions truck fleet by 2035.
Gulper Eel Balloons Its Massive Jaws (Nautilus Live)
Big gulp! The Nautilus team spotted a gulper eel (Eurypharynx pelecanoides) doing just that in Papahānaumokuākea
Marine National Monument. Its pouch-like mouth can inflate in an instant, scooping up much larger prey just like a pelican–and giving it that muppet-like look! This gulper eel was likely a juvenile, as this species can grow up to three feet in length.
MARINE SCIENCE
The hidden underwater forests that could help tackle the climate crisis (The Guardian)
Bubbles stream furiously behind Frank Hurd as he gently parts the curtains of giant kelp. Green and gold ribbons reach upwards through the cold waters of the Pacific Ocean towards the sun.
Hurd, a marine biologist with environmental organization the Nature Conservancy, is diving in a kelp forest off Anacapa Island, one of the protected rocky volcanic islets that form the Channel Islands national park, an archipelago off the coast of southern California.
This thick, healthy kelp – a type of seaweed – forms a small part of underwater forests that blanket the coastline of nearly every continent. Some are relatively well-studied, including the Great African Sea Forest, a rich stretch of giant bamboo kelp spreading north from Cape Town to the Namibian coastline that was the setting for the film My Octopus Teacher; and the Great Southern Reef, a giant kelp forest hugging Australia's southern coastline. But many more of these forests are unnamed and unknown – hidden underwater.
These Gorgeous Photos Capture Life Inside a Drop of Seawater (Smithsonian Magazine)
In every drop of water is a hidden world. Scuba divers can't see it through their masks; neither can snorkelers swimming among the coral reefs. To really enter this world, you need to look through a magnifying lens. There you'll see a vast array of vanishingly small plankton, including crustaceans known as copepods. They come in some 13,000 known species, from glimmering-blue sea sapphires to noodle-shaped cod worms. Some roam freely, while others cling to plants or animals. One copepod species can swim into the womb of a gestating shark and attach itself to her calf.
Marine plankton tell the long story of ocean health, and maybe human too (ScienceDaily)
Using samples from an almost century-old, ongoing survey of marine plankton, researchers at University of California San Diego School of Medicine suggest that rising levels of humanmade chemicals found in parts of the world's oceans might be used to monitor the impact of human activity on ecosystem health, and may one day be used to study the connections between ocean pollution and land-based rates of childhood and adult chronic illnesses.
SUSTAINABLE AND INNOVATIVE BUSINESS
Can West Coast waves help power state energy grids? (Orange County Register)
If you've ever gone surfing or felt seasick or simply watched as the ocean crashed onto shore, you know the power that waves hold. The potentially world-changing question is, can that power be harnessed in a cost-effective way to produce clean, reliable electricity?
Solar and wind dominate discussions about renewable energy. And with only so much land available for such projects, interest in using open seas for floating solar and offshore wind farms is growing. That was on display earlier this month, when the federal government held the first auction for wind farms off the coast of California.
But there's also new funding, research and commercial attention focused on finding ways to use qualities of the ocean itself, rather than just its real estate, to make renewable energy. In some places that might mean tapping into strong ocean currents, fluctuating water temperatures or extreme tides. Along the West Coast, that means wave energy, where devices set at or just below the surface use the bobbing motion or pressure of ocean waves to drive turbines that generate electricity.
Op-Ed: How Americans can get more safe, sustainable seafood on their plates (The Los Angeles Times)
There's a culinary revolution happening in the United States. More than ever before, Americans expect their meals to not only be delicious, but sustainable and local too. They're increasingly turning to seafood options as a nutritious and more environmentally friendly source of protein. While restaurants and markets that can meet this demand are reaping the benefits, more supply is needed.
Currently, up to 85% of American seafood is imported, and it is estimated that half of that is farmed — often in ways that may not live up to our health or environmental standards. Meanwhile, a 2021 poll showed that 70% of American seafood consumers are concerned about where their seafood comes from and nearly 90% of U.S. voters prioritize increasing regulations and setting high standards to ensure seafood is truly sustainable. Notably, this includes 92% of Democrats and 86% of Republicans. Leaders looking for bipartisan priorities need look no further than their next meal.
Wanted: A sea-change in climate finance for oceans (Reuters)
The oceans are inextricably connected to the health of the planet, and of humans: they absorb up to 30% of annual greenhouse gas (GHG) emissions and 90% of excess heat, and over 3 billion people — almost half the global population — depend directly on marine and coastal biodiversity for their livelihoods.
Healthy coastal ecosystems are also critical to the world's ability to withstand the impact of climate change. Not only do mangrove forests, for example, hold four times the amount of carbon per hectare as tropical forests, according to WWF, their interlocking roots and branches interrupt rising water, protecting people, homes and businesses from powerful storm surges.
EDUCATION
No Ph.D. needed: UCLA scientists help simplify DNA testing for tracking marine species (UCLA)
With a pilot program in the nation's busiest port complex, researchers from UCLA, UC Santa Cruz and the Natural History Museum of Los Angeles have created a way for non-scientists to use a complex DNA test to help track fish and other marine animal populations.
The test identifies which species live in a body of water just by analyzing one-liter water samples and finding traces of DNA that have been shed by the animals. The pilot program — conducted with managers at the ports of Los Angeles and Long Beach — demonstrated that environmental DNA, or eDNA, can supplement traditional survey methods that are less efficient and more invasive.
Meet the scientists and their underwater drones tackling the 'weirdly complicated' world of ocean carbon (CBC)
It's that rarest of rare conditions along coastal Newfoundland: a dead calm day.
By 7 a.m., the crew aboard the fishing boat Belle of the Bay are taking full advantage of it, steaming out of the harbour in Heart's Content under dazzling July sunshine, with their sights set on a prized catch in the middle of Trinity Bay.
It's not fish they're after. The object awaiting them looks like a mashup between a torpedo, a banana, and a Dash 8 — a type of underwater drone, called a glider.
"This isn't the regular kind of job that I would recommend for people that don't like to be challenged. It's a mission," said Nicolai von Oppeln-Bronikowski, the head of Memorial University's glider operations.
URI Graduate School of Oceanography, Central Falls students find a little boat can go a long way (URI News)
A message in a bottle: we all dream about finding one. What if it was a little bit larger, and actually a small treasure-filled boat?
Imagine the surprise of a couple of dog walkers when they discovered such a vessel on their local beach in late November in Christchurch, Dorset, on the south coast of England. The boat landed on Avon Beach. News of the boat created fanfare upon its arrival with the story even making BBC news.
The ship sailed all the way from Rhode Island, part of a joint effort between the University of Rhode Island's Graduate School of Oceanography and students in Central Falls, Rhode Island working with the nonprofit Educational Passages.
https://altasea.org/wp-content/uploads/2020/12/AltaSea_Logo.png
0
0
Natasha Berendzen
https://altasea.org/wp-content/uploads/2020/12/AltaSea_Logo.png
Natasha Berendzen
2023-01-10 17:13:45
2023-01-10 17:17:32
AltaSea: Trending – January 11, 2023