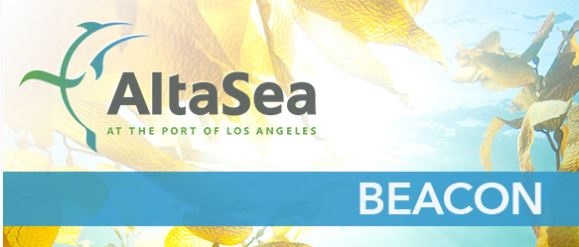 Last week at AltaSea: Two exploration vessels and a rocket!
AltaSea is privileged to frequently have exploration vessels berth at our site. Last week, we were fortunate enough to have to two vessels visiting at the same time: E/V Nautilus and National Geographic's Venture. As an added bonus, our neighbor SpaceX's Falcon 9 Rocket also could be seen in the distance.
Letter from Tim McOsker, AltaSea's CEO
2018 has been a catalytic year for AltaSea at the Port of Los Angeles with milestone achievements that will shape the future success of AltaSea in 2019, and for years to come. Without you, our friends, benefactors, and community of supporters, none of this would be possible. From the entire Board of Trustees and professional staff of AltaSea, a heartfelt "Thank you!"
Over the past twelve months, we have added significant tenants to the AltaSea site including Boeing, Catalina Sea Ranch, and Blue Robotics. We have welcomed innovators and ocean researchers to our docks, including the Jet Propulsion Lab (JPL), National Geographic, and the National Oceanic and Atmospheric Administration (NOAA). In addition, AltaSea has partnered with the Ocean Exploration Trust, Cabrillo Marine Aquarium, the Southern California Marine Institute, the Boys and Girls Clubs of the Los Angeles Harbor, the LA Maritime Institute, and other educators at all levels of study.
Our shared vision of an AltaSea campus where the best of business, science and education come together to protect the oceans for future generations, while invigorating our City and regional economy, is coming to life!
In August, we achieved a significant funding milestone that allowed us to take possession of a large portion of the site and proceed to our next phase of development. This phase of the project will include the renovation of three historic warehouses, home to our aquaculture (ocean farming) and blue tech (ocean robotics) clusters of business.
This 180,000 square foot warehouse complex will be called the "Center of Innovation." With this first project, AltaSea will create jobs in these new ocean industries, and develop a pipeline to good jobs for the students of the Los Angeles and Long Beach Harbor communities.
In fact, just weeks from now in early 2019, AltaSea will release bid documents and award contracts for construction of the Center of Innovation. Construction will take a little less than the remainder of 2019, after which the entire space will be available to fill with business, jobs, and community education and engagement experiences.
All this progress means AltaSea has advanced from a wonderfully audacious idea into a tangible reality! None of this would be possible without the support of you. Together we have come so far; and together we will complete the vision of AltaSea.
On a personal note, this year has been a transformational one for me and my family. I was honored and humbled to be asked to assume a leadership role with AltaSea in February. The work has been extremely rewarding.
My wife, Connie, and I have always known the importance of AltaSea to our community, and to our planet. We chose to increase our support this year because we know our dollars will have a real impact. How so? AltaSea will run on rental income by 2020. Contributed income is needed now to bridge the gap until construction of the Center of Innovation is completed.
As 2018 comes to a close, please consider supporting AltaSea again.
This past year, we launched a "Doors to the Future" campaign, where storefront doors to the Center of Innovation have been named in honor of generous businesses, foundations, families, and individuals. This past month, we added a "Stairs to the Future" campaign, where donors' names are engraved on a beautifully designed plaque affixed to a stair riser leading into the Center.
Please consider naming a door or a stair, becoming a member of AltaSea at the Port of Los Angeles, or making a gift in any amount. Now is the time to support this transformative project.
We promise that your gift will have impact for generations to come.
Visit our website at www.altasea.org, or call us at (424) 210-4973.
Thank you for your support of AltaSea.
Tim McOsker
CEO, AltaSea
---
MORE PARTNERS
MORE SUPPORTERS
---
HIGHLIGHTS
Educational Programs
Open Houses
Scientific Research
---
COMING IN 2019
We are working with our educational partners to plan new and exciting programming for the LA Waterfront STEM Educationl Network
We expect additional visits from Dr. Robert Ballard's E/V Nautilus and National Geographic vessels
We are in negotiations to bring solar panels to the site
We are excited to begin renovations on the 180,000 sq.ft. warehouse on City Dock No. 1 early in the year

https://altaseamedia.s3.us-west-1.amazonaws.com/wp-content/uploads/2018/04/31134647/AltaSea_Logo.png
0
0
Natasha Berendzen
https://altaseamedia.s3.us-west-1.amazonaws.com/wp-content/uploads/2018/04/31134647/AltaSea_Logo.png
Natasha Berendzen
2018-12-10 08:00:48
2019-04-15 12:28:54
AltaSea: Beacon – Special Edition – December 10, 2018