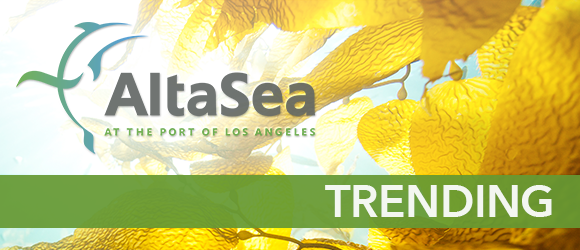 March 16, 2022 Edition
A monthly round-up of news and trends important to the AltaSea community.
UPCOMING EVENTS
30th Anniversary Ribbon Cutting & Lunch (LAMI)
Sunday, March 27 from 12:00PM – 3:00PM
Join LAMI Friends and Family along with the San Pedro Chamber of Commerce as we dedicate Building G in honor of our founder, Jim Gladson. This event begins with a ribbon cutting and building dedication and ends with lunch and a concert with South Bay Favorites Andy & Renee! Ticket price includes: one beverage, lunch, and a shave ice dessert as well as a rockin' concert!
Environmental Panel: Doing it Right – Healing the Ocean and Building the Blue Economy (The Broad Stage)
Monday, March 28 at 6:00PM
The Broad Stage is partnering with Santa Monica College's Public Policy Institute to present a panel discussion about the ocean, carbon, the blue economy, conservation and more. Join award winning science journalist, Alanna Mitchell, Terry Tamminen, CEO of the AltaSea organization and former Secretary of Environmental Affairs for the State of California, and Heal the Bay water quality scientist, educator and advocate, Annelisa Moe, for this robust conversation moderated by Santa Monica College's Patricia Ramos, Dean of Academic Affairs, and Shari Davis, Co Director of the Public Policy Institute.
Pacific Marine Energy Center: Connecting People to the Power of the Ocean (AltaSea)
Friday, March 31 at 12:00PM
Join AltaSea and Pacific Marine Energy Center to learn more about the exciting future of marine energy. PMEC has been dedicated to accelerating the responsible development of wave, tidal, in-river, and offshore wind energy technologies. They are an umbrella organization that unifies research & development, testing, and educational programs in marine energy across the University of Washington (lead), Oregon State University, and the University of Alaska Fairbanks.
To register for this free webinar, click here.
Small Island Big Song (Grand Vision Foundation)
Wednesday, April 27 at 7:30PM
Small Island Big Song is a live concert performance that brings together a group of indigenous musicians from different South Pacific/Indian Ocean nations to share an amazing a night of uplifting traditional and contemporary oceanic grooves, soulful island ballads, and spoken word. This concert is an expression of shared seafaring cultures while also drawing attention to the fate of many island nations affected by rising seas and climate change right now and into the near future.
This event is presented in partnership with AltaSea, Cabrillo Marine Aquarium, Marine Mammal Care Center and generously supported by the Office of Councilman Joe Buscaino, the Office of Supervisor Janice Hahn and the Family of Gary and Milli Alexander.
ALTASEA COMMUNITY
USC Nuzhdin Lab opens new facilities at AltaSea at the Port of L.A. (USC News)
For years, Sergey Nuzhdin has been working to create a more sustainable world through aquaculture. After what he called a "modest" start — a few hand-built systems for growing kelp and mussels — his lab will be the newest part of the West Coast's largest center for researching the development of ocean resources.
The Sustainable Seaweed Aquaculture Lab at the Nuzhdin Research Laboratory opened Monday at a ribbon-cutting ceremony at AltaSea at the Port of Los Angeles, an event that included about 150 guests, donors and investors. Despite his appreciation for the new home, Nuzhdin wants the takeaway to be the work itself — and the researchers who make it possible.
Can shore-based wave power unlock clean, affordable ocean energy? (Canary Media)
Many have tried to harness the ocean's power to generate electricity, resulting in several embarrassing failures and little tangible success. Startup Eco Wave Power hopes to transcend that tempestuous legacy with a radically simple idea: capture the ocean's energy closer to shore. 
This approach sacrifices the greater energy potential of larger offshore waves, but it avoids the destruction such waves wreak on machinery. Eco Wave Power installs and services its equipment on breakwaters or seawalls, eliminating the need for ships and divers. 
A small legion of blue economy investors and enthusiasts look to validate a growing new market (Fortune Magazine)
Altasea at the Port of Los Angeles is looking to become the Silicon Valley for blue economy startups and investors.
MARINE SCIENCE
California officials approve plan to crack down on microplastics polluting the ocean (The Los Angeles Times)
California aims to sharply limit the spiraling scourge of microplastics in the ocean, while urging more study of this threat to fish, marine mammals and potentially to humans, under a plan a state panel approved Wednesday.
The Ocean Protection Council voted to make California the first state to adopt a comprehensive plan to rein in the pollution, recommending everything from banning plastic-laden cigarette filters and polystyrene drinking cups to the construction of more green zones to filter plastics from stormwater before it spills into the sea.
Mysterious Deep-Ocean Creatures May Help Combat Climate Change (Bloomberg Green)
As the deep ocean faces growing peril from climate change, seabed mining and other threats, scientists have discovered that seafloor sediments are home to vast populations of previously unknown organisms that may play a crucial role in carbon sequestration and marine food webs.
When researchers analyzed DNA sequences taken from sediment samples from around the world, they were astonished to find that nearly two-thirds were new to science, representing entire families of undescribed life forms, according to a study published Feb. 4 in the journal Science Advances.
Mussels' Underwater Glue Inspires Synthetic Cement (Verve Times)
Those who have tried to pry a mussel from anything from wood to rock know how stubborn the underwater mollusks are—and their gluey secret has long captivated scientists. For years, researchers have attempted to replicate the extraordinary adhesive and its properties in the lab, targeting some of the eight proteins that mussels secrete and use to coat an organ called a foot that mussels use to attach to surfaces. Now, using a novel method to arrange molecules, researchers at Northwestern University have created a material that performs even better than the glue they were trying to mimic. 
SUSTAINABLE AND INNOVATIVE BUSINESS
The Climate Pledge Announces Nearly 100 New Signatories, Including Maersk, SAP, Weyerhaeuser, Sunrun, and HARMAN, Bringing the Total to More Than 300 Companies Committed Worldwide (Business Wire)
Amazon and Global Optimism announced that more than 300 companies have now signed The Climate Pledge, a nearly 600% growth in signatories over the past year. Among the nearly 100 new signatories joining today are the world's largest container shipping company, Maersk; the leading enterprise software developer SAP; the North American timberland company Weyerhaeuser; the largest residential solar company in the U.S., Sunrun; and the leading brand in connected car and audio services, HARMAN. Pledge signatories in total generate over $3.5 trillion in global annual revenues and have more than 8 million employees across 51 industries in 29 countries.
Blue Climate Initiative Announces Winners of the US$1 Million Ocean Innovation Prize (Ocean Decade)
The Blue Climate Initiative (BCI) is honored to announce the winners of the US $1 Million Ocean Innovation Prize. The announcement came on February 9 at the One Ocean Summit in Brest, France. The Prize, hosted by the Blue Climate Initiative in partnership with the United Nations Decade of Ocean Science for Sustainable Development and the Sustainable Ocean Alliance, is designed to accelerate ocean-based solutions to climate change.
New Tech Could Help Explore Ocean Warming (Lifewire)
A new generation of autonomous underwater vehicles (AUV) could revolutionize undersea exploration and shed light on ocean warming. 
Some new underwater vehicles, like the Mare-IT project, are designed for industrial purposes like inspecting drilling rigs or wind turbines. The project's two-armed underwater robot is used for complex inspection and maintenance tasks. But researchers say the more urgent need is for scientific exploration. 
EDUCATION
U.S. coastline to see up to a foot of sea level rise by 2050 (National Oceanic and Atmospheric Administration)
The United States is expected to experience as much sea level rise by the year 2050 as it witnessed in the previous hundred years. That's according to a NOAA-led report updating sea level rise decision-support information for the U.S. released today in partnership with half a dozen other federal agencies.
The Sea Level Rise Technical Report provides the most up-to-date sea level rise projections for all U.S. states and territories by decade for the next 100 years and beyond, based on a combination of tide gauge and satellite observations and all the model ensembles from the Sixth Assessment Report of the Intergovernmental Panel on Climate Change (IPCC). The report projects sea levels along the coastline will rise an additional 10-12 inches by 2050 with specific amounts varying regionally, mainly due to land height changes.
Now Accepting Applications: OPC 2022 Summer Internship Program (Ocean Protection Council)
OPC is hiring up to five Student Assistants for its 2022 Summer Internship Program. The purpose of the Summer Internship Program is to provide undergraduate college students with an opportunity to gain hands-on-experience with a small State agency focused on protecting and enhancing the state's coastal and ocean ecosystems and ensuring easy, affordable access to and along the coast for all Californians.
OPC values diversity and equity at all levels of the agency and is committed to fostering an environment in which employees from all backgrounds, cultures, and personal experiences are welcome and can thrive. As such, OPC encourages applications from individuals from a broad range of identities and experiences. It includes those who have overcome personal hardship or other barriers that may complicate their continued progress in research careers, including financial, academic, and social barriers.
Women in aquaculture: Alexsandra Caseiro (The Fish Site)
Alexsandra Caseiro is one of the stalwarts of the Brazilian aquaculture sector, spending two decades in the feed sector, before setting up her own consultancy firm, operating mainly in in Chile, Peru, Ecuador, Venezuela, Mexico and Brazil.
https://altaseamedia.s3.us-west-1.amazonaws.com/wp-content/uploads/2018/04/31134647/AltaSea_Logo.png
0
0
Natasha Berendzen
https://altaseamedia.s3.us-west-1.amazonaws.com/wp-content/uploads/2018/04/31134647/AltaSea_Logo.png
Natasha Berendzen
2022-03-16 13:58:36
2022-03-16 13:58:49
AltaSea: Trending