AltaSea's Stairs to the Future Campaign Finalizes Preparation for Construction of the Center of Innovation
Thanks to the support of many key figures including California State Senator Robert Hertzberg, California State Senator Nancy Skinner, California State Senator Steven Bradford, and California State Assemblymember Patrick O'Donnell, AltaSea recently secured $6 million in funding from the State of California. This funding, matched by a $6 million commitment by the Port of Los Angeles, enables AltaSea to begin renovation on Berth 58, the primary building of the Center of Innovation.
AltaSea supporters can have their name included on the Center of Innovation by contributing to AltaSea's Stairs to the Future campaign. With a $10,000 donation, donor's names will be placed on a stair leading into the building. Donors who give $150,000 will be able to contribute to the Doors the Future campagn and have one of the historic doors leading into the center named in their honor.
The Center of Innovation will house ocean-focused businesses specializing in sustainable aquaculture, offshore renewable energy, and underwater robotics, as well as support educational and workforce development initiatives. Construction will begin by mid-2022 and be completed in the first half of 2023.
Only seven stairs and five doors remain available for sponsorship. For more information, contact Robin Aube at raube@altasea.org.
AltaSea Celebrates Ocean Innovators and $12 Million in Funding at Blue Hour: Ocean of Inclusion
"AltaSea will enable positive impacts that we can't even begin to imagine," said California State Assemblymember Patrick O'Donnell, as he handed AltaSea CEO Tim McOsker a giant check to kick off the onstage festivities at AltaSea's Blue Hour: Ocean of Inclusion on October 9th.
The check symbolized the $6 million in funding that the state of California recently allocated to AltaSea. The Port of Los Angeles matched this funding, bringing the total to $12 million and enabling AltaSea to begin construction on its visionary Center of Innovation.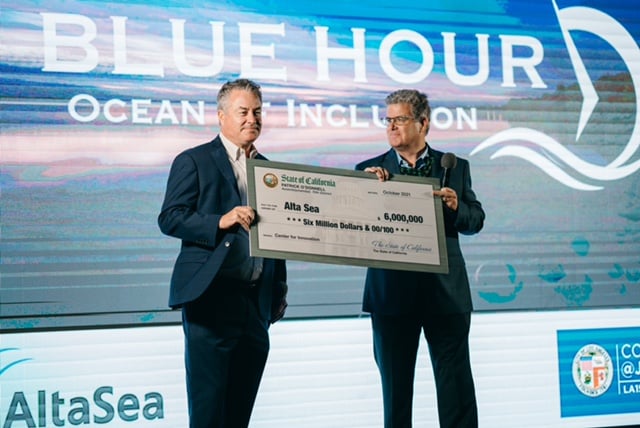 Assemblymember Patrick O'Donnell presenting Tim McOsker with a $6 million check
The Blue Hour was an opportunity to celebrate this funding and the future of AltaSea as the epicenter of the emerging blue economy in Los Angeles. Bolstering the blue economy will create well-paying jobs, tackle climate change, and work to solve some of the most pressing issues in the marine environment. The Los Angeles Economic Development Corporation estimates that the blue economy will create over 126,000 direct jobs in LA County, paying a combined $37.7 billion in wages by 2030.
In addition to celebrating the exciting future AltaSea seeks to create for the Port of Los Angeles, Blue Hour was also a chance to celebrate trailblazers within the ocean science and conservation community. Awards for ocean exploration, ocean innovation, and inspiring the next generation were given to the Schmidt Ocean Institute, Robert Downey Jr.'s FootPrint Coalition, and Philippe Cousteau Jr.'s EarthEcho International, respectively.
Robert Downey, Jr.'s FootPrint Coalition presented a video at Blue Hour: Ocean of Inclusion.
Taking place at the Korean Friendship Bell in San Pedro, Blue Hour began with a traditional Korean opera performance and a welcome message from naming sponsor, Council District 15. The event also featured an art exhibit from the Schmidt Ocean Institute's Artist-at-Sea program, as well as a Q&A session with the Institute's Dr. Carly Wiener. The evening concluded with an exclusive preview of a new ocean documentary from four-time Emmy award winning filmmaker and marine biologist, Rick Rosenthal.
https://altasea.org/wp-content/uploads/2020/12/AltaSea_Logo.png
0
0
Natasha Berendzen
https://altasea.org/wp-content/uploads/2020/12/AltaSea_Logo.png
Natasha Berendzen
2021-10-26 14:27:53
2021-10-26 14:31:12
The Beacon – Special Edition – October 27, 2021