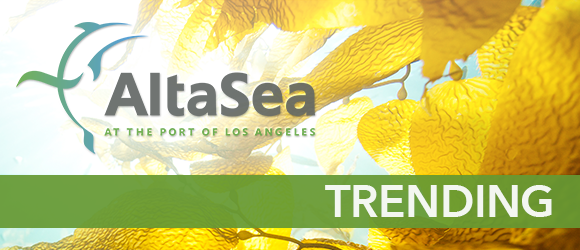 October 12, 2022 Edition
A monthly round-up of news and trends important to the AltaSea community.
UPCOMING ALTASEA EVENTS
AltaSea Open House Accelerating Ocean Technology for a Blue Future (AltaSea) 
November 12 @ 10:00 am – 12:30 pm
Please join us at 10:00 am on Saturday, November 12th as AltaSea highlights our tenants and partners working in Blue Technology fields. We are eager to hear from tenant RCAM Technologies in how they are providing concrete solutions in the renewable energy field. As a bonus, RCAM staff will provide 3D concrete printing demonstrations.
Please bring your families and talk with additional BlueTech companies and participate in ocean science activities provided by local ocean organizations. Finally, step board AltaSea's Ocean Research Barge (ORB), a floating lab for student research and community science.
ALTASEA COMMUNITY
Blue Robotics wins award from Society of Underwater Technology (Robotics & Automation)
The Society for Underwater Technology's Gwyn Griffiths Award for Underwater Robotics has been won by Rustom (Rusty) Jehangir, founder and CEO of Blue Robotics, an ocean technology company based in Torrance, California.
Neil Bose, chair of SUT's Underwater Robotics Panel, and vice president (research), Memorial University, Newfoundland and Labrador's University, says: "The standard of entries for the SUT's Gwyn Griffiths Award for Underwater Robotics was extremely competitive this year, and the nominees of high calibre, which challenged the judges to select this year's winner.
Marine Mammal Care Center gets surprise $1 million donation at 30th anniversary party (Daily Breeze)
For 30 years, the Marine Mammal Care Center helped rescue and rehabilitate marine animals along the coast from Malibu to Seal Beach to give them a new lease on life.
Just three years ago, the MMCC in San Pedro needed its own rehabilitation when it nearly closed its doors due to a funding shortage. But through the philanthropy and volunteerism of numerous people, the nonprofit is now thriving at age 30, according to Amber Becerra, president and CEO of MMCC.
"We are looking toward a future of growth and expansion, so we have a lot to celebrate," said Becerra on Sept. 18, at an MMCC 30th celebration.
Richard and Melanie Lundquist, renowned philanthropists in the South Bay and beyond, hosted the 30th anniversary celebration at their Palos Verdes Estates residence. The event was a fundraiser for MMCC, but they also had a surprise announcement.
UCLA wants more students but has no room. So it's buying a campus in Rancho Palos Verdes (Yahoo! Entertainment)
In a milestone move to expand enrollment at the nation's most popular university by creating a satellite campus, UCLA announced Tuesday that it is buying two large properties owned by Marymount California University, a small Catholic institution in Rancho Palos Verdes that closed its doors last month.
UCLA's $80-million purchase of Marymount's 24.5-acre campus and an 11-acre residential site in nearby San Pedro marks the university's most significant expansion to help meet the burgeoning demand for seats. UCLA drew nearly 140,000 first-year applications for about 6,600 spots in fall 2021 and even more applications this year — sparking angst among the growing legions of rejected Californians and pressure from state legislators to reduce the number of out-of-state students.
MARINE SCIENCE
Hidden Forests Found Deep Beneath The Ocean Cover Twice The Area of India (Science Alert)
Amazon, Borneo, Congo, Daintree. We know the names of many of the world's largest or most famous rainforests.
And many of us know about the world's largest span of forests, the boreal forests stretching from Russia to Canada.
But how many of us could name an underwater forest?
Hidden underwater are huge kelp and seaweed forests, stretching much further than we previously realized.
Tonga volcano eruption stimulates life: Rapid, massive bloom of ocean phytoplankton (Phys.Org)
In January 2022, the largest submarine volcanic eruption of this century led to a dramatic phytoplankton bloom north of the island of Tongatapu, in the Kingdom of Tonga. A team of scientists from the University of Hawai'i (UH) at Mānoa and Oregon State University revealed in a recently published study that the bloom of microscopic marine life covered an area nearly 40 times the size of the island of O'ahu, Hawai'i within just 48 hours after the eruption.
A New Eye on the Deep Sea (Hakai Magazine)
Deep-sea exploration has long been largely a privilege of billionaires, fossil fuel companies, and a select few scientists from wealthy nations. This exclusivity has left the vast majority of the deep sea unexplored, its natural wonders understudied and vulnerable to exploitation. In recent years, scientists and conservationists have called for the democratization of the deep sea. They say this extreme region of the planet needs to be accessible to everyone. Now, a group of scientists, conservationists, and explorers has devised a low-cost device that is helping bring that goal closer to reality.
SUSTAINABLE AND INNOVATIVE BUSINESS
Separator made from seaweed gives next-gen battery a performance boost (New Atlas)
Batteries that make use of sodium as an electrode material are showing exciting promise by some key measures when it comes to next-generation energy storage solutions, and new research has now edged them closer to mainstream use. Scientists in the UK have developed a novel separator material from seaweed that shores up the durability of this battery design, and offers a capacity boost at the same time.
Seaweed enters the baked foods arena (BakingBusiness.com)
Gluten-free flours, keto-friendly ingredients and ancient grains all have boosted bread sales in past years. What's next? How about seaweed that gives bread nutritional and environmental benefits.
Sea & Flour is launching a carbon-negative bread with seaweed that provides vitamin A, vitamin K, iron, folate, calcium, magnesium and zinc. The first question that might come to mind: How does it taste?
Paramount and Nickelodeon Announce Launch of Global Ocean Conservation and Sustainability Initiative Spongebob Squarepants: Operation Sea Change (aNb Media, Inc.)
Paramount Consumer Products and Nickelodeon announced the launch of SpongeBob SquarePants: Operation Sea Change, a brand-new global ocean conservation and sustainability initiative. Through partnerships with several non-profit organizations, SpongeBob SquarePants: Operation Sea Change aims to help remove and divert five million pounds of ocean plastic over the next four years by funding cleanup projects. At the same time, Paramount Consumer Products will work with current SpongeBob SquarePants consumer products partners to drive more sustainable practices and reduce single-use plastic in products, and curate partnerships with new brands to create innovative product lines. Additionally, the initiative will engage millions of SpongeBob fans around the world with on-the-ground events and educational resources that connect them with ways to become a part of the movement and take action in their own communities.
EDUCATION
On Indigenous Peoples' Day, five inspirational conservation stories in the U.S. (Mongabay)
The second Monday of October marks Indigenous Peoples' Day in multiple cities and states across the U.S. Originally juxtaposed against Columbus Day, celebrated at the same time, the day is set aside to honor Indigenous peoples and their cultures within the country and ecosystems their ancestors have stewarded for millennia.
So far this year, Native American tribes have been involved in multiple conservation and climate mitigation efforts as the U.N. biodiversity conference, COP15, and the climate conference, COP27, loom over the horizon. Both conferences are set to make decisions with wide-ranging impacts on people and societies around the world. Key on the agenda of many communities is ensuring Indigenous participation in environmental and climate efforts and providing solutions embedded in their traditional ecological knowledge.
Ocean Photographer of the Year winners 2022 – in pictures (The Guardian)
Competition illuminates beauty of ocean and threats it faces. Ben Thouard's winning image of surfer was chosen unanimously by the six judges. Check out the photos!
Wrigley program takes students to new depths (Daily Trojan)
After competing as a finalist for the Wrigley Sustainability Prize, Marcela Riddick decided to pursue scuba diving, a skill useful for careers relating to sustainability and environmental science. Riddick, however, didn't see herself represented in the skill: Only about 31% of scuba divers are women and less than 32% are non-white, according to Zippia.
"There's not a lot of people [who] look like me [in the scuba diving community]," Riddick said. "There's not a lot of women divers [and] not a lot of Black and Brown divers."
https://altasea.org/wp-content/uploads/2020/12/AltaSea_Logo.png
0
0
Natasha Berendzen
https://altasea.org/wp-content/uploads/2020/12/AltaSea_Logo.png
Natasha Berendzen
2022-10-12 11:39:55
2022-10-12 11:39:55
AltaSea: Trending – October 12, 2022