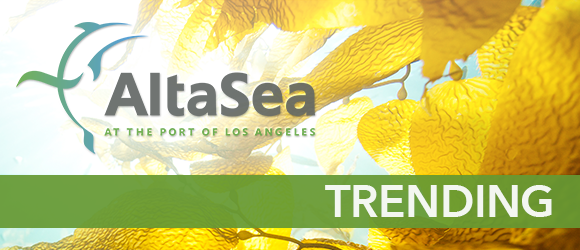 A monthly round-up of news and trends important to the AltaSea community.
MARINE SCIENCE
You've likely never heard of the world's greatest ocean migration. Satellite data is helping scientists study it (Phys.org)
The greatest animal migration on Earth is likely something you never heard of and few have witnessed: legions of tiny marine creatures rising to the ocean surface every night to feed on tiny plants, then sinking back into the deep, dark water at dawn.
Called the diel vertical migration, it was first recorded nearly 200 years ago by hauling ship nets through the water column. Today, marine scientists still sample the movement using shipboard nets. They also shoot acoustic signals into the water to track the sound "backscattering" off the zooplankton as they migrate up and down. Some collect data from aircraft, deploying a lidar system that uses a kind of laser radar to create the backscatter.
Genes Without Price – Great Barrier Reef DNA Frozen for the Future (National Geographic)
The nation's top marine scientists have quietly spent the past decade collecting – and cryofreezing – sperm and egg samples from the Great Barrier Reef during its annual spawning season.
The reason – to safeguard and preserve the reef's priceless genetic diversity for future generations, as human-driven climate change continues to ravage the reef.
Precious samples of sperm and other cells are stored in world's largest frozen repository of living coral, located at Taronga's CryoDiversity Banks at both Taronga Western Plains Zoo, Dubbo and Taronga Zoo, Sydney.
Could dark carbon be hiding the true scale of ocean 'dead zones'? (Science Daily)
Dead zones within the world's oceans — where there is almost no oxygen to sustain life — could be expanding far quicker than currently thought, a new study suggests.
The regions are created when large amounts of organic material produced by algae sinks towards the seafloor, using up the oxygen present in the deep water.
Computer models can predict the spread of these zones, with the aim being to provide an insight into the impact they might have on the wider marine environment.
However, a study published in Global Biogeochemical Cycles suggests that dark carbon fixation — caused by the presence of anaerobic bacteria in the deeper water column — needs to be incorporated into these models.
SUSTAINABLE AND INNOVATIVE BUSINESS
Prince William Announces Environment Prize, Calls For 'Decade of Action to Repair the Earth' (Time)
Prince William has announced a multi-million pound prize for "visionaries" working to solve "Earth's greatest environmental problems," from climate change to air pollution. The Earthshot Prize will be awarded to five winners, every year, for the next 10 years. The initiative's goal is to provide "at least 50 solutions to the world's greatest problems by 2030."
The prize was designed by and will initially be handled by the Royal Foundation of the Duke and Duchess of Cambridge — headed by Prince William and Kate Middleton. More than 60 organizations and experts were consulted in the process; in time, the Earthshot Prize will likely become an independent organization that continues to involve environmental NGOs, according to a press release from Kensington Palace.
This year, the initiative will debut a series of "Earthshot challenges," according to its website, with a goal of "[seeking] answers to the biggest issues currently facing the planet, including: climate and energy, nature and biodiversity, oceans, air pollution and fresh water."
NOAA Outlines Plans to Adopt AI and Cloud Solutions (FedTech)
For several years, the National Oceanic and Atmospheric Administration has put an emphasis on the so-called blue economy, which refers to the use of seas and coasts for economic activities. These include seafood production, tourism and recreation, ocean exploration, marine transportation and coastal resilience.
Now NOAA wants to use artificial intelligence and the cloud to help it achieve its mission to support the blue economy, as well as more traditional missions such as weather prediction. Last month, the agency released draft strategies around AI and cloud.
"NOAA is a pioneer with a strong track record of applying the latest science and technology and these new strategies will allow us to dramatically expand these applications across our mission areas," Neil Jacobs, the acting NOAA administrator, said in a statement. "These detailed strategies will enable us to achieve our priorities of reclaiming and maintaining global leadership in numerical weather prediction and sustainably expanding the American Blue Economy."
EDUCATION
History's Largest Mining Operation Is About to Begin (The Atlantic)
Unless you are given to chronic anxiety or suffer from nihilistic despair, you probably haven't spent much time contemplating the bottom of the ocean. Many people imagine the seabed to be a vast expanse of sand, but it's a jagged and dynamic landscape with as much variation as any place onshore. Mountains surge from underwater plains, canyons slice miles deep, hot springs billow through fissures in rock, and streams of heavy brine ooze down hillsides, pooling into undersea lakes.
These peaks and valleys are laced with most of the same minerals found on land. Scientists have documented their deposits since at least 1868, when a dredging ship pulled a chunk of iron ore from the seabed north of Russia. Five years later, another ship found similar nuggets at the bottom of the Atlantic, and two years after that, it discovered a field of the same objects in the Pacific. For more than a century, oceanographers continued to identify new minerals on the seafloor—copper, nickel, silver, platinum, gold, and even gemstones—while mining companies searched for a practical way to dig them up.
Why should we care about the ocean? (National Ocean Service)
The world ocean provides so many benefits. Here are 300 facts about what the ocean does for humans and the planet.
New Internship Program Fosters Next Generation Of Underwater Farmers (Forbes)
An ocean-farming nonprofit is kick-starting the next generation of scientists and farmers through an internship program in New Haven, Connecticut that aims to train kelp hatchery managers. GreenWave is a 3D ocean farming nonprofit that helps fisherwomen and men get ocean farms up and running. The crops they grow are seaweed and shellfish. These 'zero-input' crops require no feed and act to filter sea water. Water pollution is a concern for many types of traditional aquaculture, but with filter-feeders, water quality is actually improved. Growing sugar kelp in 'regenerative ocean farms' requires kelp spores to get things growing. Hatcheries (where 'baby kelp' is cultured) are in short supply. GreenWave hopes to address this need by training new hatchery managers to supply seaweed to the ocean-farming masses.
Eighteen Things We've Learned About the Oceans in the Last Decade (Smithsonian Magazine)
As the end of the decade approaches, marine scientists and conservationists are reflecting on what we have learned about the seas, and what the next decade may hold for the world's watery realms. So the Smithsonian's Ocean Portal team has combed through years of studies, discoveries and expeditions to bring you some of ocean science's most notable moments of the last ten years.
With the threats of climate change and ocean acidification, it can be easy to dwell on the bad and the ugly, and this past decade had its fair share of depressing news. But despite the doom and gloom, the ocean still manages to delight with the unexpected, and ocean conservation efforts have progressed, too. Here are the decade's most significant events and research findings associated with the world's oceans.
COMMUNITY
Whale Fiesta (Cabrillo Marine Aquarium)
Sunday, January 26, 2020
10am – 3pm
Join Cabrillo Marine Aquarium for the 51st annual Whale Fiesta – a day packed with activities celebrating the migration of the Pacific gray whale and the beginning of Southern California's whale watching season!
Whale Fiesta is a free, family-friendly festival co-sponsored with the Los Angeles Department of Recreation and Parks and the Port of L.A. Enjoy a day filled with festive music, games, puppet shows, expert guest lecturers, and marine mammal-related arts and crafts for all ages. Other activities include building a life-sized sand sculpture of a Pacific gray whale and its calf, competing in the "Great Duct Tape Whale Contest", and walking through "Expando the Whale", a replica of a Pacific gray whale. The Aquarium's Exploration Center, Aquatic Nursery and the Library will be open to visitors 10 a.m. to 5 p.m. Spend the whole day enjoying all the activities for free!
https://altaseamedia.s3.us-west-1.amazonaws.com/wp-content/uploads/2019/05/31134400/Research-Oceans-e1557333109733.jpg
900
900
Natasha Berendzen
https://altasea.org/wp-content/uploads/2020/12/AltaSea_Logo.png
Natasha Berendzen
2020-01-08 08:00:39
2020-01-07 11:43:04
AltaSea: Trending – January 8, 2020