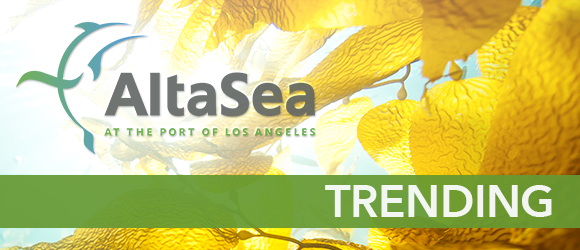 A biweekly round-up of news and trends important to the AltaSea community.
Marine Science
Sea lions are showing up in strange locations along the west coast, in towns and fields far away from their natural environments. In 2015, 224 California sea lions were found confused and hungry, many of them too impaired to be released back into the wild. We introduced this mystery in a previous issue of Trending, but now we may have an answer as to why. Scientists have determined the culprit is a neurotoxin produced by algal blooms that flourish in warm waters, largely a result of climate change. The toxin was first identified in the 1990s, but according to the new study's lead author, until now, "It hadn't really been studied in marine mammals. People didn't see it as a large-scale ecological concern."
In the past two months, a rare venomous sea serpent has been spotted twice on local shores. Pelamis platura is approximately two feet long with a yellow belly and black spots. The species was first seen in Southern California in 1972 during an El Niño; scientists believe warm ocean temperatures cause the snake to navigate north of its normal tropical habitat. While highly venomous, Pelamis platura has tiny fangs and can barely open its mouth wide enough to bite a person.
The gold rush is on for the world's oceans and their resources. They promise not just oil, but precious minerals, potential biofuels, food sources, medical discoveries and strategic advantages for the world's superpowers. The radio discussion focuses on whether the new Blue Economy will stress the ocean's already fragile ecosystem beyond its breaking point.
Sustainable and Innovative Business
The Shell Ocean Discovery XPRIZE, known for hosting challenges meant to involve new people in space exploration, also sponsors several contests related to ocean health and clean up. For the first time, the latest XPRIZE challenge is focused on deep-sea exploration. The competition lasts three years with two rounds of judging. Teams have nine months to sign up for the challenge, and another year after that to develop their robots for the first round of the competition. The team that creates and operates the best robot wins $4 million.
A team of innovators from Australia has invented a floating garbage can that sits in water and collects garbage, oil and other debris while recycling the water back into the ocean. A natural fiber bag collects debris, and a pump system separates the oil from water. The "Seabin" works automatically, 24/7 and has a working prototype. "Seabin" is designed to sit near the floating docks of marinas and other similar locations. The inventors are trying to meet their goal of $230,000 for the project on Indiegogo.
Will you be filling up your tank with algae in the future? Maybe. As the need for alternatives to fossil fuels becomes more pressing, scientists are turning to the ocean for sustainable solutions. Algae-based biofuels may be the answer. Algae can produce 12 times more biodiesel per acre than plants and can be grown in arid areas like deserts. However, growing algae at a commercial scale is difficult and expensive. That's where Jennifer Stewart and her team at the University of Delaware come in – to address challenges in cost and scalability in hopes of making algae farming competitive with the price of gasoline.
Education
Science nerds unite in San Francisco for the annual American Geophysical Union (AGU) meeting, which convened 25,000 earth and space scientists, most of whom research climate change. The presentations included research about extreme oxygen loss in oceans and the California drought. Studies suggest that global warming has intensified the California drought by 20 to 50 percent, an issue with global implications because California produces so much of the world's food.
Community
Good news for many members of the port community, Representative Janice Hahn has requested $10 million in support from the federal government to make repairs to the San Pedro Breakwater after the Army Corps reported finding four major and 12 significant damage areas along the more than century-old stone breakwater. "This El Niño season could bring unprecedented storms to California and we have to be prepared," Hahn said in a statement. "The significant damage to the San Pedro breakwater needs to be repaired as soon as possible."
Nearly a year after port activity was at a standstill due to labor strikes, the largest container ship ever to call at a North American port arrived at the Port of Los Angeles the day after Christmas. The Benjamin Franklin made her maiden call with the French shipping line CMA-CGM and has a capacity of nearly 18,000 twenty-foot equivalent units (TEUs) – that's about 18,000 adult giraffes lying down.
www.altasea.org
Subscribe to AltaSea: Trending
Privacy Policy | Unsubscribe
AltaSea at the Port of Los Angeles
222 West 6th Street, Suite 1010, San Pedro, CA 90731
https://altasea.org/wp-content/uploads/2020/12/AltaSea_Logo.png
0
0
Jenn de la Fuente
https://altasea.org/wp-content/uploads/2020/12/AltaSea_Logo.png
Jenn de la Fuente
2016-01-06 14:54:07
2019-04-15 13:20:18
AltaSea: Trending – January 6, 2016