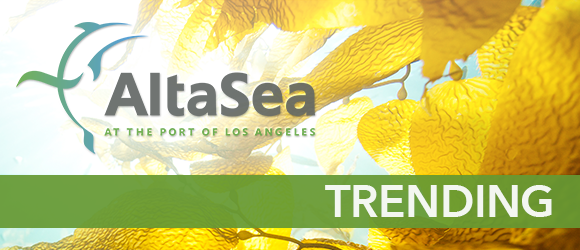 December 14, 2022 Edition
A monthly round-up of news and trends important to the AltaSea community.
ALTASEA COMMUNITY 
AltaSea Is Seeking Volunteers! (AltaSea)
We Are Seeking Volunteers of All Ages and Abilities to Help With:
Receptionist & Administrative On Site Support

Research & Communications Volunteers

Event Support & Community Outreach

Education & Field Trip Volunteers

Tech & Audio Volunteers

Interpretive Docent & Site Visit Support
For more information, please contact dcardenas@altasea.org.
AltaSea becoming a center for clean energy (Spectrum News 1)
AltaSea at the Port of Los Angeles is an incubator and hub focused on the blue economy — all things related to the ocean through science, business and education.
The ocean-based campus sits on 35 acres and is at the beginning of its transformation into a clean energy center.
Soon, the center will install rooftop solar and produce excess energy to send back to the grid.
AltaSea also serves as a testing ground for other forms of clean energy, such as wave energy and hydrogen.
As Aquaculture Grows, Higher Ed Prepares America's Students (Stronger Through Seafood)
Aquaculture is being studied at colleges and universities across the U.S. More than 160 aquaculture programs offer certificates, undergraduate and graduate degrees.
Santa Monica College in California recently announced a new Aquaculture Certificate Program, which includes six classroom and hands-on lab courses. The program offers the advantage of two partners at the Port of Los Angeles. AltaSea is a nonprofit public-private ocean institute that helps advance the blue economy through scientific innovation and collaboration, and Holdfast Aquaculture produces resources for sustainable seafood growth.
Nathan Churches, PhD., co-founder and chief science officer for Holdfast and the lead developer for Santa Monica College's aquaculture program, spoke to SATS in this month's interview.
Nautilus Expands With Floating Data Centers in Two New Markets (Data Center Frontier)
More data centers are moving onto the water. Nautilus Data Technologies will bring its floating data centers to new campuses in Los Angeles and Marseilles, France. The expansions signal growing acceptance of its innovative approach to using a water-based platform that taps oceans, bays and rivers to slash the cost of cooling servers.
The new data centers will be deployed in port facilities on custom-built barges, with adjacent support infrastructure on shore. Both sites will house a 7.5-megawatt data center facility, with power agreements and water assessments already in place.
Ocean of Opportunity Educator Leadership Training 2022 (EarthEcho International)
On November 11th and 12th, 2022, "An Ocean of Opportunity Educator Leadership Training" brought out 24 public middle school teachers to collaborate with EarthEcho International on the creation of new curriculum materials exploring the emerging blue economy.
The event was in collaboration with AltaSea at the Port of Los Angeles and with support from the Northrop Grumman Foundation. The goal was for teachers to learn first-hand from the innovative business leaders, explorers, scientists, and researchers at AltaSea and consult with EarthEcho on curriculum for the New Blue Economy that will be used by teachers across the world. Teachers from 22 different schools across six school districts participated.
Billionaire activist uses her wealth to be an agent of change (Spectrum News 1)
Billionaire activist and philanthropist Kat Taylor has made it her life mission to bring equity to underserved and underrepresented communities across the country.
While her husband, Tom Steyer, rose to fame during his run for president in 2020, Taylor worked behind the scenes as an agent of change. As the co-founder and board chair of Beneficial State Bank, she aims to make banking more accessible to under-resourced communities in an economically and environmentally sustainable manner.
What makes Beneficial State Bank unique is that it is fully owned by nonprofits with the mandate to redistribute excess funds to the Bank's communities.
Science & Engineering Internship Program (Ocean Exploration Trust)
The Nautilus Science and Engineering Internship Program (SEIP) aims to train and provide real-world experience for community college, undergraduate, and graduate students studying ocean sciences, technology, engineering, and video in the at-sea environment. Intern positions entail 3-5 week periods working aboard E/V Nautilus as Data Loggers, Seafloor Mappers, Navigators, ROV Pilots, or Video Engineers. All interns spend their time on Nautilus working with a wide array of scientists, engineers, students, and educators.
We are now accepting applications for Ocean Science, ROV Engineering, and Video Engineering Internships for the 2023 expedition season.
Learn more details and apply before December 31, 2022!
MARINE SCIENCE
Scientists discover five new species of black corals living thousands of feet below the ocean surface near the Great Barrier Reef (The Conversation)
Using a remote-controlled submarine, my colleagues and I discovered five new species of black corals living as deep as 2,500 feet (760 meters) below the surface in the Great Barrier Reef and Coral Sea off the coast of Australia.
In 2019 and 2020, I and a team of Australian scientists used the Schmidt Ocean Institute's remotely operated vehicle – a submarine named SuBastian – to explore the Great Barrier Reef and Coral Sea. Our goal was to collect samples of coral species living in waters from 130 feet to 6,000 feet (40 meters to 1,800 meters) deep. In the past, corals from the deep parts of this region were collected using dredging and trawling methods that would often destroy the corals.
Inside the surprising social networks of fish (yes, fish) (IDEAS.TED.COM)
Every day, corporations like Facebook, Amazon and Google learn more and more about human behavior by collecting incredible volumes of data — what's called Big Data — on our social behavior. They use it to learn things like how our behavior is influenced by the behavior of other individuals in our social network.
But what if we could do the same thing with animals in nature?
What if we could carefully measure the precise behavior of many different animals, all at once, in a specific environment, over long stretches of space and time? Could we use those measurements to generate algorithms that predict what wild animals do so we can their role within the ecosystem?
Robot helps researchers achieve a new record at the world's deepest cave pit (TechXplore)
A small city in the east of Czechia called Hranice harbors a unique natural wonder that is not (yet) trending on Instagram. The Hranice Abyss is the deepest underwater cave pit in the world, and a team of researchers recently beat a record by revealing more about its depth.
It is believed that this cave pit was formed by the collapse of the ground layer, a structure called a sinkhole, which reveals the vertical great mass of water underneath. The latest estimates based on the temperature and chemical analysis of the water indicate that the abyss can be more than 1000 meters deep.
SUSTAINABLE AND INNOVATIVE BUSINESS
Port of Los Angeles, JETRO team up on environmental initiatives (Offshore Energy)
The Port of Los Angeles and Japan External Trade Organization Los Angeles Office (JETRO Los Angeles) have signed a Memorandum of Understanding (MoU) to promote cooperation in several key strategic areas, including sustainability, environmental initiatives and supply chain optimization.
The 'world's largest floating wind farm' produces its first power (CNBC)
A facility described as the world's largest floating wind farm produced its first power over the weekend, with more turbines set to come online before the year is out.
In a statement Monday, Norwegian energy firm Equinor — better known for its work in the oil and gas industry — said power production from Hywind Tampen's first wind turbine took place on Sunday afternoon.
Hydrogen-Powered Ships are Coming: How Green is Your Cruise? (The New York Times)
In the Caribbean, many cruise companies have bought islands and turned them into private resorts for the exclusive use of cruise passengers who cavort in enormous wave pools, rush down 135-foot water slides with names like Daredevil's Peak, and zip-line across wide beaches.
But on Ocean Cay, an island 20 miles south of Bimini that MSC Cruises began leasing from the Bahamian government in 2015, there is no theme park, no giant water slide.
Oh, there are plenty of bars, shops and wave runners. But the general aim is to provide a serene getaway and largely quiet activities — snorkeling, swimming and lounging on beach chairs — while scientists and students from the University of Miami and Nova Southeastern University in Fort Lauderdale research how to reverse the decline in coral reefs and develop reefs that can withstand climate change.
Seaweed packaging startup wins $1.2 million Earthshot Prize (The Fish Site)
In a star-studded ceremony on 2 December in Boston, Prince William awarded UK startup Notpla with the prestigious Earthshot Prize for the "building a waste-free world" category. According to a news release from Earthshot, the five winners for the 2022 prize form an accomplished group of entrepreneurs and innovators spearheading ground-breaking solutions to repair and regenerate the planet. The four other winners include Mukuru Clean Stoves for the "clean our air" category, Kheyti for the "protect and restore nature" category, Indigenous Women of the Great Barrier Reef for the "revive our oceans" category and 44.01 for the "fix our climate" category. Each winner will receive £1 million, or about $1.2 million, to develop their climate innovations.
EDUCATION
Equipping kids to defend against science misinformation (Phys.org)
At a time when climate models churn out increasingly precise and dire predictions, about 30% of Americans don't believe climate change will occur in their lifetimes. While the James Webb space telescope peers toward the beginning of the universe, 2 in 10 Americans remain unconvinced that the Earth is round. And while pharmaceutical companies continue to tweak vaccines to combat COVID-19 variants, roughly 10% of Americans believe the shots are actually designed to insert microchips.
By their nature, scientific falsehoods defy reason. But two Stanford researchers—Jonathan Osborne, a professor emeritus of science education at Stanford Graduate School of Education (GSE), and GSE doctoral student Daniel Pimentel—are taking a scholarly approach to understand where such beliefs originate and how they can be discouraged.
NOAA Ocean Guardian Schools: The Next Generation for Our Blue Planet (NOAA)
NOAA's Office of National Marine Sanctuaries established the NOAA Ocean Guardian School program in 2009. Across the United States and its territories, K-12 schools submit project proposals every year to acquire funding and participation in the multi-year program. Selected schools carry out hands-on school or community-based stewardship projects that fit under one of the program pathways: marine debris, 6Rs (rethink/reduce/refuse/reuse/rot/recycle), watershed restoration, school garden/habitat, and energy and ocean health.
https://altaseamedia.s3.us-west-1.amazonaws.com/wp-content/uploads/2018/04/31134647/AltaSea_Logo.png
0
0
Natasha Berendzen
https://altaseamedia.s3.us-west-1.amazonaws.com/wp-content/uploads/2018/04/31134647/AltaSea_Logo.png
Natasha Berendzen
2022-12-14 08:00:42
2022-12-13 11:23:47
AltaSea: Trending – December 14, 2022