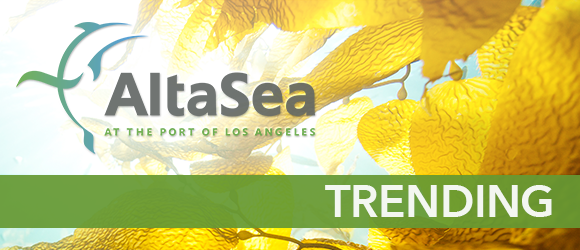 August 10, 2022 Edition
A monthly round-up of news and trends important to the AltaSea community.
UPCOMING EVENTS
Blue Hour 3: The Warehouse (AltaSea)
It's that time of the year when AltaSea is gearing up for our annual fundraiser, Blue Hour. This year, Blue Hour will take place on October 8th in one of our historic warehouses at Berth 60. After two successful years offsite, we are excited to finally be hosting Blue Hour at the AltaSea campus! Details are still being mapped out, but the partnering of art and technology to tell the story of the emerging Blue Economy will still be the focus, as we honor those who have paved the way for AltaSea and continue to forge new paths.
Updates coming soon!
ALTASEA COMMUNITY
Amid Campus Buildout, AltaSea Prepares to Launch Two Investment Funds Totaling $600M (Los Angeles Business Journal)
San Pedro-based marine research center and "blue economy" incubator AltaSea has spent its first eight years focused on building out its 35-acre campus at the Port of Los Angeles.
But even as that effort continues, AltaSea is now turning its attention to the business of fostering marine-focused companies and research.
Terry Tamminen, the environmental point man for former Gov. Arnold Schwarzenegger who took the helm of AltaSea in January, told the Business Journal late last month that the organization is preparing to launch later this year two new investment funds totaling $600 million.
South Bay philanthropist Melanie Lundquist joins AltaSea board in San Pedro (Daily Breeze)
Philanthropist Melanie Lundquist has been named to the AltaSea Board of Trustees as progress on the ambitious marine science campus continues in San Pedro, the organization recently announced.
And earlier this year, AltaSea tapped Geraldine Knatz, former executive director of the Port of Los Angeles — who initially raised and promoted the concept during her POLA years from January 2006 to January 2014 — to lead the board.
Knatz, who also helped create the San Pedro Bay Ports Clean Air Action Plan while heading up the Port of LA, became board chairwoman in January.
Can Green be Blue? (McTigue Conscious Architecture)
In this Spotlight episode, I had the wonderful opportunity to speak with Terry Tamminen, President/CEO of AltaSea at the Port of Los Angeles. Terry is someone who's actions and voice on matters of the environment, land and sea … are so important.
Hear the discussion we had about Terry's career, AltaSea, the Blue Economy.
Human-occupied submersible makes historic dive by reaching a depth of 21,325 feet (Interesting Engineering)
On Thursday, the human-occupied submersible Alvin made history when it successfully reached a whopping depth of 21,325 feet (6,453 meters), achieving the deepest dive ever in the 58-year history of the storied submersible, according to a press release by the Woods Hole Oceanographic Institution (WHOI). The event took place in the Puerto Rico Trench, north of San Juan, P.R.
Bob Waters, from AltaSea partner, Ocean Exploration Trust, piloted Alvin on the dive.
Eco Wave Power's wave energy pilot en route to Los Angeles (Offshore Energy)
Eco Wave Power entered a collaboration agreement with AltaSea earlier this year and revealed plans to relocate the energy conversion unit from Gibraltar to the 35-acre campus located at the Port of Los Angeles.
The unit is set to arrive at its destination in September.
This will be the first U.S. location for Eco Wave Power's technology, which is already deployed in Israel and plans further deployments in Spain, Portugal, and other locations, completing the company's 327.7 MW project pipeline.
USC Dornsife scholars make a splash as they address challenges — from local to global — centered around water. (USC Dornsife)
Water is the great primordial home; the incubator of all life on the planet. It has been and continues to be the single most important resource for all known living things.
So, it's not surprising that water is the focal point of an array of efforts by USC Dornsife researchers, students and alumni to address some of the world's most pressing challenges. From building resilience in farmed marine species to charting the ocean floor to ensuring homeless Angelenos get the water they need to survive, USC Dornsife scholars are finding innovative ways to quench the world's thirst for solutions.
Amping up state's offshore wind power goals would brighten state's energy outlook (Cal Matters)
Guest commentary by AltaSea President and CEO, Terry Tamminen!
Play it safe or go big? The California Energy Commission is faced with this question as it looks to set a goal at its Aug. 10 meeting for how much offshore wind energy our state can produce — and the pressure is on.
Now is not the time for incrementalism. The future of California's energy supply and our ability to wean ourselves off fossil fuel-generated power could very well hinge on the commission's decision.
Sino-American hydrogen forum held online (China Daily)
The 2022 Sino-American Forum on Cooperation in the Hydrogen Energy Industry was held online on July 20, with the strong support of relevant Chinese and American public and private bodies and with the goal of linking China's key hydrogen energy development regions and their Californian counterparts.
The forum was jointly hosted by the Green & Smart Energy Organization (GSEO) and AltaSea at the port of Los Angeles, a non-profit at the center of California's blue economy and a leading voice in California's efforts to establish a renewable hydrogen hub.
Discovery of a Solumbellula Sea Pen – First Sighting in the Pacific! (Nautilus Live)
At 2994 meters on a never-before-surveyed seamount north of Johnston Atoll, the team made a thrilling discovery — the chance to examine an animal spotted for the very first time in the Pacific Ocean! The sea pen, a colonial cnidarian, had a single large feeding polyp with pinnate (barbed) tentacles stretching over 40 cm from its 2-meter-long stalk.
Solumbellula monocephalus is the only described species in the genus and until this sighting was only known to live in the North and South Atlantic and Indian Oceans. Before this discovery of the colony, the animal had never been seen in the Pacific Ocean. Further review of the footage and this sample will help experts determine if this is the first Pacific S.monocephalus or potentially a new species in this ocean basin.
MARINE SCIENCE
Is this pillbug-like organism a pollinator of the sea? (Science)
The birds and the bees are expert pollinators on land, but how does this vital task happen in the sea? A decade ago, scientists discovered small marine worms and crustaceans transport pollen between flowering seagrass, and now another research team has found a possible new pollinator: a slender crustacean called an isopod that swims between red algae with its sperm cells stuck to its body, fertilizing the plant as it grazes.
'Inspiring to see': scientists show how forests of kelp can potentially be brought back to life (The Guardian)
The thick underwater forests off Tasmania's east coast used to be so dense they were marked as shipping hazards on nautical charts. Thriving stands of giant kelp, which grows up to 40 metres high, once provided habitat for fur seals, seahorses, weedy sea dragons, rock lobsters, abalone and fish.
Since the 1960s, Tasmania's giant kelp has all but vanished. Despite the rapid speed at which the brown algae grows – up to half a metre a day – around 95% has been killed off by warm waters pushed southwards by the east Australian current.
SUSTAINABLE AND INNOVATIVE BUSINESS
Seaweed helps Maine lobstermen ride the storm of climate change (The Washington Post)
Briana Warner is dressed for this late spring morning in padded rubber overalls, raincoat, rubber boots and neon yellow gloves that come up above her elbows. Just off the coast of Falmouth, she hangs off the side of a Zodiac boat and uses a gaff (hook) to hoist from the water a neon green buoy attached to a thick white rope. Warner struggles and finally gets her hands around the rope. The line drips with long, shimmering, translucent ribbons of green sugar kelp.
Warner's face lights up as she inspects the seaweed. "They're ready for harvest," she declares.
Celebrity chefs, NGOs and business leaders launch new Coalition for Sustainable Aquaculture (The Fish Site)
A partnership of award-winning US chefs, business leaders and environmental NGOs have formed a new coalition focused on promoting the sustainable growth of offshore aquaculture in the US – advocating for, "grow it here, do it right" policies. The Coalition for Sustainable Aquaculture (CSA) is launching with more than twenty leading chefs from around the country and ten high-profile founding member organisations: the Environmental Defense Fund (EDF), Minorities in Aquaculture, The Marine Mammal Center, Seafood and Gender Equality (SAGE), Lowcountry Oyster Co, Blue Dot Sea Farms, AquaSpark, Monterey Bay Seaweeds, Neptune Sustainable Ocean Snacks and Postelsia.
EDUCATION
How Indigenous Sea Gardens Produced Massive Amounts of Food for Millennia (Hakai Magazine)
For those who know how to read them, the signs have long been there. Like the towering mound of 20 million oyster shells all but obscured by the lush greenery of central Florida's Gulf Coast. Or the arcing lines of wave-weathered stone walls strung along British Columbia's shores like a necklace. Such features, hidden in the landscape, tell a rich and varied story of Indigenous stewardship. They reveal how humans carefully transformed the world's coasts into gardens of the sea—gardens that produced vibrant, varied communities of marine life that sustained Indigenous peoples for millennia. And in certain places, like on the west coast of North America in what is now Washington State and where the Swinomish are building a new sea garden, these ancient practices are poised to sustain them once again.
Ten projects and collectives using web3 and blockchain to support ocean and marine conservation and regeneration (Crypto Altruism)
Marine habitats are complex and diverse ecosystems that are an essential component of life on earth. Unfortunately, due in large part to climate change, ocean acidification, over fishing, pollution, and a number of other causes, marine biodiversity is facing an existential threat. In fact, an estimated 30-50% of vulnerable marine habitats have been lost, including 50% of coral reefs.
Addressing this urgent crisis will take a robust, complex response involving governments, NGOs, corporations, and the tech sector. Blockchain and web3 solutions can and should be a part of addressing this crisis, as we've seen numerous projects emerge that are coming up with innovative ways to use technology to support healthy oceans and marine life.
First 100,000 Kg Removed from The Great Pacific Garbage Patch (The Ocean Cleanup)
Today, our operation in the Pacific Ocean reached an exciting milestone: The Ocean Cleanup has now officially removed more than 100,000 kg of plastic from the Great Pacific Garbage Patch (GPGP).
Since deployment in August 2021, System 002 (or "Jenny") has now collected 101,353 kg of plastic over 45 extractions, sweeping an area of ocean of over 3000km2 – comparable to the size of Luxembourg or Rhode Island. Added to the 7,173 kg of plastic captured by our previous prototype systems, The Ocean Cleanup has now collected 108,526 kg of plastic from the GPGP – more than the combined weight of two and a half Boeing 737-800s, or the dry weight of a space shuttle!
https://altaseamedia.s3.us-west-1.amazonaws.com/wp-content/uploads/2018/04/31134647/AltaSea_Logo.png
0
0
Natasha Berendzen
https://altaseamedia.s3.us-west-1.amazonaws.com/wp-content/uploads/2018/04/31134647/AltaSea_Logo.png
Natasha Berendzen
2022-08-09 10:28:35
2022-08-09 10:28:35
AltaSea: Trending – August 10, 2022