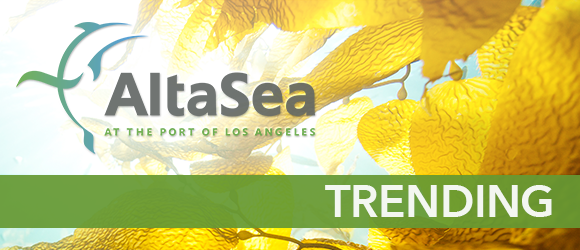 A monthly round-up of news and trends important to the AltaSea community.
UPCOMING EVENTS
Sea Sick (The Broad Stage)
Friday, April 15 and Saturday, April 16
Award-winning journalist Alanna Mitchell is a master storyteller, and this power is center stage in her mesmerizing solo show, Sea Sick. Culled from her work with leading ocean scientists and infused with her innate ability to lure an audience in, Sea Sick tells Mitchell's most important story: her journey to the bottom of the ocean, the demons she discovered there and, most importantly, her hope for the future.
Click here for more information and tickets.
Open House: Celebrating our Blue Earth (AltaSea)
Saturday, April 23 at 10:00AM – 1:30PM
Please bring your families to participate in ocean related science activities provided by local science organizations including AltaSea, Battleship IOWA, Cabrillo Marine Aquarium, Emerald Bay Outdoor Academy, Holdfast Aquaculture, International Bird Rescue, Los Angeles Maritime Institute, Marine Mammal Care Center, the USC Seaweed Lab, NAMEPA, USC Sea Grant and WestCal Academy.
10:45AM – 11:15AM: Eric Martin, Aquarist Director at Roundhouse Aquarium Teaching Center will speak: So You Want to be a Marine Biologist…Let's Talk about Whale Poop
Children of all ages invited. This event is free and open to the public.
ATTEND IN PERSON: Click here to RSVP
WATCH ONLINE: If you are unable to attend in person, we hope you will participate remotely.Livestream will begin at 10:45AM. Click here to watch!
Small Island Big Song (Grand Vision Foundation)Wednesday, April 27 at 7:30PM
Small Island Big Song is a live concert performance that brings together a group of indigenous musicians from different South Pacific/Indian Ocean nations to share an amazing night of uplifting traditional and contemporary oceanic grooves, soulful island ballads, and spoken word. This concert is an expression of shared seafaring cultures while also drawing attention to the fate of many island nations affected by rising seas and climate change right now and into the near future.
This event is presented in partnership with AltaSea, Cabrillo Marine Aquarium, Marine Mammal Care Center and generously supported by the Office of Councilman Joe Buscaino, the Office of Supervisor Janice Hahn and the Family of Gary and Milli Alexander.
Click here to get tickets. Use promo code ALTASEA15 for a 15% discount!
Teen Climate Fest (The Aquarium of the Pacific)
Sunday, May 1, 2022 from 7:00PM-9:00PM
Teen Climate Fest goal is to give high school students a chance to learn from professionals and businesses about climate change and the implementation of sustainability into various areas of study. Through the event, the Teen Council at the Aquarium of the Pacific hope to inspire peers to take further action against climate change and to pursue a career in sustainability. Professionals from the Aquarium of the Pacific, the National Oceanic and Atmospheric Administration (NOAA) scientists and Terry Tamminen, AltaSea's President and CEO, will discuss solutions to threats our planet is facing in panel discussion.
For questions and to RSVP, email tclimatecouncil@lbaop.org.
ALTASEA COMMUNITY
UCLA's Institute for Carbon Management to Demonstrate Carbon Removal Technologies on AltaSea Campus at Port of Los Angeles (Business Wire)
AltaSea and the UCLA Samueli School of Engineering's Institute for Carbon Management (ICM) have announced an agreement to demonstrate carbon removal technologies on the 35-acre AltaSea campus at the Port of Los Angeles later this year. ICM will showcase its pioneering SeaChange technology that leverages the oceans to effect carbon removal. This innovative technology will help address one of the most daunting climate change challenges the world faces — carbon dioxide emissions.
EECI and AltaSea Unite to Bring 'Blue' Jobs to Watts Community (Los Angeles Sentinel)
Careers in the "blue" or ocean economy will become more accessible for South Los Angeles residents, thanks to collaboration between the Entrepreneur Educational Center Inc. (EECI) and AltaSea at the Port of Los Angeles.
During a brief ceremony on March 25, Barbara Stanton, CEO of Watts-based EECI; and Jenny Krusoe, AltaSea founding executive director signed a formal Memorandum of Understanding to partner in establishing employment opportunities in emerging "blue" sectors such as underwater robotics, aquaculture farming, and ecosystem health analysis.
The agreement also emphasizes bringing small businesses and equity to the local area, which will  benefit residents in Black and Indigenous People of Color communities.
Scientists Spot 'Unidentified Gelatinous Creature,' Video Captures Their Joy (CNET Science)
Few things bring me as much glee as listening to marine scientists lose their minds over the wild and enchanting creatures they find deep under the ocean waves. The crew of the Exploration Vessel Nautilus shared a highlight reel video from a recent remote-operated vehicle dive at the Palmyra Atoll National Wildlife Refuge in the Pacific Ocean. It shows a wonderland of strange and mysterious creatures.
Tekevar and AltaSea Collaborate to Showcase USA Marine and Ocean Missions to LA Students (AltaSea and Tekevar)
AltaSea at the Port of Los Angeles and global Unmanned Aerial System (UAS) maker Tekever have entered into an MOU to collaborate on key ocean and marine initiatives.
The AltaSea/Tekever collaboration will commence with the creation of a K-12 educational program featuring real-time virtual participation in Tekever marine and environmental missions in global waters. These missions are conducted for governments, nonprofits, and for-profit organizations who need to capture intel and data in arenas including surveillance; inspection: detection: and data gathering and analytics of fisheries, aquaculture, sea life, ocean pollution, oil spills, dumping, weather pattern, maritime traffic and patrol, vessel piracy, security threats, search & rescue, refuge migration, and human and drug trafficking at sea.
MARINE SCIENCE
Great Barrier Reef authority confirms unprecedented sixth mass coral bleaching event (The Guardian)
Government scientists said the confirmation showed the urgency of cutting greenhouse gas emissions that were driving the repeated mass bleachings.
Dr David Wachenfeld, GBRMPA chief scientist, told the Guardian bleaching wasn't expected in a La Niña.
"But having said that, the climate is changing and the planet and the reef is about 1.5 degrees centigrade warmer than it was 150 years ago. Because of that, the weather is changing. Unexpected events are now to be expected. Nothing surprises me any more."
Wreck of 200-year-old whaling ship may have been found in Gulf of Mexico (The Washington Post)
The brig, just 64 feet long, had been built in 1815 in Westport, Mass., and was a 20-year veteran of the whaling industry. Its sinking in May 1836 would make it the only whaling ship ever lost in the little-known whaling grounds of the Gulf.
The National Oceanic and Atmospheric Administration announced that explorers believe they have found the wreck of the Industry, along with three of its anchors and what may be its "tryworks," the cauldrons for rendering blubber into whale oil.
SUSTAINABLE AND INNOVATIVE BUSINESS
NYC to turn Brooklyn port into a hub for offshore wind farm construction (CNBC)
New York City is moving to become one of the largest port facilities for offshore wind farm parts in the United States.
Mayor Eric Adams announced that the South Brooklyn Marine Terminal will be upgraded to handle very large and specific offshore wind turbine construction parts.
The Empire Wind project and Beacon Wind offshore wind farm projects, both of which will be located in the Atlantic Ocean off Long Island, will source materials from the newly upgraded terminal.
'Apathy is one of our biggest problems': Ocean photographer Shawn Heinrichs wants to save the seas (CNN.com)
The images of sea life captured by photographer and cinematographer Shawn Heinrichs have a dual message: we should revere these majestic, yet fragile creatures, but we should also fear the prospect of their extinction.
Heinrichs, 50, grew up by the South African coast: "As a kid I spent every weekend around the oceans — it has more abundance than you could ever imagine," he recalled.
His protective instinct for life beneath the waves inspired a career investigating its mistreatment by humans and campaigning for change. By locating elusive whale sharks in Mexico's Isla Mujeres, he heavily influenced local fishermen's career transition to ecotourism.
EDUCATION
Black Professional Scuba Divers Talk Up Ocean Careers (The Washington Informer)
Scuba diving is an exciting STEM-related career, but many Blacks may think of it as a recreational activity.
Educating people about scuba diving careers is a top objective of the National Association of Black Scuba Divers (NABS). With a national membership of 1,000, NABS spreads the word about dive projects, ocean research, changes in the ocean environment, search for historical artifacts and operating scuba equipment.
New AdaptLA Resources on Sea Level Rise (USC Sea Grant)
Recently, NOAA released its 2022 Sea Level Rise Technical Report, which provides updated projections through 2150 for all U.S. coastal waters. While sea level rise (SLR) along the U.S. coast will vary regionally, the report findings project on average, 10-12 inches of SLR in the next 30 years (2020-2050), with. "moderate" flooding expected to occur, on average, more than 10 times as often as it does today. In the Southern California region, flooding events can be compounded with El Niño associated storms and high tides. The NOAA technical report, combined with efforts like the USGS Coastal Storm Modeling System available on Our Coast Our Future, OPC Sea-Level Rise Guidance, and a recent NOAA/Sea Grant partnership to conduct a Los Angeles County Vulnerability Assessment, are all tools to help plan for SLR and create more resilient coastal communities.
https://altasea.org/wp-content/uploads/2020/12/AltaSea_Logo.png
0
0
Natasha Berendzen
https://altasea.org/wp-content/uploads/2020/12/AltaSea_Logo.png
Natasha Berendzen
2022-04-12 11:30:38
2022-04-12 11:07:09
AltaSea: Trending – April 13, 2022