Grand opening of USC's Nuzhdin Aquaculture Lab and Holdfast Aquaculture Lab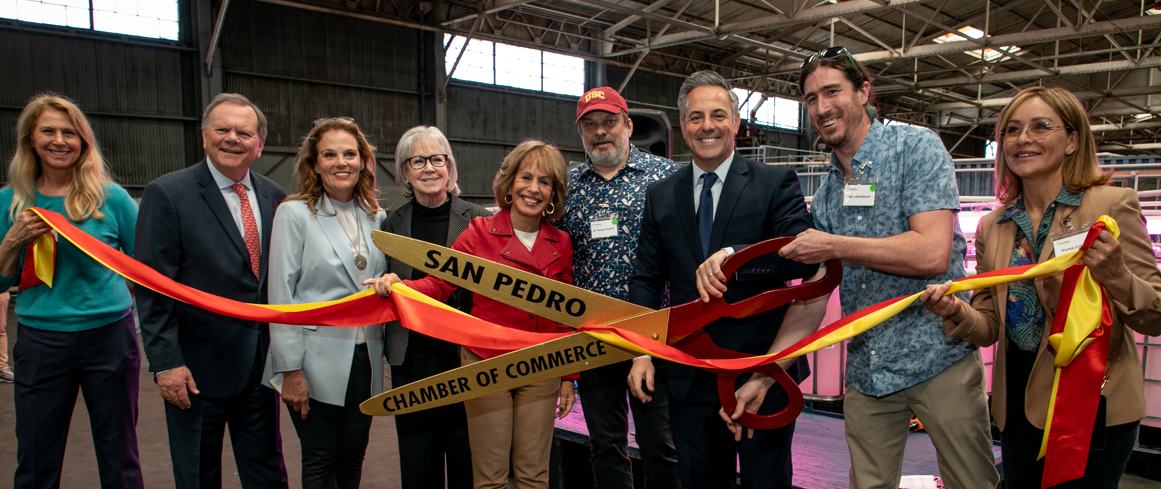 Photo Credit: Taso Papadakis
AltaSea and the University of Southern California (USC) officially opened a seaweed lab on the AltaSea campus. The 6,000 square foot lab will conduct research on regenerative aquaculture as well as aquafarming technologies.
The Nuzhdin Research Laboratory marks the beginning of a promising partnership between the nonprofit and USC's Dr. Sergey Nuzhdin. With the support of NOAA Sea Grant and the USDA, Dr. Nuzhdin and his team will investigate ways to sustainably expand aquaculture in the United States, particularly the cultivation of bivalves and kelp. Part of this research involves improving the commercial production of seaweeds through establishing best practices in breeding and cultivation in order to protect the genetic diversity of kelp.
Over 200 guests were in attendance to celebrate the opening and listen to a panel discussion between AltaSea CEO, Terry Tamminen; USC President Carol L. Folt; and philanthropist Dr. Melanie Lundquist. Former Governor Arnold Schwarzenegger also made a virtual appearance to extend his congratulations.
The day also celebrated the opening of the Holdfast Aquaculture Lab. With organizations from the same sector in one facility, it will be easier to enable and meet goals that involve cooperative efforts on engaging local youth, training future sustainable aquafarmers, and developing mentorship programs for student researchers. This spirit of scientific collaboration is at the root of AltaSea's mission to connect diverse ocean experts in order to accelerate the blue economy.
AltaSea would especially like to thank Melanie Lundquist for her continuing support of our mission and goals and for hosting the March 7th event. You can view highlights below.
Coming Soon: ResilienSEA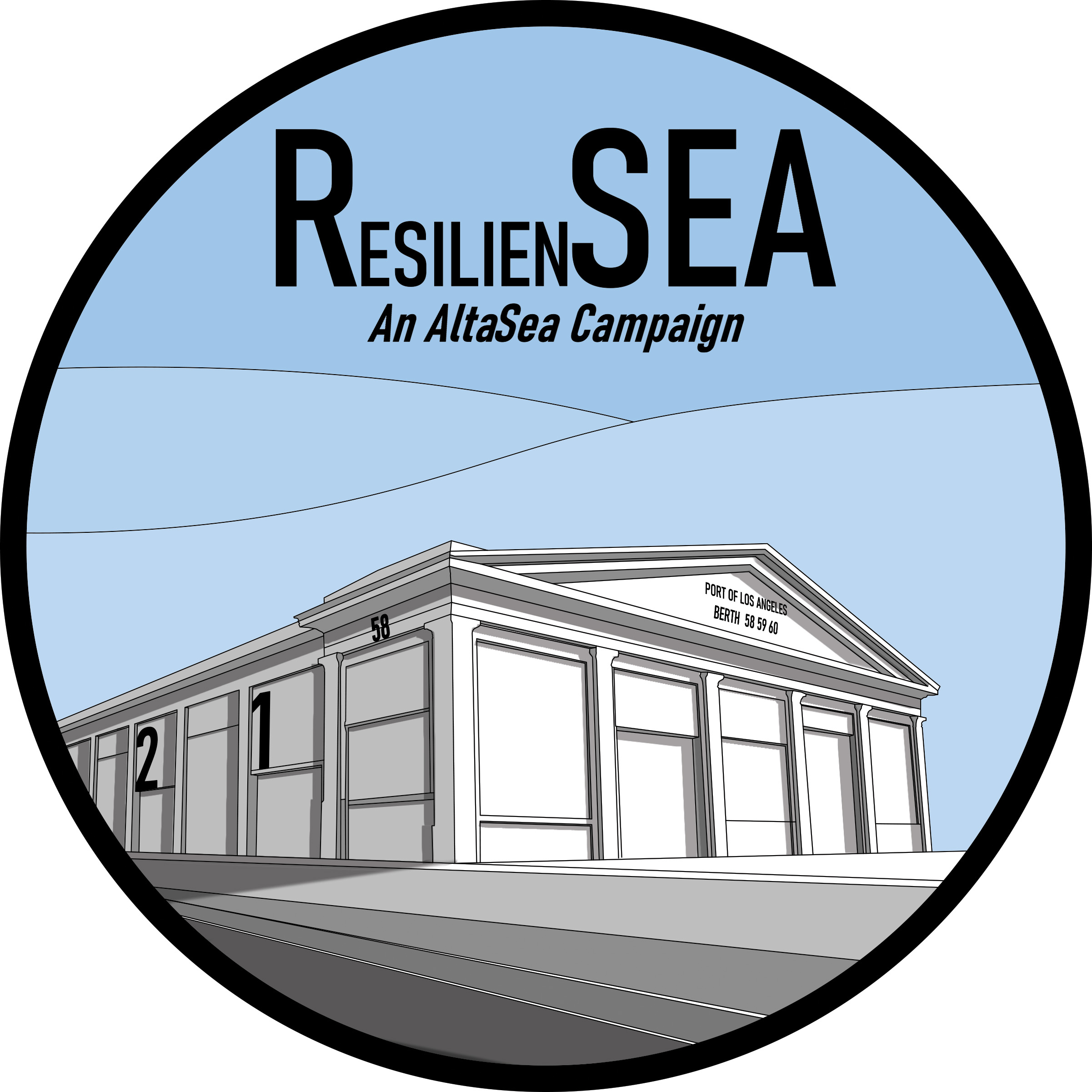 AltaSea is excited to announce a new membership campaign, ResilienSEA!
Officially launching on Earth Day, April 22, ResilienSEA will highlight the importance of making sure we are taking appropriate steps to advance a resilient world as we combat climate change.  Check out the ResilienSea website, become a member, and help us create a more sustainable future!
AltaSea to receive $600,000 for the AltaSea Ocean STEM Pathways Program thanks to U.S. Senator Alex Padilla
Senator Alex Padilla (CA) has announced that he has secured $600,000 in funding for AltaSea's Ocean STEM Pathways program at the Port of Los Angeles, a major win for the nonprofit and the Los Angeles community. AltaSea is the only nonprofit organization in Los Angeles focused on climate change and job creation to receive this federal community project funding.
AltaSea's Ocean STEM Pathways program will provide Los Angeles area students with hands-on educational experiences in four sectors of the Blue Economy: sustainable aquaculture, ocean exploration and mapping, renewable energy, and underwater robotics.
"I am proud to have secured funding that will give LA students STEM learning experiences in the emerging Blue Economy – a vital and growing sector of California's 21st century economy," Senator Alex Padilla said. "This program will provide students in underserved communities a pathway to good-paying jobs that tackle climate change and our most pressing challenges. I look forward to AltaSea continuing to make a mark on Southern California by convening experts to advance blue technology and ocean conservation."
AltaSea's growing campus is primed to be the hub of the emerging blue economy, which is projected to create well over 126,000 direct jobs in LA County alone, paying a combined $37.7 billion in wages by 2030. AltaSea's signed anchor tenants to occupy various locations on the 35-acre campus include the University of Southern California, the University of California, Los Angeles, the Southern California Marine Institute (made up of 23 universities, colleges, and institutes), Braid Theory, Holdfast Aquaculture, Montauk Technologies, and Pacific Mariculture.
Also among AltaSea's tenants is famed oceanographer and explorer Dr. Robert Ballard's Ocean Exploration Trust (OET) and the research vessel Nautilus, which docks at AltaSea. Dr. Ballard is best known for his historic discoveries of hydrothermal vents, the sunken R.M.S Titanic, the German battleship Bismarck, and many other shipwrecks around the world. OET has plans to build a 10,000 square foot interactive research and educational center at AltaSea.
"Senator Padilla understands that the Blue Economy's growth is critical to our battle against climate change, and this funding underscores the importance of investing in the next generation," said AltaSea CEO Terry Tamminen, former California EPA Secretary. "We are grateful to Senator Padilla and his staff for prioritizing the Los Angeles community and our planet in his community project funding."
In October 2021, AltaSea announced that the State of California provided $6 million to help fund the renovation of its historic warehouses and wharfs, which will help make AltaSea the largest hub of the emerging blue economy on the West Coast. The Port of Los Angeles matched the State's contribution for a total of $12 million in funding.
https://altasea.org/wp-content/uploads/2020/12/AltaSea_Logo.png
0
0
Natasha Berendzen
https://altasea.org/wp-content/uploads/2020/12/AltaSea_Logo.png
Natasha Berendzen
2022-04-05 08:00:11
2022-04-04 16:35:38
AltaSea: The Beacon -April 5, 2022