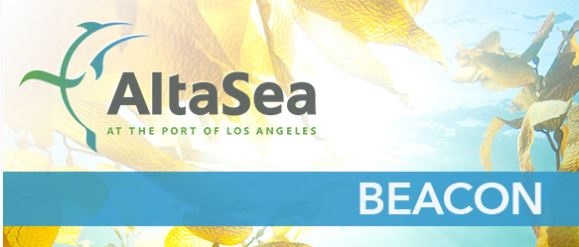 AltaSea Meets Major Leasehold Milestone to Build L.A. Harbor Center
Over $8 Million Raised to Construct Home for Ocean-Focused Research, STEM Education, Business Incubation
AltaSea at the Port of Los Angeles has met a major milestone in its lease agreement with the Port of Los Angeles. The non-profit institution has rapidly raised over $8 million in funds to build out the first phase of its 35-acre center for ocean-focused science research, STEM-based education and sustainable business incubation.
"This is an important milestone for AltaSea, and we expect many major announcements to come as we catalyze the Port's expansion into new innovative markets that will allow it to continue to power our region's economy for decades to come," said AltaSea CEO Tim McOsker. "These dedicated construction funds are tangible proof of the broad-ranging energy, momentum and support behind our vision."
"AltaSea is a vital partner of the Port of Los Angeles as we continue our efforts to create a future-facing harbor that embraces innovation and economic growth," said Jaime L. Lee, President of the Los Angeles Board of Harbor Commissioners. "We are heartened and pleased that AltaSea has met this major milestone and look forward to its continued growth and presence on the LA Waterfront."
AltaSea initiatives to date have helped attract cutting-edge companies to the LA Waterfront, such as Boeing, the Jet Propulsion Laboratory and SpaceX, helping to create a cluster of science, business and education at the Port and establishing Los Angeles as an emerging leader for the Blue Economy.
Under the terms of AltaSea's lease, renegotiated with the Port of L.A. last year to include a series of fundraising milestones, the non-profit organization had to raise dedicated construction funds needed to build its next phase, or over $8 million, by Aug. 23. AltaSea already has raised millions of dollars in other funds to operate its existing programs.
Having met the lease terms, AltaSea will take full possession of three warehouses on City Dock No. 1 with deep-water dock access – Buildings 58, 59 and 60 – as well as a vacant parcel of about 1 acre next to Building 58. Each of the warehouses encloses 60,000 sq. ft., giving AltaSea control over 180,000 sq. ft. of space that already has multiple tenants, including aquaculture pioneer Catalina Sea Ranch, and logistics-services provider Water Taxi.
Partners and tenants already using facilities at AltaSea include Boeing's undersea autonomous vehicle team, a robotics research group from NASA's Jet Propulsion Library, Blue Robotics, the Boys & Girls Clubs of Los Angeles Harbor, the Ocean Exploration Trust, the La Kretz Blue Economy Incubator, and business-development advisors Braid Theory.
The 101-year-old warehouses occupied by AltaSea will be enhanced into space suitable for a wide range of ocean-oriented technology and business tenants. In turn, that rental revenue will provide AltaSea with operating funds for the research and education facilities and programs that are also part of its broader vision.
https://altasea.org/wp-content/uploads/2020/12/AltaSea_Logo.png
0
0
Natasha Berendzen
https://altasea.org/wp-content/uploads/2020/12/AltaSea_Logo.png
Natasha Berendzen
2018-09-06 11:25:28
2019-04-15 12:32:54
AltaSea: Beacon – Special Edition – September 6, 2018