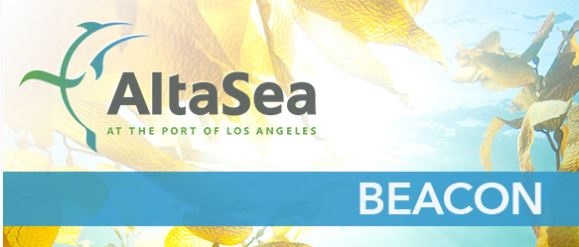 AltaSea is proud to announce the newest member of our board of directors
Cynthia Hirschhorn officially joined the AltaSea board of directors on July 26, 2018. Cynthia is an environmental designer and advocate for healthy civic life and believes in aligning missions to amplify resources for more impact at the civic scale. Cynthia founded Unycyn Civic Arts to inspire more harmonious civic environments by connecting numerous individual visions, just as many voices in "unison" sync to make harmonious sounds.
Cynthia is proud to serve on the boards of RiverLA and AltaSea to which she brings her passions for public art, community gardens & water resiliency, and ProCon.org & Action Civics CA which promote civic education and engagement for students of all ages. She created and curates flowproject.la, a resource platform connecting civic arts and education partnerships, programs and projects support water resiliency, as well as civicas.net a women's civic leadership network. Her non-profit Unycyn Civic Arts supports civic health and beautification through public art, urban gardens and "the art of being civic".
Cynthia developed and implemented a successful fundraising and community building platform for parents at Harvard-Westlake School, enjoys hosting salons on public health, civic art and the LA River, leading garden tours and urban explorations, and organizing events celebrating community. A native of Los Angeles, Cynthia attended Yale College, and has a BA in Cultural History and a Masters in Architecture from UCLA. She and her husband Charles have three adult children, live in Pacific Palisades and love to travel.
Please join AltaSea and Cynthia Hirschhorn on October 20th.
A Room Where it Happens: LA H20 from Mountains to Sea
A conversation about water issues, technological actions and civic resources catalyzed by California's $9 billion water bond and Los Angeles County's Storm Water Parcel Tax on the ballot in November.
Our experts panelists are leaders in the Civic Water Sector including:
Angela Barraco – COO, River LA
Ann Carpenter – Co-Founder/CEO, Braid Theory
Cynthia Hirschhorn – Founder, flowproject.la
Dr. Jenny Jay – Professor, IoES at UCLA
Jenny Krusoe – Executive Director, AltaSea
Dr. Shelly Luce – President/CEO, Heal the Bay
Saturday, October 20, 2018
2:00pm – 4:00pm
The event will be followed by Civic Water Expo at the Aquarium and a tour of AltaSea
Cabrillo Marine Aquarium
3720 Stephen M White Drive
Los Angeles, CA 90731
Thank you to our participants and partners at River LA, Braid Theory, flowproject.la, IoES, AltaSea, Heal the Bay, the Cabrillo Marine Aquarium, LA City and County.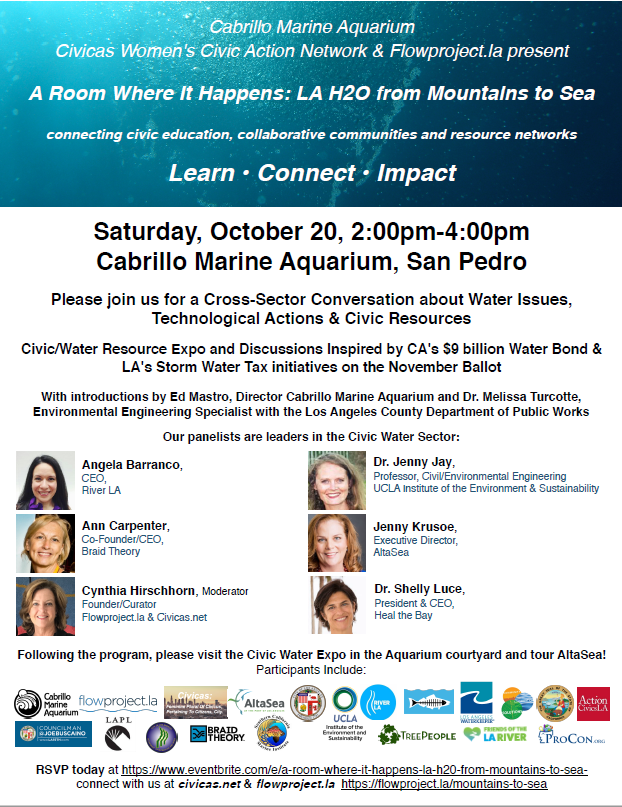 Stairs to the Future Campaign!
Support AltaSea by purchasing one of only 20 naming opportunities for our Stairs to the Future campaign. Beautifully designed plaques will become a part of the stairs leading into the Innovation Center at Warehouse 58. This facility will house Dr. Ballard's Ocean Exploration Center, the La Kretz Blue Economy Incubator, our Sustainable Aquaculture cluster, and our Blue Economy classrooms.
Consider naming a stair for yourself or for your company.
Executive Director, Jenny Krusoe donated on behalf of AltaSea staff a stair in memory of founding Director of Communications and Community at AltaSea, Pat Means.
Step up with Jenny Krusoe, Cynthia Hirschhorn and Westrec: name a stair!
https://altasea.org/wp-content/uploads/2020/12/AltaSea_Logo.png
0
0
Natasha Berendzen
https://altasea.org/wp-content/uploads/2020/12/AltaSea_Logo.png
Natasha Berendzen
2018-10-01 11:00:28
2019-04-15 12:31:29
AltaSea: Beacon – Special Edition – October 1, 2018