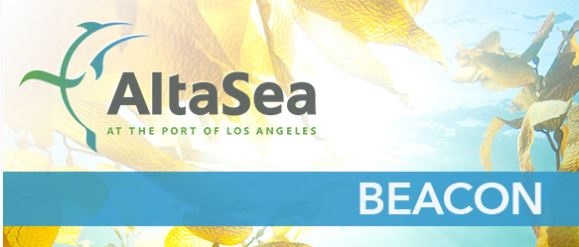 SPECIAL EDITION
AltaSea: Beacon provides updates on AltaSea's activities, education and community programs and other priority initiatives.
We're Thrilled! Ann Carpenter is Running for Honorary Mayor to Benefit AltaSea!
Ann Carpenter, CEO of Braid Theory here in San Pedro, has designated AltaSea as her non-profit. Ann would like to bring awareness to the community about one of AltaSea's core goals; bringing STEM programming to our next generation and inspiring them to pursue science-based careers. A portion of the proceeds of Ann's campaign for AltaSea will be used to support AltaSea's education partners; the Los Angeles Maritime Institute and the Cabrillo Marine Aquarium.
The Honorary Mayor Campaign, sponsored by the San Pedro Chamber of Commerce is an opportunity for qualified candidates to give back to our community. Candidates raise funds for their local non-profit organizations and for Chamber sponsored events. At the Chamber's Annual Luncheon on June 15th, the candidate raising the most funds is declared Honorary Mayor of San Pedro for the following two years.
Ann is a strategic and market-focused leader dedicated to building the tech entrepreneurial community in Southern California. She is a deep and innovative thinker and visual communicator, "bilingual" in engineering and marketing. Ann Carpenter brings more than 30 years of experience in strategic planning, marketing, business development, and community outreach in the corporate world, with nonprofit organizations, and as an entrepreneur. She has served as an advisor, coach, and mentor to countless tech startups.
Her new company, Braid Theory weaves together entrepreneurs, industry influencers and corporate partners to accelerate adoption of transformative technology. In the same spirit as AltaSea, Braid Theory adopts a fresh approach to innovative collaboration. AltaSea is developing a new model for ocean-related science, business and education – a place where innovators collaborate to develop solutions critical to the survival of the earth and its inhabitants.
Ann chose AltaSea as her designated non-profit as it embodies her personal passions…a deep love of the ocean, the importance of science, the value of hands-on learning, and the desire to employ technologies to help solve our planet's greatest challenges. With your help, we can continue our work to an unparalleled network of supporters, scientists and community partners to create and sustain AltaSea's legacy for years to come.
Please consider making a donation today at altasea.org in support of Ann Carpenter's Honorary Mayor Campaign.
Join us at our next Honorary Mayor event, Pie Day on March 14th, 5:00-9:00pm at Big Nick's Pizza, 1110 N Gaffey St, San Pedro, CA 90731. Current Honorary Mayor, John Bagakis, is donating 15% of the evenings sales (dine in or take-out) to Ann's campaign.

https://altaseamedia.s3.us-west-1.amazonaws.com/wp-content/uploads/2018/04/31134647/AltaSea_Logo.png
0
0
Natasha Berendzen
https://altaseamedia.s3.us-west-1.amazonaws.com/wp-content/uploads/2018/04/31134647/AltaSea_Logo.png
Natasha Berendzen
2017-02-22 10:42:15
2019-04-15 12:58:58
AltaSea: Beacon – February 22, 2017