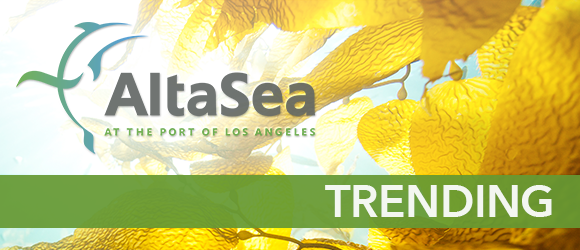 A monthly round-up of news and trends important to the AltaSea community.
UPCOMING VIRTUAL EVENTS
Webinar: A Deep Dive on Where the Federal Government is Headed on Ocean Conservation & the Blue Economy (AltaSea)
Friday, March 12 at 12:00pm
Panelists:
David B. Brown, University of Southern California's (USC) Vice President for Federal Relations
Chris Castillo, Director of Federal Government Relations for UC San Diego's Scripps Institution of Oceanography
Don Polese, Senior Partner/Managing Partners at Vectis DC
Moderated by Janet Clayton
MARINE SCIENCE
Opinion: To combat COVID-19, we needed fast science. Fighting climate change will take time — and funding. (The San Diego Union-Tribune)
It can be easy to forget as more COVID-19 vaccines are used every day that the incredible speed with which these vaccines were developed is an exception to the rule.
Science rarely moves in leaps.
Rather, science is the sum of countless daily labors by brilliant people around the world, over months and years, all hoping to discover the elusive. Unfortunately, governments — or rather, the politicians who hold purse strings — are inclined to care most about scientific leaps, not small steps. Funding follows the new, the nearby and the near-term at a great cost: We lose our understanding of the past — and our ability to prepare for the future. As his presidency enters its second month, Joe Biden should keep the long run in sight as he works to restore our country's collective support of science.
Scientists stumbled onto toothy deep-sea "top predator," and named it after elite sumo wrestlers (CBS News)
A sunny winter day in 2016 found marine biologist Yoshihiro Fujiwara anchored off the coast of central Japan, measuring pudgy cusk eels, when a hubbub suddenly erupted aboard ship. The crew of the Shonan Maru had just landed a big, bizarre-looking fish.
"Wow! We got a coelacanth!" they joked as they hauled up a specimen so large it evoked the legendary "living fossil" species found only in Africa and Indonesia.
Most of NorCal's kelp forest ecosystem is gone, new satellite imagery study shows (KTLA5)
An analysis of satellite imagery has found that the kelp forest that only eight years ago formed a leafy canopy along the Northern California coast has almost disappeared.
In looking at satellite images of the Sonoma and Mendocino coast going back to 1985, researchers from the University of California, Santa Cruz found the kelp forest declined by an average of 95% since 2013. Their study shows the destruction was related to an explosion in the population of purple sea urchin, which eats it, and two warm water events that lasted from 2014 to 2016, the San Francisco Chronicle reported Friday.
SUSTAINABLE AND INNOVATIVE BUSINESS
How 3D, Location Intelligence Can Help Drive A Sustainable Ocean Economy (Forbes)
The ocean, already the world's seventh-largest economy, is in trouble—and now comes the part where we realize we have the technology to do something about it.
With an asset valuation of $25 trillion, including a $2.5 trillion annual gross domestic product (GDP), the ocean economy is accelerating as fast as the calls for its conservation. And no wonder: the ocean is a massive force for protecting us from climate change, absorbing 25 percent of the world's climate emissions and 90 percent of the heat caused by those emissions. It generates 50 percent of the oxygen we breathe and is the largest biosphere on the planet, home to 80 percent of life on earth.
USC study shows promising potential for marine biofuel (EurekAlert!)
For several years now, the biofuels that power cars, jet airplanes, ships and big trucks have come primarily from corn and other mass-produced farm crops. Researchers at USC, though, have looked to the ocean for what could be an even better biofuel crop: seaweed.
Scientists at the USC Wrigley Institute for Environmental Studies on Santa Catalina Island, working with private industry, report that a new aquaculture technique on the California coast dramatically increases kelp growth, yielding four times more biomass than natural processes. The technique employs a contraption called the "kelp elevator" that optimizes growth for the bronze-colored floating algae by raising and lowering it to different depths.
How eDNA Could be a Cornerstone of the New Blue Economy (The Maritime Executive)
A bio-based industry likely to boom soon uses loose DNA in seawater, or environmental DNA, to measure presence and abundance of marine species. Animals in water inevitably shed their eDNA into it.
Surveyors have traditionally monitored sea life by observing seafood markets and trawl nets, diving with goggles, and more recently deploying cameras and sonars.
From microbes to mammals, near shore to mid-ocean, and seafloor to seabirds, humans want and need to know about ocean life.
EDUCATION
California Marine Life (Underwater Photography Guide)
California has some of the most diverse marine life in the world. It's underwater reefs and kelp forests support thousands of species of fish and invertebrates. Divers and underwater photographers looking for California marine life will see seals, large schools of fish, colorful invertebrates and giant kelp forests. Diving underwater in the Channel Islands or Monterey is the best way to experience this amazing underwater marine life.
'Holoportation' is now a reality thanks to Microsoft Mesh, Azure, and HoloLens 2 (Windows Central)
The announcement came via a live demonstration of the platform at Microsoft Ignite delivered by Microsoft Technical Fellow Alex Kipman in real-time along with its partners Lune Rouge (Guy Laliberté), Niantic (John Hanke), and OceanX (Ray Dalio).
On stage, Microsoft and its partners demoed how Microsoft Mesh can enable new abilities and remote collaboration. James Cameron, the famous Hollywood filmmaker, discussed Ray Dalio's OceanX non-profit that "merges cutting edge science with compelling storytelling" to support ocean education and awareness. Collaborating with Microsoft, OceanX is able "to create a Mesh-enabled holographic laboratory" on its research vessel, OceanXplorer. Scientists on the OceanXplorer ship will be able to gather – either in-person or virtually- from labs around the world to see 3D holograms of the areas they're exploring."
Women in aquaculture: Imani Black (The Fish Site)
Former oyster farmer and athlete Imani Black recently founded Minorities in Aquaculture in order to champion women and diversity in the aquaculture sector. As well as running the non-profit she is about to begin graduate school at UMCES. Read her interview with The Fish Site!
COMMUNITY
Marine Mammal Care Center Los Angeles Rebounds Under Dedicated Leadership And Successful Fundraising Campaign (Random Lengths News)
From the brink of closure to financial stability in less than one year, the Marine Mammal Care Center Los Angeles or MMCC raised over $2 million from grants, corporate gifts, and individual donations to continue the mission of the San Pedro-based nonprofit animal hospital. MMCC is the only 24/7/365 safe haven that cares for injured and sick marine mammals in Los Angeles County. Since 1992, MMCC has rescued over 8,000 animals stranded on Southern California beaches from Seal Beach to Malibu. MMCC rehabilitates and releases the animals back to their ocean homes.
https://altasea.org/wp-content/uploads/2020/12/AltaSea_Logo.png
0
0
Natasha Berendzen
https://altasea.org/wp-content/uploads/2020/12/AltaSea_Logo.png
Natasha Berendzen
2021-03-10 08:26:27
2021-03-10 08:29:49
AltaSea: Trending – March 10, 2021