EVENT OVERVIEW
The Blue + Green 2023 series is a 4 part series taking place in person and virtually in celebrating of Earth Day beginning Thursday April 13, 2023 and concluding on Saturday April 29, 2023.
The goal of the project is to shine a spotlight on emerging aquaculture sector in our economy. Aquaculture and the supporting technologies bring together all the key ingredients – future growth opportunities that support our coastal ecosystems, the economy, jobs, and our communities. This webinar hybrid series reimagines partnerships between business, government, universities, and communities through regenerative ocean research, exploration, and equity-based economic development.
You are registering to attend Session 4: Open House Breaking New Ground in the Ocean – Development of Offshore Aquaculture in the U.S. (In-Person)
To be held at AltaSea at the Port of Los Angeles Featuring Nick Hajek and the Pacific Alliance Aquaculture Vessel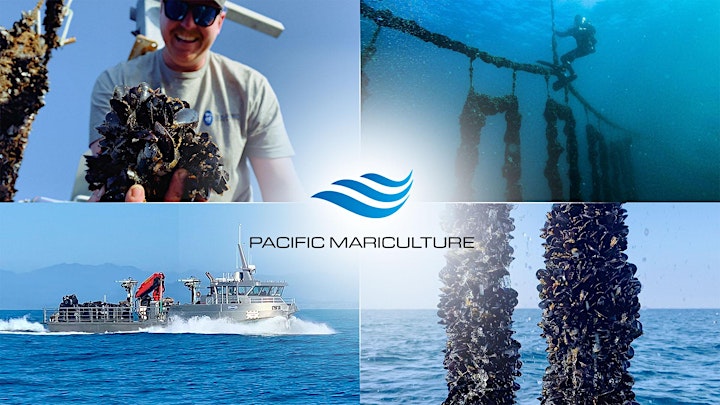 Nick Hajek is Director of Maritime Operations at Pacific6. As an international marine contractor, he manages several maritime projects focused on offshore farming, commercial scale aquaculture, carbon capture, and hybrid/all electric vessel designs, as well as continuing his work over seas year round. Nick comes from a maritime family and is an 8th generation Norwegian captain who is heavily involved with installing and supporting commercial scale offshore farms in various countries as well as overseeing the progress and operations of several cutting-edge projects here in the United States. Mr. Hajek is extremely hands on and practical. He is an internationally recognized captain, commercial diver, paramedic, aquaculture engineer and although born in the USA calls New Zealand home.
Join us for the unveiling of signage that honors the Gabrielino Tongva people curated by Tina Calderon Culture Bearer of Gabrielino Tongva, Chumash and Yoeme descent and designed by artist Monica Zavalla.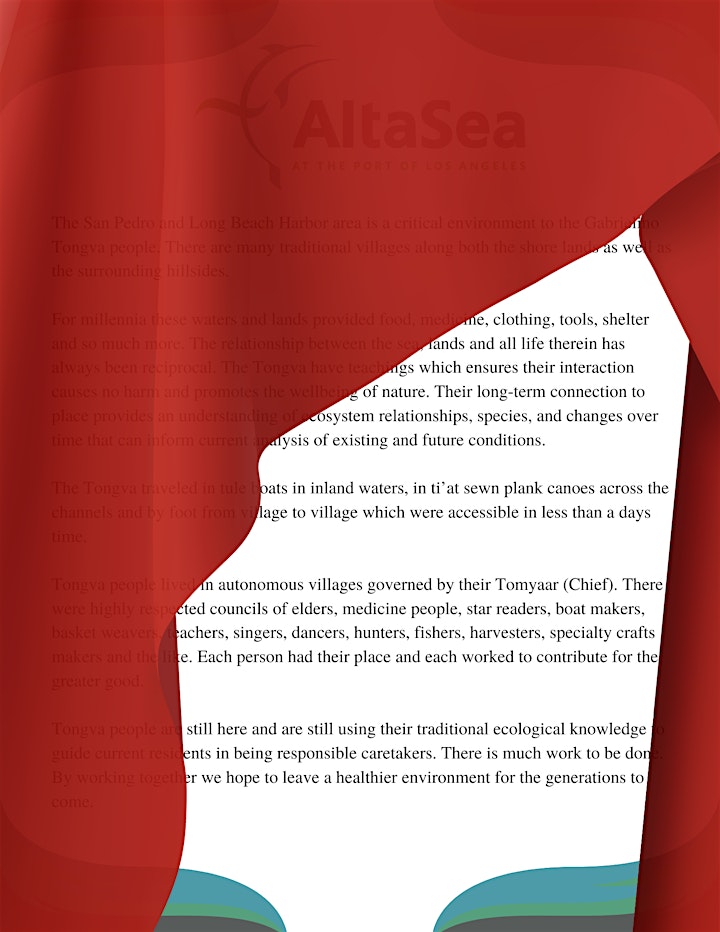 Volunteer Opportunities: If you would like to volunteer for this Open House please email our Programs and Community Outreach Coordinator Dorothy Cardenas at: dcardenas@altasea.org to RSVP for our upcoming Volunteer Training Session on Saturday April 15, 2023
EVENT IS FREE AND OPEN TO THE PUBLIC. TO REGISTER CLICK HERE.