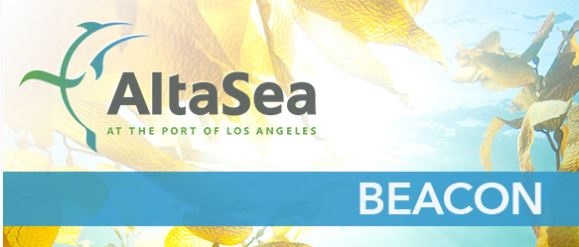 AltaSea, The Swim Launch Pledge Drive as Ben Lecomte Begins Pacific Crossing
The Swim, Ben Lecomte's audacious project to swim from Tokyo to San Francisco to raise awareness about Pacific Ocean pollution, has begun, and with it, a joint program to raise money for education programs at AltaSea at the Port of Los Angeles.
AltaSea hosted Lecomte's crew and support ship, now rechristened as Seeker, for several months this past winter, as they retrofitted the 62-foot sailboat for an arduous six-month journey. The Swim, as the project is now known, will be captured in a Discovery Channel documentary due next year, as well as weekly video shorts and social-media posts by the online site Seeker and production company Nomadica Films.
As part of the project, The Swim and AltaSea are also launching a pledge campaign to raise money during the first 1,000 miles of the 5,000-mile journey.
"We're proud to have been early and strong supporters of The Swim as Ben and his team readied themselves for this extraordinary journey," said Jenny Krusoe, AltaSea's executive director. "What Ben and his team are doing is so vital to raise awareness of the importance of our oceans, and the problems our oceans face. We are so grateful that Ben and his team have chosen AltaSea's education programs as one of the projects that will benefit from The Swim."
The joint AltaSea-The Swim fundraiser is one of several planned pledge campaigns, all generating money for ocean-related science and education programs. Pledged donations will go to each partner organization after Lecomte completes that leg of The Swim.
All AltaSea-related pledges will help finance construction of an outdoor Blue Tech Ocean Exploration classroom on the AltaSea docks. Students will learn about ocean exploration and research and get to operate underwater research drones from onshore.
"I'm so grateful for AltaSea's invaluable support during our preparations for The Swim," said Lecomte. "We share deep concerns about our oceans, and know how vital healthy oceans are for our planet's future. I hope that with The Swim and the funds and awareness that we can raise together, we can inspire and teach a new generation of people to protect our oceans for many years to come."
LeComte, an Austin-based architect who swam across the Atlantic Ocean two decades ago, will be the test subject for a variety of research projects during The Swim, for organizations such as NASA. The support crew also will conduct hundreds of samples and tests of ocean conditions throughout The Swim as part of other research projects. Hannah Altschwager, Coordinator on Land will remain at the AltaSea site to monitor communications with The Swim crew.
"We're so proud to have hosted Ben Lecomte's support team as they prepared for this important and challenging initiative," said AltaSea CEO Tim McOsker. "AltaSea and The Swim each are addressing, in different ways, the serious problems affecting our oceans. Ben's remarkable effort is inspiring young people to think about the oceans and their own futures. And with funds we can raise with Ben's help, we'll build a one- of-kind outdoor waterfront classroom that will really get kids excited about science and the ocean."
To make a pledge to The Swim and AltaSea project, click here. Please select the box that says 'The Swim'. You can follow the progress of Lecomte and Seeker on social media, the web and at Seeker.com, as well as here on thelongestswim.com.
https://altasea.org/wp-content/uploads/2020/12/AltaSea_Logo.png
0
0
Natasha Berendzen
https://altasea.org/wp-content/uploads/2020/12/AltaSea_Logo.png
Natasha Berendzen
2018-06-04 07:00:46
2019-04-15 12:38:10
AltaSea: Beacon – Special Edition – June 4, 2018