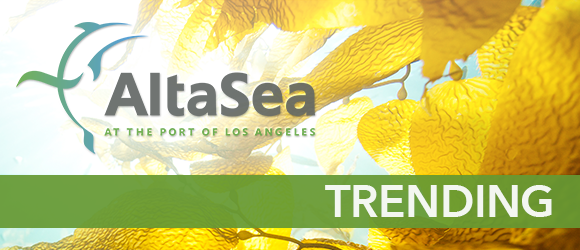 A monthly round-up of news and trends important to the AltaSea community.
UPCOMING EVENTS
"Empower Action Against Plastic Pollution" with Dr. Marcus Eriksen (AltaSea)
Please join us on May 22 at 12:00pm for a Live Chat on Zoom with Dr. Marcus Eriksen. To register for the event, click here.
Marcus Eriksen is Chief Science Officer & Co-Founder of 5Gyres, an organization dedicated to empowering action against the global health crisis of plastic pollution through science, education, and adventure. He has led expeditions around the world to research plastic marine pollution, co-publishing the first global estimate and the discovery of plastic microbeads in the Great Lakes, which led to the federal Microbead-free Waters Act of 2015. He and his wife, Anna Cummins, began 5 Gyres with an 88-day journey from California to Hawaii on the Junk Raft, built from 15,000 plastic bottles. Earlier, Marcus had rafted the Mississippi River, writing about the river and his experience as a Marine in the 1991 Gulf War in the book, My River Home (Beacon 2008). His second book, Junk Raft: An ocean voyage and a rising tide of activism to fight plastic pollution (Beacon 2017) recalls the rise of the plastic pollution movement, growing steadily today. He received his Ph.D from USC.
HERE'S THE BLUE DEAL
What's Next? Blue Economy, 'New Space' (AltaSea)
An "innovation cluster" of researchers and startups is starting to form in long underutilized warehouses at the Port of Los Angeles, in pursuit of the idea that the planet's oceans have the answers to some of mankind's most perplexing challenges. Aquaculture, algae fuels, and robotic exploration of the unmapped depths are the focus of an emerging "blue economy" that has the potential to provide sustainable solutions to long-range environmental concerns, along with tens of thousands of middle-class jobs.
Creating the Best 'New Normal' by Investing in Sustainability (AltaSea)
As the COVID-19 pandemic continues to impact lives and economies across the globe, normal life as we know it has –at least for the moment– shifted to a period of uncertainty for many people and industries. Many media outlets have shared articles contending that we are amidst an experiment in a new way of living. Some of the shifts in behavior will certainly be short term, but we have an unprecedented opportunity to permanently adopt others for the betterment of our society and planet.
Growing a Blue Economy Entrepreneur Ecosystem in the LA Harbor Region (AltaSea)
According to The 2018 Annual Economic Report on EU Blue Economy produced by the European Commission, the Blue Economy includes concepts that encourage stewardship and ocean health within "interlinked established and emerging sectors." Sectors included within the Blue Economy extend to areas such as shipbuilding and repair, offshore oil and gas, power generation, fisheries, minerals and mining, desalination, marine habitats and coastal ecosystems, ocean garbage cleanup, waste disposal and even carbon sequestration. Bluetech is best described as an emerging cross- and multi-disciplinary ecosystem within the broader Blue Economy, which seeks to solve problems related to the ocean, marine and maritime sector.
MARINE SCIENCE
Plastics Still Manage to Reach the End of the World. One Organization Is Trying to Make Sure Polluters Are Held Responsible (Time)
As a penguin researcher working in some of the most remote regions of Antarctica, conservation biologist Alex Borowicz documents colonies on coastlines and islands that have rarely, if ever, been visited by other people. That doesn't mean they are free from human impact. Walking through a beach teeming with newly hatched chicks on Snow Island, Borowicz spots a white plastic milk jug. Farther along he picks up a tangle of bright green rope, then a faded fishing buoy. "We like to think of Antarctica as a pristine wilderness, but it clearly isn't," he says.
Let's Chat About How Weird This Research Boat Is (Jalopnik)
I don't spend much time thinking about boats or marine research these days, as I gave up on the marine biologist dream when I was 9 years old and found out the plesiosaur was extinct. But when I run across a boat as weird as the RP FLIP, as happened to me today, my brain goes into overdrive and it's all I can think about. I've fallen into an information hole, so won't you join me?
The Reserach Platform FLoating Instrument Platform was originally built in 1962, and has served as a mobile platform for observing and testing various oceanic properties ever since. Its initial purpose was to research undersea sound waves, which required it to be very wave stable.
Algae in the Oceans Often Steal Genes from Bacteria (Rutgers University)
Algae in the oceans often steal genes from bacteria to gain beneficial attributes, such as the ability to tolerate stressful environments or break down carbohydrates for food, according to a Rutgers co-authored study.
The study of 23 species of brown and golden-brown algae, published in the journal Science Advances, shows for the first time that gene acquisition had a significant impact on the evolution of a massive and ancient group of algae and protists (mostly one-celled organisms including protozoa) that help form the base of oceanic food webs. These photosynthetic species produce about 70 percent of the oxygen we breathe and some of them, such as diatoms, are responsible for about 45 percent of global primary production of organic matter.
SUSTAINABLE AND INNOVATIVE BUSINESS
Seaweed may become a profitable piece in the green transition jigsaw (Phys.org)
A unanimous group of research scientists are convinced that kelp may share many of the applications of soya and oil, and that they can also be used to capture CO2. Seaweeds can contribute towards climate-friendly solutions in all sorts of contexts. New know-how about seaweed farming is currently accelerating industrialization of the sector.
"We can break seaweeds down into their basic constituents and recombine them to make useful products," says researcher Silje Forbord at SINTEF. "We can use seaweeds to make clothes, furniture materials, food packaging, drinking straws and biodegradable bottles," she says.
Forbord and her colleagues have been active in the forefront of a research project called MACROSEA, which is providing new insights into the potential of seaweed farming in Norway. The project has also succeeded in developing innovative solutions that will assist in industrializing the Norwegian seaweed sector.
The Los Angeles Coalition's Insight into a Strategic LA Economic Recovery (The Planning Report)
With 40 percent of jobs in LA County potentially 'at risk' as a result of the COVID-19 mandated shutdown, the region is likely to be particularly hard hit economically. TPR shares with permission the data-driven insights from the Los Angeles Coalition for the Economy & Jobs (LA Coalition) Executive Director and AltaSea board member, Michael Kelly on the unprecedented disruption that enforced social distancing has wrought on the local and global economy. The analysis argues that it is essential that policymakers understand the interactions of three major components—economic specialization, human capital formation, and institutional factors— to determine how well a regional economy will cope; and that cross silos collaboration be the rule to address the complex challenges of the post-COVID "new economy"
A scuba diving group is making face masks out of recycled ocean plastic (CNN.com)
In a win-win for sea animals and humans, a scuba diving group is turning plastic water bottles that once polluted oceans into face masks for people to protect themselves against the coronavirus.
The face masks are made by the Professional Association of Diving Instructors (PADI), in partnership with Rash'R, a company that sells eco-friendly active wear. Each reusable mask costs $20.40 and comes with five replacement filters. The price reflects the cost it takes to make each mask, PADI says on its website.
EDUCATION
NASA Calls on Gamers, Citizen Scientists to Help Map World's Corals (NASA)
NASA invites video gamers and citizen scientists to embark on virtual ocean research expeditions to help map coral reefs around the world in an effort to better understand these threatened ecosystems.
During the past several years, researchers at NASA's Ames Research Center in California's Silicon Valley have developed new instruments that can look below the ocean surface in more detail than ever before. Using techniques originally developed to look at stars, these "fluid-lensing" cameras use complex calculations to undo the optical distortions created by the water over coral reefs.
NASA has deployed these instruments – mounted on drones or aircraft – on expeditions to Puerto Rico, Guam, American Samoa, and elsewhere to collect 3D images of the ocean floor, including corals, algae and seagrass. However, the data alone do not tell the whole story of what's happening to the corals beneath the waves, which is why NASA needs your help.
Enter NeMO-Net, a video game in which players identify and classify corals using these 3D images while virtually traveling the ocean on their own research vessel, the Nautilus.
50 Years of Earth Day (The New York Times)
Earth Day turned 50 today In April. The original wave of coast-to-coast demonstrations in 1970 not only transformed American priorities, leading to landmark legislation like the Clean Air Act, but helped shape the modern global environmental movement.
In the past half-century, air and water pollution have plummeted in the United States, the bald eagle is no longer endangered, and environmental laws pioneered in America have set a model for nations around the world. But since then, other threats have grown, including climate change, tropical deforestation and a staggering loss of global biodiversity.
Here is a look at what's gotten better and what's gotten worse in the five decades since millions of people marched to demand a cleaner, healthier environment.
The Maui Ocean Center in Hawaii Is Offering Free Livestreams of Sharks, Stingrays, and More (Only In Your State)
It's no secret that the waters off the coast of the Hawaiian Islands are teeming with incredible sea life and reefs just waiting to be explored. But unfortunately, due to COVID-19 shutting down our beaches and many of our favorite aquariums, we're having to take our ocean exploration virtual with the live stream offered by the Maui Ocean Center. Sit back, relax, and watch as sharks, stingrays, and schools of tropical fish swim by.
COMMUNITY
Montauk Buys Caltech IP (Los Angeles Business Journal)
AltaSea partner, Montauk Technologies, has secured intellectual property rights from Caltech for technologies that can help first responders, miners and underwater workers locate humans and objects when GPS falls short.
Terms of the deal were not disclosed.
Montauk, a technology development and acquisition company with offices in San Pedro and Pasadena, said May 11 that it had acquired Caltech's MQS and MEQS technologies.
The company said it will roll out a pocket-sized device named Pointer, powered by a type of MQS called POINTER, which stands for Precision Outdoor and Indoor Navigation and Tracking for Emergency Responders.
https://altaseamedia.s3.us-west-1.amazonaws.com/wp-content/uploads/2019/05/31134400/Research-Oceans-e1557333109733.jpg
900
900
Natasha Berendzen
https://altaseamedia.s3.us-west-1.amazonaws.com/wp-content/uploads/2018/04/31134647/AltaSea_Logo.png
Natasha Berendzen
2020-05-13 15:10:26
2020-05-13 15:10:26
AltaSea: Trending – May 13, 2020