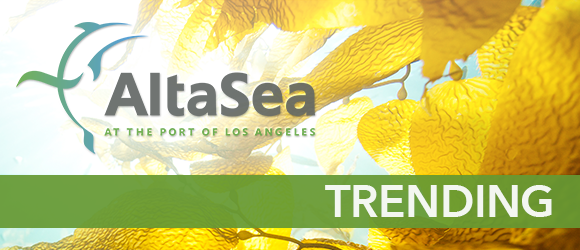 A monthly round-up of news and trends important to the AltaSea community.
UPCOMING ALTASEA EVENTS
AltaSea Open House: What is happening right off our coast? (AltaSea)
February 25 @ 10:00 am – 12:30 pm
Guest Speakers:
Nanette Barragán – California's 44th District Congresswoman. Nanette Barragán to make special announcement.
Michelle Horeczko – California Department of Fish & Wildlife Marine Region presents Sustainable Fisheries and Marine Resources along the California coast.
Linda Chilton – USC Sea Grant Education Programs Manager and LAMPA Collaborative Co-Chair, discusses local marine protected areas, their importance and research in process within these local protected waters.
Ocean Exploration Trust's film footage of Channel Island marine protected areas shot during a recent expedition will also be shown. Our speakers and local ocean-focused organizations will be on exhibit for guests to speak with.
Event is free and open to the public. For more information and to RSVP, click here.
ALTASEA COMMUNITY
Blue Economy to Receive Massive Economic Boost Thanks to Beneficial State Bank and AltaSea (Business Wire)
AltaSea at the Port of Los Angeles, the nation's leading destination for the blue economy, and Beneficial State Bank officially cut the ribbon on the bank's newest commercial loan hub on AltaSea's campus at a news conference on January 12, 2023. The move signals yet another milestone for the burgeoning blue economy, as Beneficial State Bank's presence at AltaSea will speed the sector's growth, and it will help local nonprofits and businesses – including many that are located on AltaSea's campus – thrive.
Beneficial State Bank, founded by Kat Taylor and Tom Steyer in 2007, is a foundation-owned, for-profit bank, as well as a Community Development Financial Institution (CDFI) and Certified B Corporation. The mission-focused bank is committed to giving back to their community and helping their clients help others.
Scientists Discover Five New Species of Deep-Sea Squat Lobster: One Named After Exploration Vessel Nautilus (Nautilus Live/Ocean Exploration Trust)
The deep sea invertebrates known as squat lobsters might be up for a brand new classification, thanks to research on samples housed at various museums, including some recently gathered by Ocean Exploration Trust (OET) and other ocean exploration organizations. Researchers in the Department of Organismic and Evolutionary Biology (OEB) at Harvard University have described five new species of squat lobsters from the Eastern Pacific.
"Squat lobster will continue to surprise us with the discovery of many new species," says lead author Paula Rodríguez Flores, a postdoctoral researcher at the Harvard Museum of Comparative Zoology. "Despite being already a highly diverse group with more than a thousand species described, dozens of new species are being discovered yearly."
San Pedro's AltaSea unveils wave-energy pilot program, new campus tenant (Daily Breeze)
A pilot program that harnesses energy from ocean waves was hailed during a San Pedro event recently as a potential game-changer in the race to find renewable energy technology in nature itself.
Under the umbrella of AltaSea, San Pedro's marine research campus, Israeli company Eco Wave Power will set up a pilot program that involves an onshore conversion unit — already in place at AltaSea — that will connect to floaters attached to a water structure, such as the outside of the channel breakwater.
AltaSea and Eco Wave officials have described the effort as the first U.S. pilot program trying to capture the power of waves using the latter entity's onshore power station.
MARINE SCIENCE
There's a 'Lost City' Deep in The Ocean, And It's Unlike Anything We've Ever Seen (Science Alert)
Close to the summit of an underwater mountain west of the Mid-Atlantic Ridge, a jagged landscape of towers rises from the gloom. Their creamy carbonate walls and columns appear ghostly blue in the light of a remotely operated vehicle sent to explore. They range in height from tiny stacks the size of toadstools to a grand monolith standing 60 meters (nearly 200 feet) tall. This is the Lost City.
DDT byproducts could be in Peninsula waters — and they could be more dangerous (Orange County Register)
Chemicals related to, but different from, DDT could be off the coast of the Palos Verdes Peninsula — and they could be even more dangerous the original insecticide.
That's according to scientists who authored an in-depth assessment, released this month, on what needs to be done to determine the extent of toxic contamination off the California coast.
Scientists are in the early stages of determining how much DDT and its byproducts were directly dumped by chemical companies into the Pacific Ocean, as well as the impacts those chemicals might have on marine wildlife and humans.
Notes from the Field: Mapping Kelp with Drones (The Nature Conservancy)
The Nature Conservancy's Ocean Scientist Vienna Saccomanno is on a mission to map kelp strongholds on California's Coast. We can't save kelp if we don't know where it is and Vienna's team is using drones to find it. Meet nature's new eye in the sky.
SUSTAINABLE AND INNOVATIVE BUSINESS
How California's new climate plan could help speed energy transformation around the world (The Conversation)
California is embarking on an audacious new climate plan that aims to eliminate the state's greenhouse gas footprint by 2045, and in the process, slash emissions far beyond its borders. The blueprint calls for massive transformations in industry, energy and transportation, as well as changes in institutions and human behaviors.
These transformations won't be easy. Two years of developing the plan have exposed myriad challenges and tensions, including environmental justice, affordability and local rule.
Food, feed and fuel: global seaweed industry could reduce land needed for farming by 110m hectares, study finds (The Guardian)
An area of ocean almost the size of Australia could support commercial seaweed farming around the world, providing food for humans, feed supplements for cattle, and alternative fuels, according to new research.
Seaweed farming is a nascent industry globally but the research says if it could grow to constitute 10% of human diets by 2050 it could reduce the amount of land needed for food by 110m hectares (272m acres) – an area twice the size of France.
The ocean flows through all 17 of the UN Sustainable Development Goals (World Ocean Initiative)
The UN Sustainable Development Goals (SDGs) are an aspirational framework for solving global challenges—including poverty, hunger, gender equality and climate change—by 2030. The 17 interlinked global goals were unanimously adopted in 2015 by all 193 UN member states. While the ocean fits neatly into SDG14: Life Below Water, it also plays a vital role in achieving the entire UN sustainability agenda. But how?
EDUCATION
Fixing the Climate: Rethinking Climate Policy in an Uncertain World (Emmett Institute on Climate Change and the Environment at UCLA School of Law)
DATE: Thursday, February 16, 2023
5:30 – 7:00pm; Reception to follow
Global climate diplomacy is stalling thanks to the same top-down approach used since the Kyoto Protocol. That's the argument made by David Victor (UC San Diego) and Charles Sabel (Columbia Law School) in their book "Fixing the Climate: Strategies for an Uncertain World." Hear them discuss how policymakers should approach climate governance in this timely and provocative conversation with faculty from UCLA's Emmett Institute.
New Fellowship Opportunity! (CA Sea Grant)
The California Sea Grant College Program is soliciting applications for a 2023 Delta Science Communication Fellow in partnership with the Delta Stewardship Council's Delta Science Program.
The Delta Science Communication Fellowship provides a unique educational opportunity for an early career science communicator to gain hands-on experience in coastal, estuarine, and freshwater science communication and stakeholder engagement. The fellow will be advised by professional science writers and editors, and have access to science communicators around the country through the Sea Grant Communications Network.
The work will primarily include producing content that highlights scientific research findings on high-priority topics that are critical to managing the Sacramento-San Joaquin River Delta.
Evelyn Fields: A trailblazer (National Oceanic and Atmospheric Administration)
RADM Evelyn Fields began her career at NOAA as a cartographer in 1972, only two years after the agency formed. Less than a year later, the NOAA Corps began accepting women into its commissioned officer ranks, and she became the first African American woman to join. Her first sea assignment was on NOAA Ship Mt. Mitchell, a hydrographic survey vessel (now decommissioned) with a home port in Norfolk. Through the years, all but two of Fields' assignments at sea and on shore were within the National Ocean Service and related to nautical charting. Fields also served as chief of the Hydrographic Survey Division and administrative officer of the National Geodetic Survey.
https://altasea.org/wp-content/uploads/2020/12/AltaSea_Logo.png
0
0
Natasha Berendzen
https://altasea.org/wp-content/uploads/2020/12/AltaSea_Logo.png
Natasha Berendzen
2023-02-07 12:15:26
2023-02-07 12:15:26
AltaSea: Trending – February 8, 2023