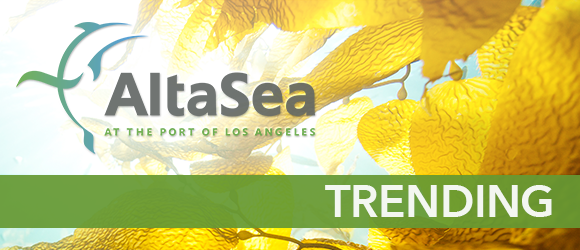 A monthly round-up of news and trends important to the AltaSea community.
MARINE SCIENCE
There Is Plastic In Your Fish (Forbes)
Tiny pieces of plastic called microplastics (a distinction based on size alone) are found in the ocean. Ceaselessly broken down by the elements over time, larger pieces of plastic become smaller and smaller. Microplastics are small enough to be ingested by sea animals, including those that end up on our plates. 70 years of manufacturing plastic later, we are finally starting to see where it all ends up when we toss it.
According to a 2017 UN report, there are more than 51 trillion microplastic particles in the sea, more than 500 times the number of stars in the Milky Way. Unlike plastic bags, fishing gear and other macroplastic waste, microplastics are so insidious because they are invisible to us. Research into microplastics and their effects is still in its infancy.
Rising Seas: Record Warmth Found at 'Doomsday Glacier' Water Line (ExtremeTech)
The Thwaites Glacier, in West Antarctica, is one of the glaciers considered most at-risk for collapse over the next century, earning it the nickname "doomsday glacier." Scientists have been studying the glacier with increasing concern over the past decade and they've learned a great deal about the interaction between the glacier and the bedrock it sits on as a result. Unfortunately, most of what they've learned has been ominous — and today's news is no exception.
In January, for the first time, scientists bored a hole in the Thwaites Glacier more than 600 meters deep. The goal was to measure what's happening underneath the glacier at the grounding line — the point where the glacier shifts from resting on bedrock to resting on / in the water. Ice that's already in the water doesn't have much impact on sea level when it melts because the only thing that's happening is a phase change from solid to liquid. Ice that's formerly been landlocked, on the other hand, is a net addition to the system and has a corresponding impact on sea-level rise.
Bionic jellyfish to explore our oceans (Advanced Science News)
Researchers from Caltech and Stanford University have reported a tiny, microelectronic prosthetic that they have developed to enable jellyfish to swim more quickly and efficiently. To answer the resounding "why", the team hopes that their bionic jellyfish might one day be useful in ocean exploration given their large populations and presence at depths ranging from the surface to the bottom of deep trenches.
The team of researchers led by Professor John Dabiri at Stanford also hopes to provide a new route to bioinspired robots. While copious amounts of research have gone toward developing robots that mimic living systems, purely mechanical systems that display fluid and precise movement require much more energy to accomplish the same tasks — not to mention the problems associated with energy generation, storage, and the ability to navigate unknown environments. "We haven't captured the elegance of biological systems yet," said Dabiri.
SUSTAINABLE AND INNOVATIVE BUSINESS
President Folt outlines her plan for a more sustainable USC (USC News)
In an aspirational address blending her environmental vision and values, USC President Carol L. Folt described a university transforming into a force for sustainability during a speech to green business and civic leaders in downtown Los Angeles.
At the VerdeXchange 2020 conference on Tuesday, Folt told a crowd of hundreds of representatives from cleantech companies, financial institutions and local governments that sustainability will be a top priority for USC.
Universities occupy a special position in society, she said, noting that they are leaders in innovation, shaping ideas and developing technology for the future, training young people to do good and harnessing strategic partnerships to drive ingenuity across Los Angeles and urban centers across the globe.
Seatrec Secures $970,000 Seed Financing Led by Pasadena Angels to Expand its Revolutionary Ocean Energy Harvesting Technology (WebWire.com)
Seatrec, a renewable energy startup that harvests energy from temperature differences in the environment, today announced it has raised $970,000 in Seed round financing led by Pasadena Angels with participation from Los Angeles Cleantech Incubator (LACI) Impact Fund, Tech Coast Angels, and other strategic individuals.
John Yoon from Pasadena Angels will join the Board of Directors as an observer. With this funding, Seatrec plans to expand its engineering and operating teams to increase sales, accelerate the product development, and support government-sponsored activities.
A practical guide to using AI in aquaculture (The Fish Site)
Artificial intelligence – machines which constantly learn. We're not talking about monosyllabic Arnie-esque Terminators nor Matrix-style floating robot squids – just the emerging apps and programs which make living in 2020 easier
Things have changed drastically since 2010 and AI is already a part of the daily lives of millions of people. No need to drive to the big city to pick up that book or tool you've been drooling over – just a few clicks and it'll be delivered to your doorstep. You can avoid the indignity of asking for driving directions because of the magic of Waze and Google Maps. Even the ads that pop-up when you're scrolling through social media are customised.
By providing a variety of services AI has become a potent tool in strengthening various industries – especially aquaculture.
EDUCATION
Actor Alan Alda and Scripps Research will transform scientists into master storytellers (The San Diego Union-Tribune)
For all of their skill in the laboratory and classroom, scientists aren't always great at imparting their ideas to the public, policymakers and donors.
It's a cultural thing. Historically, science — especially the life sciences — hasn't placed a premium on speaking to the masses.
But change is coming.
Scripps Research in La Jolla announced Thursday that it will partner with one of the nation's great storytellers, Emmy Award-winning actor Alan Alda, to teach scientists and medical professionals to communicate more effectively.
'We're nudibranch people': How enthusiasts help get science done (CNET)
Every two weeks when the tide is particularly low, Johnson and Young wade into the Pillar Point tide pools and stake out one of six plots they've been monitoring since 2012. Their purpose is to track populations of the nudibranchs, starfish, chitons, snails, shrimp and other intertidal zone species.
The two don't work alone, though: They get a lot of help from volunteers. And from technology like iNaturalist, an app anyone can use to log plant and animal sightings with their smartphone. You can also use iNaturalist to see what creatures are in a particular area and get help with identifications.
COMMUNITY
SpaceX restarts negotiations to build its Starship rockets in the Port of Los Angeles (CNBC)
SpaceX is talking to government officials about developing a new rocket factory in the Port of Los Angeles to build the company's massive, next-generation rocket called Starship. While the deal is in early stages of negotiations, L.A. City Councilman Joe Buscaino told CNBC that SpaceX CFO Bret Johnsen asked if the facility could "be up and running within the next 90 days."
Sweetheart Sail (Los Angeles Maritime Institute)
Two Sweetheart Sails this Year! So Much Love!
Valentines Dinner Sunset Sail
Friday, February 14th, 2020 4:30 – 6:30 pm
Enjoy a magical afternoon aboard L.A.'s Official Tall Ships as you sail the Los Angeles Harbor with your special someone! (Wine not included, but you can bring your own bottle aboard.)
Tickets: $100 per adult.
Sweets for the Sweet Sail
Saturday, February 15th, 2020 2:30 – 4:30 pm
Enjoy a sweet and savory afternoon sail with your sweeties as we cruise the Long Beach waterfront and enjoy tea, coffee, and hot chocolate along with a delightful collection of savory treats and sweets for the sweet.
Tickets: $75 for Adults, $25 for Children under 12.
LA Harbor International Film Festival (LAHIFF)
Save the date for the 17th Annual LA Harbor International Film Festival.
March 12 -15, 2020
Warner Grand Theatre, 478 West 6th Street, San Pedro, CA
More information on schedule and tickets coming soon!
https://altaseamedia.s3.us-west-1.amazonaws.com/wp-content/uploads/2019/05/31134400/Research-Oceans-e1557333109733.jpg
900
900
Natasha Berendzen
https://altaseamedia.s3.us-west-1.amazonaws.com/wp-content/uploads/2018/04/31134647/AltaSea_Logo.png
Natasha Berendzen
2020-02-06 10:27:20
2020-02-06 10:34:18
AltaSea: Trending – February 6, 2020