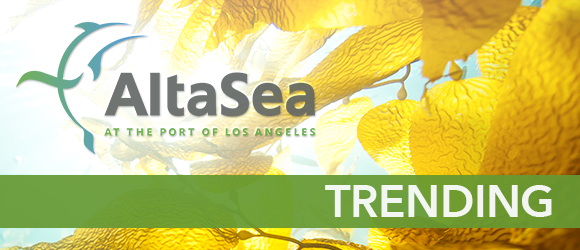 Marine Science
Huge and ancient underwater volcanoes discovered off coast of Sydney (The Guardian)
Proving once again that more is known about the surface of the moon than the sea floor, four large underwater volcanoes have been discovered off the coast of Australia. The volcano cluster was discovered by sonar mapping thanks to a new research vessel that can map the seafloor at any depth. The newly mapped area was believed to be "billiard-table" flat until now.
Under-Ice Rover Chills With Fish at Aquatic Exhibit (NASA)
A strange rectangular creature is cruising the floor of the aquatic exhibit at the California Science Center. The rover, named BRUIE, is a prototype developed by NASA to help scientists learn about waters under icy surfaces and signs of life there. They hope one day to use it to explore the relationship between extreme ocean environments on earth and potentially habitable oceans elsewhere in the solar system.
What to Expect from El Niño: North America (Weather Underground)
Grab your umbrellas, Californians. The most talked-about ocean occurrence of 2015 is the formation of "what promises to be one of the top three El Niño events of the last 60-plus years." But will El Niño help California overcome its severe drought? Experts say it's likely, but not certain, and warn it will take more than one year of wet weather to fully recover.
Sustainable and Innovative Business
Adidas Turns Recycled Ocean Waste Into Sneakers (International Business Times)
Adidas is showing businesses one way to help with the tons of trash floating in the ocean. They've unveiled the world's first sneaker made entirely of recycled plastic, fishing nets, and other ocean waste. The concept was born from the company's partnership with Parley for the Oceans, an international organization of innovators collaborating on projects to conserve and protect oceans.
Geniuses Want To Make 'Bacon Seaweed' A Thing In America (Huffington Post)
Foodies rejoice; healthy bacon is here, or is it? Researchers at Oregon State University are creating a new superfood straight from the ocean. Dulse, a reddish-brown type of seaweed, which looks similar to bacon but tastes nothing like it, contains high amounts of vitamin C, antioxidants and protein. A newly patented strain could make the notoriously difficult to grow seaweed much more common in US markets and spur the development of innovative new food products.
3 Reasons to Keep High Seas Arctic Fishing on Ice (Pew Charitable Trusts)
As global warming melts ice caps and creates newly fishable areas, the time is now for crucial agreements to be made about how to develop responsible commercial fishing practices for those areas. On July 16, five countries surrounding the Arctic Ocean did just that, jointly agreeing not to start commercial fishing until science-based fishery management measures are in place. Pew praises the deal but argues it should be converted into a binding international agreement.
Education
What If the Oceans Were National Parks? (The Atlantic)
Marine scientists and conservationists want to protect the oceans by designating them as national parks. Doing so would ensure the ocean has the same protection as land wilderness, which was an unheard of concept 100 years ago. Speaking at the Aspen Ideas Festival, National Geographic explorer-in-residence Sylvia Earle said, "Our very existence depends on the presence of an ocean that works in our favor."
Community
Can Desalination Counter the Drought? (The New Yorker)
With California in the midst of one of the worst droughts in history, the search for water is on. Is desalination the answer everyone has been looking for, or do the costs outweigh the benefits? A new desalination plant under construction in Carlsbad and another planned for Huntington Beach heat up the debate.
Port of Los Angeles Awards $1 Million in Community Grants to 32 Local Organizations (Port of Los Angeles)
The Port of Los Angeles has announced grants totaling $1 million to local organizations as part of its Community Investment Grant Program. The grants will benefit local initiatives and support the Port's goals in international trade, the environment, sustainability, public safety and security. The program also funds ideas that will spur tourism along the LA Waterfront and surrounding coastal areas.
www.altasea.org
Subscribe to AltaSea: Trending
Privacy Policy | Unsubscribe
AltaSea at the Port of Los Angeles
222 West 6th Street, Suite 1010, San Pedro, CA 90731
https://altaseamedia.s3.us-west-1.amazonaws.com/wp-content/uploads/2018/04/31134647/AltaSea_Logo.png
0
0
Jenn de la Fuente
https://altaseamedia.s3.us-west-1.amazonaws.com/wp-content/uploads/2018/04/31134647/AltaSea_Logo.png
Jenn de la Fuente
2015-08-05 14:58:21
2019-04-15 13:22:53
AltaSea: Trending – August 5, 2015