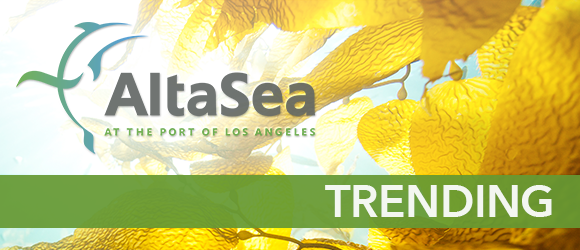 A monthly round-up of news and trends important to the AltaSea community.
ALTASEA: PROJECT BLUE CELEBRATES EARTH DAY!
April 22 is Earth Day and this year marks the 50th anniversary the Earth has been commemorated. 2020 is dedicated to climate action and AltaSea celebrates this special day with our Project Blue Student Contest theme, "How the Ocean Can Save the World." For more contest information and details how to submit an entry, please visit us here.
MARINE SCIENCE
Oceans can be restored to former glory within 30 years, say scientists (The Guardian)
The glory of the world's oceans could be restored within a generation, according to a major new scientific review. It reports rebounding sea life, from humpback whales off Australia to elephant seals in the US and green turtles in Japan.
Through rampant overfishing, pollution and coastal destruction, humanity has inflicted severe damage on the oceans and its inhabitants for centuries. But conservation successes, while still isolated, demonstrate the remarkable resilience of the seas.
The scientists say there is now the knowledge to create an ocean renaissance for wildlife by 2050 and with it bolster the services that the world's people rely on, from food to coastal protection to climate stability. The measures needed, including protecting large swathes of ocean, sustainable fishing and pollution controls, would cost billions of dollars a year, the scientists say, but would bring benefits 10 times as high.
New species discovered during exploration of abyssal deep sea canyons off Ningaloo (Phys.org)
An estimated 150-foot siphonophore— seemingly the longest animal ever recorded was discovered during a month-long scientific expedition exploring the submarine canyons near Ningaloo. Additionally, up to 30 new underwater species were made by researchers from the Western Australian Museum aboard Schmidt Ocean Institute's research vessel Falkor.
The discovery of the massive gelatinous string siphonophore—a floating colony of tiny individual zooids that clone themselves thousands of times into specialized bodies that string together to work as a team—was just one of the unique finds among some of the deepest fish and marine invertebrates ever recorded for Western Australia.
SUSTAINABLE AND INNOVATIVE BUSINESS
Osaka University creates plastic that decomposes in seawater (The Asahi Shimbun)
An Osaka University-led team said it has developed a plant-based plastic that can decompose in seawater.
The materials are relatively inexpensive, the manufacturing method is simple, and the final product is stronger than normal plastics, the team said.
Moreover, the discovery could help to alleviate the global problem of plastic waste polluting the seas.
"We would first like to use it as food packaging materials, which are very familiar to people and are often contained in the waste in the sea," said Hiroshi Uyama, a professor of engineering at Osaka University. "I hope that this will be a part of the solution to the issue and raise the interest of people."
The team used starch contained in cassava, a raw material for tapioca, and cellulose contained in wood pulp.
Amsterdam to embrace 'doughnut' model to mend post-coronavirus economy (The Guardian)
A doughnut cooked up in Oxford will guide Amsterdam out of the economic mess left by the coronavirus pandemic.
While straining to keep citizens safe in the Dutch capital, municipality officials and the British economist Kate Raworth from Oxford University's Environmental Change Institute have also been plotting how the city will rebuild in a post-Covid-19 world.
The conclusion? Out with the global attachment to economic growth and laws of supply and demand, and in with the so-called doughnut model devised by Raworth as a guide to what it means for countries, cities and people to thrive in balance with the planet.
Umiki, The World's First Ocean Fused Sustainable Whisky From Japan (Green Queen)
Umiki Whisky, the world's first ocean fused whisky brand has recently been added to the portfolio of Japan's leading premium alcohol exporter Yoshino Spirits Co.  Made from pure ocean water in the blending process and finished in local Japanese pine barrels, Umiki comes with a smaller environmental footprint than traditional whisky.
Yoshino Spirits Co., Japan's leading exporter of homegrown high-quality spirits, has just added Umiki Whisky to its brand portfolio. Umiki Whisky is a sustainable spirit where only pure ocean water – a renewable water source – is used in the blending process with ocean-side distilled Japanese malt and imported grain whiskies. It is then finished in locally-farmed pine wood barrels.
EDUCATION
The Magic of Teaching Science Labs Isn't Lost Online (Wired)
To help flatten the curve of Covid-19 cases, universities across the nation have closed, and many professors are scrambling to transition to teaching online. This sudden shift is easier for some, especially those that already have online content readily available. For others, especially those who teach science labs, this may seem impossible.
Both of us have experience teaching lab courses in person, which often already involve an online interface for sharing syllabi, files, grades, and to foster student discussion. We've also taught courses exclusively online, including typical lecture-based courses and a massive open online course (reaching hundreds of thousands of students worldwide). Indeed, there are many models for online teaching for lab instructors to learn from. But can lab objectives be cajoled into existing online learning platforms used by universities, like Blackboard and Moodle?
Tall ship Pilgrim in Dana Point Harbor will be demolished (Orange County Register)
With no way to safely pull it from the water, the Pilgrim – an icon of Dana Point Harbor – will be demolished.
The decision made over the weekend followed extensive efforts to salvage the tall ship after it heeled starboard suddenly in its dock next to the Ocean Institute on March 29.
"We are probably still all in a bit of shock about everything related to the Pilgrim sinking," said Wendy Marshall, president and CEO of the Ocean Institute. "When we were informed that the project pivoted from recovery to demolition, the sense of finality set in.
"It is unreal to think that the vessel that had so faithfully served as a living classroom to so many students is definitely no longer with us," she said.
Critercam Education (National Geographic)
What do wild animals do when we're not around? Find out with National Geographic's Crittercam. Safely worn by wildlife, Crittercams capture video, sound, and other information. They give us rare views of the private lives of animals, helping us to solve scientific mysteries and protect the animals that wear them.
The education resources on this page invite you to explore hands-on learning with your students, and will help you bring content about animal characteristics and behavior to your classroom.
COMMUNITY
Project Blue Video Chat with Dr. Robert Ballard (AltaSea)
We hope you will join us for our first Video Chat with Dr. Robert Ballard on Friday, April 17. To tune in visit our Project Blue website.
Dr. Ballard is best known for his historic discoveries of hydrothermal vents, the sunken R.M.S. Titanic, the German battleship Bismarck, President Kennedy's PT 109, and numerous other contemporary and ancient shipwrecks around the world. During his long career, he has conducted more than 150 deep-sea expeditions using the latest in exploration technology. Ballard also spends a great deal of time involved in various educational outreach programs. In 2008, he secured the E/V Nautilus, which has become his flagship for exploration and which docks regularly at AltaSea.
Boeing Delivers First Reusable 3D-Printed Face Shields for COVID-19 Response (Boeing)
AltaSea partner, Boeing today delivered the first set of reusable 3D-printed face shields to support healthcare professionals working to stop the spread of COVID-19. The Department of Health and Human Services (HHS) accepted the initial shipment of 2,300 face shields this morning. The Federal Emergency Management Agency (FEMA) will deliver the shields to the Kay Bailey Hutchison Convention Center in Dallas, Texas, which has been established as an alternate care site to treat patients with COVID-19.
Boeing is set to produce thousands more face shields per week, gradually increasing production output to meet the growing need for Personal Protective Equipment (PPE) in the United States. Distribution of additional face shields will be coordinated with HHS and FEMA based on immediate needs.
https://altaseamedia.s3.us-west-1.amazonaws.com/wp-content/uploads/2019/05/31134400/Research-Oceans-e1557333109733.jpg
900
900
Natasha Berendzen
https://altasea.org/wp-content/uploads/2020/12/AltaSea_Logo.png
Natasha Berendzen
2020-04-15 09:45:56
2020-04-15 09:47:29
AltaSea: Trending – April 15, 2020