By Coco Huang | August 3, 2020 | Los Angeles Business Journal | Link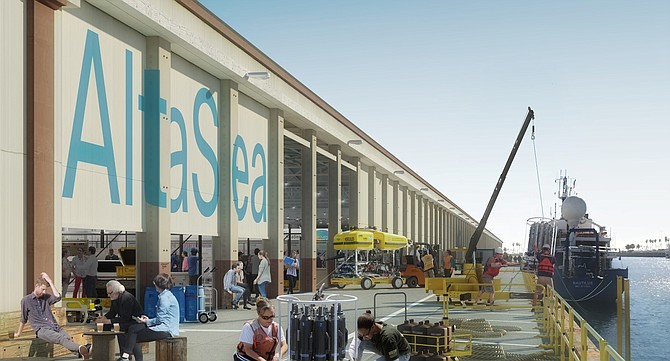 AltaSea is building out a 35-acre campus in San Pedro under a 50-year lease with the Port of L.A.
AltaSea at the Port of Los Angeles, a nonprofit company focused on the ocean economy, announced Aug. 3 that it has signed a memorandum of understanding with Scripps Institution of Oceanography at the UC San Diego to share resources to support the development of ocean-related projects at both institutions.
AltaSea is building out its 35-acre marine campus in San Pedro under a 50-year lease agreement with the Port of Los Angeles that started in 2017.
The company subleases the property to organizations involved in the blue economy, including Braid Theory Inc.; Blue Robotics Inc.; Holdfast Aquaculture; Montauk Technologies; La Kretz Blue Economy Incubator; Echo Voyager, a division of the Boeing Co.; and the Southern California Marine Institute.
The MOU, signed July 1, will be valid for one year. It will help connect researchers, scientists, students and faculty to AltaSea facilities.
The organization said it will also cooperate with Scripps on the commercialization of research, including providing resources for Scripps' spin-out companies.
"Before this partnership, a startup company would be essentially on its own and it would, I imagine, use whatever relationship it had to go down to Scripps to make itself available or ask for the availability of working with a Scripps researcher," said AltaSea Chief Executive Timothy McOsker. "With this partnership … we basically leverage the relationship that a small company or any entity might have with us, and we lend to them the ability to work indirectly through us with Scripps."
The partnership will also help connect AltaSea tenants with Scripps students for internships and professional opportunities.
"Through this partnership with AltaSea, we aim to introduce Scripps students and stakeholders to jobs in the blue economy, where they can apply their scientific expertise to innovative and technology-driven environmental applications and solutions," Margaret Leinen, vice chancellor for marine sciences at UC San Diego and director of Scripps Institution of Oceanography, said in a statement.
https://altaseamedia.s3.us-west-1.amazonaws.com/wp-content/uploads/2018/04/31134647/AltaSea_Logo.png
0
0
Natasha Berendzen
https://altaseamedia.s3.us-west-1.amazonaws.com/wp-content/uploads/2018/04/31134647/AltaSea_Logo.png
Natasha Berendzen
2020-08-03 09:44:11
2020-08-05 09:46:24
AltaSea Signs Agreement to Work With Scripps, UCSD