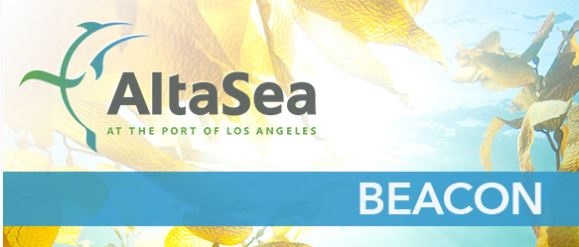 Andeavor's Major Donation Backs AltaSea's Ocean STEM-Based Teacher Education
AltaSea at the Port of Los Angeles and the Andeavor Foundation announced a major donation to finance ocean-focused teacher training in STEM disciplines for the upcoming school year.
The donation by San Antonio-based Andeavor will support AltaSea's 2018-2019 STEM Education Teacher Training Program. Under the program, middle and high school teachers are brought to the AltaSea campus in the L.A. harbor for day-long workshops that boost their knowledge of ocean exploration, buoyancy, the physics of underwater robotic vehicles and ocean mapping using sonar.
"Ocean STEM education is one of three pillars in AltaSea's strategy for transforming the future of the Los Angeles harbor and its surrounding communities," said Tim McOsker, AltaSea's CEO. "And STEM education starts with teaching our teachers about our oceans. This grant from Andeavor provides crucial funding in the next school year to help us continue and expand this portion of our long-term strategy."
AltaSea's workshops provide tools to educators in the disciplines of science, technology, engineering and math so they can better teach children about the oceans. The workshops are built around a curriculum designed by the Ocean Exploration Trust, an AltaSea partner and tenant, and also provide teachers with classroom materials.
In the 2017-2018 school year, the program reached more than 100 Los Angeles Unified School District teachers working with more than 4,800 students. The Andeavor grant will support a much more ambitious program that will add teachers from other districts for the first time.
"As part of our commitment to investing in our communities, Andeavor is honored to support AltaSea's Ocean STEM Education Network, which provides ocean-based programs to local middle school students and professional training to teachers using STEM Learning Modules, developed by Ocean Exploration Trust science educators," said Tiffany Rau, Andeavor's Director of Government & Public Relations.
AltaSea and its partners are transforming 35 acres in the oldest section of the Los Angeles harbor into a center for ocean-focused scientific research, STEM education and sustainable business incubation.
As part of its Ocean STEM education programs, AltaSea collaborates with the Boys and Girls Clubs of the L.A. Harbor, Junior Achievement and other partners to teach hundreds of Southern California middle and high school students about the ocean. The programs teach about sustainable aquaculture, blue technology such as underwater robotics, and state-of-the-art ocean research.
AltaSea's education programs are designed to familiarize students with basic concepts about the ocean, technologies to explore the oceans and opportunities for future careers there. For more information about the Ocean STEM Education Teacher Training Program, contact AltaSea at altasea.org.
https://altasea.org/wp-content/uploads/2020/12/AltaSea_Logo.png
0
0
Natasha Berendzen
https://altasea.org/wp-content/uploads/2020/12/AltaSea_Logo.png
Natasha Berendzen
2018-05-07 04:00:28
2019-04-15 12:39:27
AltaSea: Beacon – Special Edition – May 7, 2018