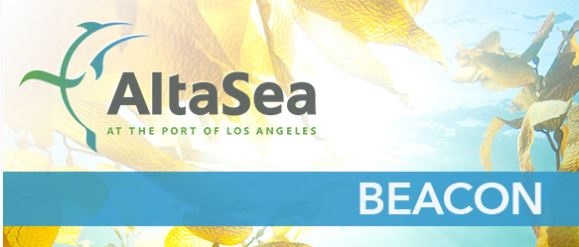 AltaSea's Jenny Krusoe on Leadership, San Pedro and the Future of Our Oceans
We at AltaSea are delighted that the San Pedro Chamber of Commerce recognized our Executive Director, Jenny Krusoe this past week with the organization's highest honor, its Leadership Award, during its annual installation luncheon.
In sharing the news recently to the AltaSea team of Jenny's award, CEO, Tim McOsker put it best: "This recognition is a tribute to Jenny and her vision, dedication, stewardship of our project, and cultivation of relationships in this community. It is a tribute to Jenny's dedication and skill – and it is an affirmation by the community about the importance of our project. Jenny will say that her entire team earned and shares this award. It is both true, and a sign of why she got the Leadership Award."
Jenny has been part of AltaSea since its conception, along the way helping secure many of its notable achievements, partnerships, and tenants. As Executive Director, she oversees daily operations, fundraising, marketing and communications and more for AltaSea.
Previous to AltaSea, Jenny headed several non-profits, and consulted with many more, and was given the Spirit of Los Angeles Award, one of the highest honors of the city of Los Angeles. She is a graduate of Harvard University and completed a fellowship in non-profit management from the Stanford University School of Business.
The Chamber also recognized AltaSea's long-time collaborator Braid Theory, which consults with tech and engineering startups, providing crucial operational support and industry connections that help those young businesses grow and thrive. Braid Theory now works with startups at AltaSea facilities in the Los Angeles harbor.
Speaking before a packed house at the Crowne Plaza LA Harbor Hotel on June 14th, Jenny gave the following speech on leadership, becoming part of the San Pedro community, and working to build a new kind of ocean-facing, tech-savvy future for the Port of Los Angeles and the entire surrounding harbor region:
Leadership can be taught, and I have had the best teachers throughout my professional career. I am indebted to (AltaSea creator) Len Aube, who led by example and had the extraordinary ability to "lead from behind," as he would say, by empowering others to lead by building communities through empathy and endless hard work.
Leadership boils down to this: Just getting up every morning and trying as hard as you can to make the world a better place.
And speaking of making the world better, there is no better time than now to catapult AltaSea into its next phase, to develop the ocean-facing tech and scientific solutions we need in this world for food, energy, and global well-being.
I love this community. And if any community owns the word "audacious," it is Pedro. It is no exaggeration to say that San Pedro and the Port of L.A. can lead the entire world in the Blue Economy. The stakes can't be higher.
So let all of us here today become part of the solutions this region and this world need. You can start by becoming an AltaSea member, and then tell your friends.
Better yet, bring your friends to our next Open House, on July 28th. I recommend highly that when you come, you brand yourself in an AltaSea T-shirt!
Thank you – I am proud to accept this award and share it with all of you – my community – the community of AltaSea.
It is in the power of everyone here today to help create a future for our planet that is sustainable and based on science and truth!
Remember, in a statement that's been attributed to everyone from Ben Franklin to Einstein: Vision without implementation is hallucination. We don't have the luxury of sitting around and doing nothing. Let's implement, and now. Thank you!

https://altasea.org/wp-content/uploads/2020/12/AltaSea_Logo.png
0
0
Natasha Berendzen
https://altasea.org/wp-content/uploads/2020/12/AltaSea_Logo.png
Natasha Berendzen
2018-06-20 07:00:30
2019-04-15 12:36:59
AltaSea: Beacon – Special Edition – June 20, 2018