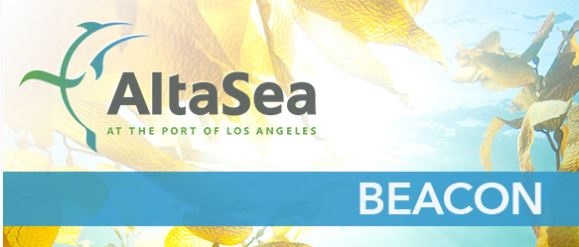 Project Blue Student Contests
2020 may be the year of the rat in the Chinese zodiac, but for AltaSea, 2020 is the year of the student and the commencement of a student-driven campaign, Project Blue.
AltaSea invites students to explore the impact the ocean has on our daily lives and add their voices to advance Los Angeles' growing role as the center of the world's Blue Economy where the next generation can not only support ocean related initiatives that foster a more sustainable planet, but may also have a prosperous and fulfilling career doing it.
As Mayor Garcetti stated at AltaSea's groundbreaking, "The ocean is a frontier for new discoveries that can transform how we live, help us better understand our planet, and create green jobs that can drive our economic future. AltaSea, and their partners, are working to make Los Angeles the Blue Economy capital of the world. When you think of the automotive capital, you think of Detroit; the financial capital, New York City; the entertainment capital, Hollywood. the Blue Economy doesn't yet exist."
AltaSea is striving to make Los Angeles the epicenter of the emerging Blue Economy. The ocean – which is 90% unexplored – offers an unparalleled resource for solving the critical challenges facing the planet and building the economy of the future. It is therefore imperative that we make ocean-based STEM (O-STEM) education essential in preparing and developing a future workforce for next generation careers in the Blue Economy.
This idea is at the core of our Project Blue campaign. February 20, 2020, marks the day Project Blue is unveiled with four separate contests for students. Each month's theme can be found on the AltaSea website and will also be posted on our e-newsletter Trending.
Bookmark Art Contests for Elementary and Middle School Students
Digital Magazine Blog and Poetry Submissions for High School and College Students
Video Contest for High School and College Students
Logo Contest to select official Project Blue logo for High School and College Students
All student contest winners will receive gift cards, college scholarship funds, and certificates to include in their college application packages. The contest culminates on September 19, 2020, with the AltaSea: Project Blue Student Festival where winners will be announced, and work displayed. Please visit altasea.org for contest themes, how to enter, details, and deadlines.
Project Blue Student Voices: Naomi Scott
AltaSea's goal with its new Project Blue campaign is two-fold: position Los Angeles as the global center of the blue economy and provide students with a voice to help lead that effort. In that spirit, we had the pleasure of meeting with a young student activist who has already made it her passion to be a thought leader in environmental consciousness.
Naomi Scott is a 14-year-old attending Rolling Hills Preparatory School (RHP) in San Pedro who not only excels in school and in water-related sports but also has made it her mission to advance marine conservation and planet sustainability. Naomi works with preschoolers, teaching them ways to conserve water and is a member of the Aquarium of the Pacific's Teen Climate Council. She is also actively seeking a fundraising goal so that she may attend an intensive marine conservation program this summer in Washington State. Naomi explained her motivation for attending: "I aspire to educate our youth. I want to spread awareness of the growing problems with our oceans and climate. This program would provide me the chance to discover what it is that I can really do to achieve my goal."
Project Blue hopes to create ways to stay connected with youth in a mutually beneficial relationship, where students' energies and voices can amplify the call for making Los Angeles the center of the Blue Economy. The resulting prosperous careers coming from that new economy are ones the students can enjoy after graduating from school.
Naomi proved to be very astute and poised beyond her years when offering suggestions how best to encourage young people to become thought leaders and to inspire their friends to develop into the next generation of conservationists. Naomi stated, "To get people onboard with something new, the ideas must be something they can relate to." She added, "Taking a big solution and breaking it up into smaller parts, which people feel they can achieve, makes the idea seem possible." As an example, she mentioned that statistics regarding ocean plastic pollution can be very overwhelming, but explained, "If each of us took steps in our everyday lives to avoid the original pollution that ends up in the ocean, the final solution would seem easier to solve."
Naomi is driven. She approached AltaSea a few years back seeking an internship in sustainable aquaculture. Though we were unable to offer her the job at age 11, we have kept in contact with her. It is arguably our most important function at AltaSea to help students, like Naomi, who are pursuing a future career in Blue Technology fields.
Although there are other young people who have a heartfelt desire to improve on ecological conservation and make a difference, many of them need guidance in finding ways to get involved. When asked how best to engage and inspire students in seeking O-STEM careers, Naomi replied, "Getting extra credit for class grades is one good way to start a relationship with students who might not otherwise get involved." She also added, "Make it fun and try to plan interesting events that students can actually participate in and maybe include prizes."
It was great hearing Naomi's feedback and we incorporated her thoughts into AltaSea: Project Blue. We have designed our campaign with college and career pathways in mind. Beyond cash and gift cards, we are offering letters and certificates to be included in college application packets, the chance to be published on a digital magazine, and college scholarship funds.
Not surprisingly, Naomi has been influenced by many people along the way and appreciates powerful, empowering women as her role models. Her greatest role model is her mom, Rebecca Kandel-Scott, a photography teacher and RHP Art department chair. Hilary Clinton comes in a close second. AltaSea hopes Project Blue can help become a resource for Naomi and other young people looking for ways to add their voices to the future of the Blue Economy.
Naomi's advice for others who would like to follow a similar path as hers is simple. She advised, "Network with friends, teachers and organizations and begin by making sustainability improvements within your own family." She added that it is key to "Keep learning and attend conferences, even if you are a kid; and make subtle, yet persistent suggestions when educating others on sustainability." Probably the most valuable pieces of advice Naomi offered was, "Step out of your comfort zone and you will accomplish great things and use peer pressure for good."
https://altaseamedia.s3.us-west-1.amazonaws.com/wp-content/uploads/2019/10/31134222/Capture-1-e1570656381809.png
475
475
Natasha Berendzen
https://altasea.org/wp-content/uploads/2020/12/AltaSea_Logo.png
Natasha Berendzen
2020-02-21 11:58:00
2020-02-21 11:58:00
AltaSea: Beacon – Special Edition – February 21, 2020