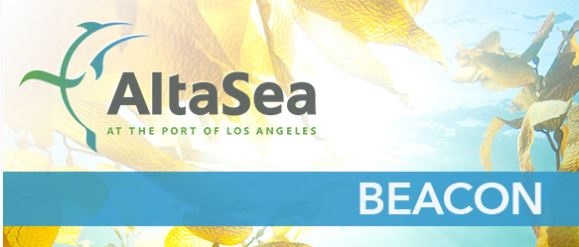 As featured in VoyageLA…
Meet Jenny Krusoe of AltaSea at the Port of Los Angeles
Today we'd like to introduce you to Jenny Krusoe.
Jenny, let's start with your story. We'd love to hear how you got started and how the journey has been so far.
I am the executive director of AltaSea at the Port of Los Angeles, a non-profit with a mission to develop the most innovative ocean research campus in the world. AltaSea's vision is to turn to the ocean to solve some of humankind's most pressing challenges, all while creating a great economic opportunity for Los Angeles, especially for some of the underserved neighborhoods surrounding the port.
There is much agreement in the scientific community that if the 20th Century was the century of space exploration, then the 21st Century will be all about exploring the ocean. More than 90% of the ocean has yet to be explored and making LA a center for ocean exploration and research creates a massive opportunity in a rapidly growing economic sector, which has been coined the Blue Economy.
This idea for AltaSea was first started by Dr. Geraldine Knatz when she was the executive director of the Port of Los Angeles. AltaSea is located at City Dock 1, a 35-acre piece of historic waterfront property that had become obsolete to the modern shipping industry. Dr. Knatz's original idea, which spawned AltaSea, was to move the Southern California Marine Institute (SCMI) to City Dock 1.
SCMI is an ocean research consortium of 23 universities and colleges, including UCLA and USC. Currently, SCMI is located in a small 5700 square foot building on Terminal Island, but AltaSea will be its new home. Moving to Berth 57, a 60,000 square foot warehouse on the AltaSea campus, will obviously greatly expand SCMI's capabilities.
The idea for creating AltaSea grew exponentially after Dr. Knatz presented it to the late Leonard Aube, the former executive director of the Annenberg Foundation. Len was a great visionary and he expanded the original idea to dream up a full-scale waterfront campus for innovation where private businesses, academic researchers, and educators would all intersect together to create a space where breakthrough ideas could be shared between researchers and businesses and where future generations could be inspired to study science and the ocean.
I was a consultant for Annenberg and Len was my mentor, so when he asked me to join the staff of AltaSea, I couldn't say no. It was the best decision I ever made. I was so in love with the project and the community of San Pedro that I, and my husband, Jim, sold our home in South Pasadena and bought a new house in San Pedro that overlooks the ocean with views to Catalina. However, that beautiful view serves as a daily reminder of all the work we have in front of us!
Great, so let's dig a little deeper into the story – has it been an easy path overall and if not, what were the challenges you've had to overcome?
AltaSea is a bold and audacious idea. We are very serious about our mission to create the world's greatest and most innovative campus for ocean research, business, and education and we really do believe that the ocean is our best hope to solve some of the planet's biggest challenges, such as climate change, energy supply, and global food security.
However, with big ideas come big challenges. It can often be difficult for some people to buy into ideas that are incredibly ambitious. One of our biggest challenges has been to get some folks to believe in the boldness of our dream. I would bet that in the early 1950s there were many folks who couldn't fathom that one day we would honestly be able to put a man on the moon and that our ensuing space exploration program would lead to massive economic industries such as aerospace, the internet, and cellular communications.
In the ocean, we see similar opportunities with energy and food supply, pharmaceuticals, and various other industries. The ocean has massive potential and is our final frontier.
Fortunately, we have attracted numerous great visionaries and leaders that have boldness woven into their DNA. They not only believe in our goals but are actively working toward achieving them. Our lead education partner is Dr. Robert Ballard, the man who discovered the Titanic.
Our blue tech cluster includes Boeing's unmanned underwater research vehicles, which have the capacity to go under the polar icecaps and discover solutions for climate change. Our aquaculture cluster includes Catalina Sea Ranch, the only company on the Pacific Coast that has ocean farming permits in U.S. federal waters. Mayor Garcetti has been a vocal and steady supporter.
Our amazing campus design was created by Gensler, the world's biggest, and we believe the best, architecture design firm. This list goes on and one of the world's best and brightest, who see the incredible opportunity that we have at AltaSea. Obviously, an idea as big and bold as AltaSea will require a fairly large amount of funds to accomplish.
It's really gratifying to be able to say that some of LA's most prominent philanthropic names, such as Annenberg, Crail-Johnson, Disney, Gilbert, Norris, La Kretz, Parsons, and Weingart, just to name a few, have all generously supported AltaSea. They all see how important this project can be for Los Angeles and have been great champions of our mission.
AltaSea at the Port of Los Angeles – what should we know? What do you guys do best? What sets you apart from the competition?
AltaSea provides business, academia, and educators a space where they can interact to come up with ideas on how we can turn to the ocean to provide solutions to some of mankind's most pressing challenges. We are fortunate to have a 35-acre waterfront site in the heart of the Port of Los Angeles. Our campus has over 4,000 feet of linear dock space where research vessels and submarines can dock in a safe harbor with the open ocean mere minutes away.
There is no other place in the world that has the potential to match the campus that AltaSea is building. In addition, we are so fortunate that this great waterfront space is located in Los Angeles. Los Angeles is easily one of the most innovative and creative places in the world. We have a long history of being a magnet for some of the planet's best and brightest creative minds to come live, work and play.
We are a city of ideas and have some of the most prominent universities in the world within our borders. This matched with a port complex that is by far the biggest and most powerful place for global imports in the nation, and we have a unique opportunity that is unparalleled anywhere in our country and even the world. This past year, a small group of some of our region's most influential leaders gathered at Gensler's global headquarters in downtown LA to hear Mayor Garcetti give a talk about the importance of AltaSea.
In his remarks, the mayor mentioned that no place in the world is yet considered the center for the emerging Blue Economy. He mentioned that when you think of the auto industry, it's Detroit– finance, New York — entertainment, Hollywood — and technology, Silicon Valley. He went on to say that planting the flag as the global capital of the Blue Economy presents a major opportunity for Los Angeles.
At AltaSea, we are so proud to be creating a place that can continue to make Los Angeles one of the greatest and most powerful cities in the world — and are even more proud that solutions, which our planet so desperately needs, in order to survive, are being dreamed up and then created on our campus.
Who else deserves credit – have you had mentors, supporters, cheerleaders, advocates, clients or teammates that have played a big role in your success or the success of the business? If so – who are they and what role did they plan / how did they help.
AltaSea would not exist if not for the vision and creativity of Dr. Geraldine Knatz and Leonard Aube. They looked at a place that was considered an obsolete, even blighted, piece of property at the port, and saw something far more grand than anyone else could have imagined. We would not be having this conversation if it were not for their brilliance in seeing the possibility at City Dock 1.
The first major institution to get behind AltaSea was the Port of Los Angeles. The Harbor Commission and the port staff have really embraced our vision and understood the value of turning City Dock 1 into one of the leading places for science and education on the West Coast. After Geraldine left the port, her replacement as the port's executive director, Gene Seroka, has been nothing short of wonderful in supporting the project.
In addition to the port, I would be remiss if I didn't mention Los Angeles City Councilman Joe Buscaino and Mayor Eric Garcetti. Joe has been unflagging in promoting AltaSea throughout the city whenever he has had the opportunity. Mayor Garcetti has made it a point to several high donors that AltaSea is a great priority for him. There is no one better at articulating the vision of what AltaSea can do for our planet and for establishing Los Angeles as the center of the Blue Economy than Mayor Garcetti.
After I was named executive director and began the important work of turning this bold vision into a reality, I quickly realized that it was going to take a gargantuan effort to make that happen. Altasea is truly a team effort and is far too big and important for one person to handle alone. Although there are many, many people that I can list as having played a key role in getting AltaSea on track to accomplish all of our goals, there are two people in particular that have contributed greatly to this effort — our CEO, Tim McOsker and Chief Scientific Officer, Dr. Sandra Whitehouse.
Although Tim is a lawyer by trade and provided key legal counsel to AltaSea, his scope of talents goes far beyond the legal profession. He is the chairman of the board of the San Pedro Chamber of Commerce, was heavily involved in development efforts for his alma mater, Notre Dame, and was the chief of staff for Jim Hahn when he was our city's mayor.
I realized that for AltaSea to achieve all its goals I would need a partner that had the skills and deep relationships throughout our region to make that happen and so I started to heavily recruit Tim to our team. Tim was born and raised in San Pedro and still lives here. I suspect that his deep loyalty to the community and passion for helping those underserved neighborhoods that most closely surround the port is what won the day when being recruited.
Tim's role in helping to bring some of the region's most powerful folks to AltaSea and his ability to get us properly organized as we embark on major construction to build out the campus has proven to be invaluable. Complimenting Tim's passion for economically developing the Harbor area communities is Sandra's deep knowledge and passion for science and the ocean.
She has used for over twenty provided ocean policy advice to multiple organizations and has served on numerous boards, including Save the Bay, the Metcalf Institute for Marine and Environmental Reporting and presently sits on The Advisory Board for the Graduate School Of Oceanography at the University of Rhode Island, and The National Center for Science Education.
I can't think of better teammates than Tim and Sandra to be working within executing the powerful vision that we all have for AltaSea. Los Angeles is truly fortunate to have them guiding our path to becoming a global capital in the emerging blue economy industry.
Contact Info:
Email:jkrusoe@altasea.org
To view this article online: http://voyagela.com/interview/meet-altasea-port-los-angeles-san-pedro/
---
https://altaseamedia.s3.us-west-1.amazonaws.com/wp-content/uploads/2019/02/31134436/20160912_NautilusFlotilla116-e1556565428841.jpg
1912
1912
Natasha Berendzen
https://altaseamedia.s3.us-west-1.amazonaws.com/wp-content/uploads/2018/04/31134647/AltaSea_Logo.png
Natasha Berendzen
2019-02-21 08:00:11
2019-04-29 12:17:16
AltaSea: Beacon – Special Edition