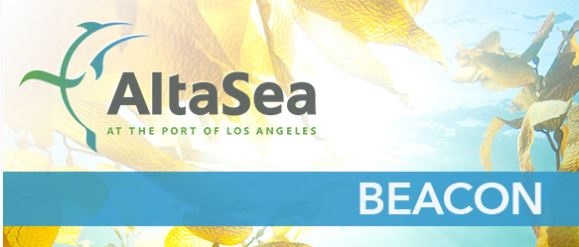 2019 AltaSea Achievements
Paramount to AltaSea's mission is student outreach, and 2019 saw our numbers grow. Currently, we engage over 4,500 K – 12 students across a diverse array of educational programming from one-day workshops to multi-week curricula. For example, a 12-week long workshop with Cabrillo Marine Aquarium covers how STEM is applied to the ocean farming industry and an overview on environmental sustainability, engineering, water quality, and food security. A similar program in blue technologies offers students hands-on experience designing and building their own remotely operated vehicles that are tested at the AltaSea wharf. AltaSea also hosted the Natural History Museum's 2019 Los Angeles Urban Ocean Expedition – a project that collected, sorted, and identified various marine species.
Other notable accomplishments include: partnering with the Los Angeles Economic Development Corporation (LAEDC) to produce the first report on the Blue Economy in Los Angeles County; collaborating with the University of Southern California (USC) on a National Science Foundation grant that would create an Aquafarm Demonstration Site here at the Port of LA; and receiving an award of $2.1 million from the California Natural Resources Agency for the Discovery Center at Berth 57.
Recent Contribution!
In November, Richard and Melanie Lundquist hosted an event where they made a $5 million gift to AltaSea to advance our mission.
The Lundquists' gift was made in memory of their friend Leonard Aube, the late Executive Director of the Annenberg Foundation and the driving force behind the creation of AltaSea. As Richard stated, "We lost Len way too soon. When he showed me the plans on paper for AltaSea, he made them jump off the page. He had an inexplicable passion for what AltaSea could be for our young people, for entrepreneurs interested in the blue economy, and, most importantly, for helping find solutions to combat climate change."
AltaSea Partner Achievements
AltaSea's partners also have had an outstanding year. A few notable accomplishments include:
AltaSea is extremely proud of ALL our partners!
Join Us Today!
As 2019 comes to a close, please consider supporting AltaSea. Truly, every donation helps, whether it is contributing to our "Doors to the Future" or "Stairs to the Future" campaigns or donating to our annual UrgentSea campaign. The "Doors to the Future" campaign has already seen 7 doors named by various donors, contributing over $1 million to AltaSea, and with another 8 doors to be claimed. Similarly, our "Stairs to the Future" campaign had a very successful first year with 14 stairs named. For each door or stair, donors' names will be apparent and their commitment and generosity to AltaSea will be appreciated for generations to come. Our UrgentSea campaign also saw record growth this past year as more and more individuals gave to AltaSea and our underlying mission.
Again, every donation helps. Please consider naming a door or a stair, becoming a member of AltaSea at the Port of Los Angeles, or making a gift in any amount. Now is the time to support this transformative project.
There are many ways to support AltaSea. Please join us today!
https://altasea.org/wp-content/uploads/2020/12/AltaSea_Logo.png
0
0
Natasha Berendzen
https://altasea.org/wp-content/uploads/2020/12/AltaSea_Logo.png
Natasha Berendzen
2019-12-09 11:24:29
2019-12-13 11:13:47
AltaSea: Beacon – Special Edition – December 9, 2019