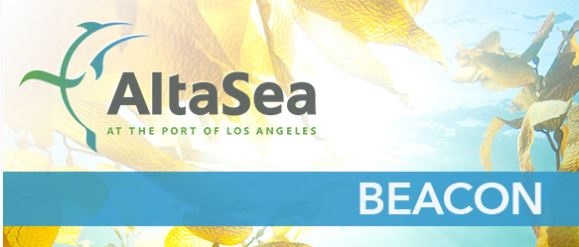 Message from CEO Tim McOsker
Together we are in the midst of an incredible global and local tragedy. We feel for every person who is stricken, for every family that suffers physical, emotional, and financial loss due to COVID-19. And we especially appreciate our frontline heroes of this crisis – the nurses, doctors, social service providers, public safety officers, service employees, and others who bravely show up for work and do their jobs while the rest of us quarantine.
As a nonprofit public benefit corporation, leasing 35 acres of wharf, water, and land from the Port of Los Angeles, with a mission to develop a campus of education, business, science, and community engagement for ocean discovery and sustainability – AltaSea is about the future. Once we saw the magnitude of the crisis, we implemented a plan – not just a plan to survive, but to thrive even under these circumstances. The future of our community, the region, and the earth need AltaSea now more than ever.
First, we checked in with our tenants, supporters, and partners to make sure they were okay and that they knew we were expanding our programs and support to our partners. We advised our landlord, the Port, of our plans. We began the process of converting our community outreach and education to virtual platforms. We created online tours and presentations of our project for the many universities, institutes, and business prospects that reach out to us on a regular basis. We restructured our teams in business development, educational outreach, project management, and government and community affairs to adapt to remote, online workloads. With all these, interestingly, good things began to happen.
We can be fairly sure that the effects of COVID-19 will be with us for a long time but are absolutely sure it will not be forever. As we manage the present, we must also prepare for our future. We will get back to "normal" as soon as it is safe to do so. And, when the new normal is upon us, we will need exciting projects and good jobs in a sustainable economy.
Why do I say all of this? Because AltaSea at the Port of Los Angeles can and must be a force for recovery in this region. What's more – while we are building a Blue Economy of ocean-related jobs, we are also engaged in discovery and innovation to address the next set of existential questions facing the world: climate change, food security, and renewable energy. Answers to these challenges can all be found in the ocean. And that very reason is why philanthropists Melanie and Richard Lundquist pledged $5 million to AltaSea, which was highlighted in February's Chronicle of Philanthropy.
Rest assured, AltaSea is active, adapting, and preparing for what's next. While it is true that the most important thing at the moment is social distancing, flattening the curve, and responding to the medical needs of the community, you have our commitment that AltaSea at the Port of Los Angeles is preparing for our shared future.
Thank you,
Tim
Timothy B. McOsker is CEO of AltaSea at the Port of Los Angeles and the former Chief of Staff to Mayor James Hahn
Project Blue Expands!
In February, AltaSea launched Project Blue, a digital port for content and educational resources for the emerging Blue Economy. The Project Blue campaign aims to give students a voice in supporting Los Angeles as the center of the Blue Economy, an initiative to protect the ecosystem of the ocean and turn to it as a resource for solving challenges such as climate change, energy supply, and food security. As the world has changed with the Covid-19 crisis, we wish to give students the opportunity to provide leadership at a time when leadership is needed the most.
This latest expansion of Project Blue will allow for constant and continued interaction with AltaSea.
Project Blue @Home
A virtual education platform designed to provide students who are currently sheltering at home with science-based programming including live video chats, video question-and-answer sessions, and pre-packaged lessons. Videos will be hosted and taught by AltaSea personnel and leading marine science and exploration experts with ties to the ocean-based campus, including:
Dr. Robert Ballard, the founder of Ocean Exploration Trust (OET) who discovered the wreck of the Titanic in 1985. Dr. Ballard's E/V Nautilus docks at AltaSea, and OET currently operates a program called "Nautilus Live," where the vessel broadcasts deep-sea live streams from various points of interest around the world; Rusty Jehangir, founder and CEO of Blue Robotics, which has developed the first professional-quality underwater Remotely Operated Vehicle (ROV) at a price point that's accessible to all users, not just giant oil and gas companies; Diane Kim, co-founder and CEO of Holdfast Aquaculture, which produces top-quality seed for bivalves, including mussels, clams, oysters, and seaweeds, which act as nature's own filtration systems, keeping our oceans clean and providing a healthy, local and scalable source of food.
Join us on April 17th to hear from Dr. Ballard. Be sure to follow us on Facebook or Twitter for more details and updates on upcoming live chats and video Q&As.
Project Blue @Weekends
A weekly creative contest with changing themes that request students use various types of media (audio, visual, written word) to convey the importance of the oceans. $25 and $50 Amazon or Target gift cards are awarded to 7 winners each week! In fact, AltaSea is proud to announce the latest winners for the theme: How the Ocean Can Save the World. Congratulations to: Hannah M.; Princesa J.; Yumie L.; Rami E.; Maya H.; Brendan L.; and our overall champion… Anggie (pictured below)!
Congratulations to Anggie and all the other entries for their beautiful creations! You can view our Project Blue website to see all the submissions.
Project Blue presents
https://altaseamedia.s3.us-west-1.amazonaws.com/wp-content/uploads/2019/10/31134222/Capture-1-e1570656381809.png
475
475
Natasha Berendzen
https://altasea.org/wp-content/uploads/2020/12/AltaSea_Logo.png
Natasha Berendzen
2020-04-08 08:00:20
2020-04-10 14:23:33
AltaSea: Beacon – Special Edition – April 8, 2020