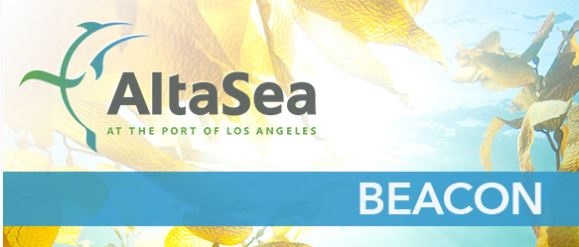 AltaSea Beacon provides updates on AltaSea's education and community programs, along with other priority initiatives.
The New Frontier: Turning San Pedro Into a Major Player in the 'Blue Economy'
The October 2017 issue of San Pedro Today features AltaSea and three of our innovative, pioneer partners in the blue economy sector; Phil Cruver, CEO and President of Catalina Sea Ranch; Dr. Bob Ballard, President and Founder, Ocean Exploration Trust; and Rustom Jehangir, Founder and Engineer at Blue Robotics Inc.
"We are redeveloping City Dock 1 into a cutting edge 21st century ocean institute, bringing together the best, the brightest, and the boldest minds working in the 'blue economy' sector," explains Jenny Krusoe, AltaSea Executive Director. AltaSea is one big "think tank" for oceanic research, commerce, agriculture, and education.
News from AltaSea partner, Ocean Exploration Trust
On August 7th and 8th, Ocean Exploration Trust was the featured presenter for the LAUSD's Back-To-School Institute. This workshop helped Los Angeles educators bring cutting-edge technology, STEM careers, and deep ocean exploration resources to their classrooms. Eighty educators attended the workshop getting to meet members of the Nautilus Corps of Exploration and learn how to get more involved in at-sea and on-shore educational programs within OET's Community STEM Program. All attendees received free personal access to the Ocean Exploration Trust's STEM Learning Modules — standards-aligned educational resources matching the excitement of live ocean exploration with STEM lessons and activities for the classroom and out-of-school programs. Teachers also experienced mixing modern, real-world STEM applications into their teaching practice, learned about the need for ocean exploration, and had the chance to experience Los Angeles' local connection to technology, expanding the boundaries of scientific knowledge. As the school year begins, thanks to the Nautilus Exploration Program's immersive technology and telepresence capabilities, students in classrooms throughout Los Angeles and across the globe can join Exploration Vessel Nautilus and its remotely operated vehicles (ROVs) exploring the seafloor LIVE as the team goes where no human has before.
Rediscovering History: Submarine USS Bugara
Diving off Cape Flattery, Washington in Olympic Coast National Marine Sanctuary, E/V Nautilus conducted the first detailed archaeological survey of USS Bugara on August 25, 2017. See amazing video of the exploration here.
Be part of the solution: The ocean is our future.
AltaSea's second annual campaign begins soon. You may join at the Innovator, Explorer or Argonaut levels with each level offering additional benefits. Please go to altasea.org and become a member today!
AltaSea at the Port of Los Angeles accelerates scientific collaboration, facilitates job creation and inspires the next generation for a more sustainable ocean. Join AltaSea today and help us make a difference.
AltaSea, Boys & Girls Clubs Sign Long-Term Deal
AltaSea at the Port of Los Angeles and the Boys and Girls Clubs of Los Angeles Harbor have signed a long-term agreement to combine vision and resources of the two organizations to bring future-facing education and job training to the region's youth. To kick off the partnership, AltaSea produced a video celebrating the Boys & Girls Club of Los Angeles Harbor's achievements.
"Although we are two very different organizations, our missions are well aligned," said Jenny Krusoe, AltaSea's Executive Director. "We're both working to inspire and educate our region's next generations to create the ocean-oriented blue economy of Los Angeles' future."
"As the Boys and Girls Clubs of Los Angeles Harbor begins our 80th anniversary of serving the youth of the Harbor this fall, we're focused on building a vibrant future for young people in San Pedro, Wilmington and surrounding neighborhoods," said Executive Director Mike Lansing." This deep partnership with AltaSea leverages our respective resources to prepare our youth for great careers in blue technologies, sustainable aquaculture, robotics, underwater exploration, and related areas. It's vital that we invest now to build the future we want for our youth and our region."
Under the agreement, Boys and Girls Clubs will share administrative office space at AltaSea's offices at 222 W. 6th St. in San Pedro over the next four years.
22nd Annual Bids for Kids
Boys & Girls Clubs of the Los Angeles Harbor will be celebrating their 22nd Annual Bids for Kids event on Friday, October 13th.
For more information please contact Elizabeth Winston, Community Outreach/Events, elizabethw@bgclaharbor.org
AltaSea welcomes two new Board of Trustee members
AltaSea is thrilled to welcome Doane Liu and Yehudi Gaffen to our Board of Trustees. Both men join AltaSea as highly accomplished individuals.
Doane Liu, was appointed earlier in the year by Mayor Eric Garcetti to Executive Director, Los Angeles Department of Convention and Tourism Development. Prior to this appointment, Doane was the Deputy Executive Director and Chief of Staff at the Port of Los Angeles, where he helped to oversee the agency's daily operations and managed the Bureau of External Affairs.
Yehudi "Gaf" Gaffen is the Chief Executive Officer and Founder of Gafcon, a program, project and construction management firm. He has more than 35 years of construction and program management experience and works to fulfill his vision of assisting owners in delivering complex projects and supporting vibrant communities. Gafcon has been responsible for the success of hundreds of projects, including high profile developments.
Sustainable Seafood Expo
Join Cabrillo Marine Aquarium for their Sustainable Seafood Expo, an exciting one-day event that teaches people how to choose seafood that is good for the environment. This is an education and FUN FILLED event that includes seafood sampling, chef demonstrations, and interactive exhibits.
October 1, 2017 from 12:00pm – 5:00pm at Cabrillo Marine Aquarium.
AltaSea will have a booth at the event. Please come by and say hello!
https://altasea.org/wp-content/uploads/2020/12/AltaSea_Logo.png
0
0
Natasha Berendzen
https://altasea.org/wp-content/uploads/2020/12/AltaSea_Logo.png
Natasha Berendzen
2017-09-29 10:00:57
2019-04-15 12:52:31
AltaSea: Beacon – September 29, 2017