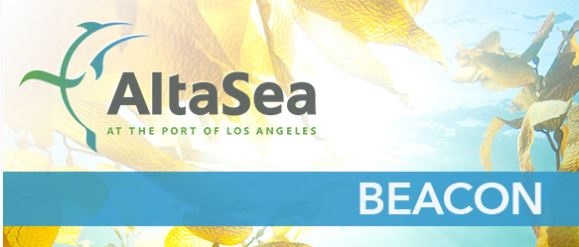 June UrgentSEA Membership Drive
AltaSea is building a better future for the San Pedro community, the city of Los Angeles and for the planet by bringing together the best and brightest in exploration, science, business and education. Be part of the solution! Join or renew your AltaSea membership during our June membership drive.

Sail on a tall ship!
In July, we will give one randomly selected current member four tickets on a tall ship voyage with Los Angeles Maritime Institute. The Celebrate Non-Profits Sail takes place August 17 from 5:00pm – 7:30pm.
Community sails are open to the public. Regular tickets are $60 for adults, $30 for children. For more information on this sail and other upcoming tall ship trips, click here.
Braid Theory CEO Appointed Chief Innovation Officer
On May 2nd, at the annual State of the District Luncheon, Councilman Joe Buscaino announced the appointment of AltaSea partner and Braid Theory co-founder and CEO, Ann Carpenter, to the newly created role of Chief Innovation Officer for his administration. During his speech, which celebrated the numerous high profile public and private development projects coming to the San Pedro area, Buscaino described how Braid Theory's CEO would make the perfect "private sector ambassador" to help raise awareness about all the Harbor area has to offer the tech community.
Bluetech Innovation Hub
With AltaSea and the largest port complex in North America as catalysts, Braid Theory will help build out the region's Bluetech Innovation Hub, bringing new businesses, new industries and new technologies to the LA Waterfront.
Click here for more information on Braid Theory!
2018-2019: An Educational Year!
As the school year comes to a close, we would like to take a moment and thank those organizations who made our educational programming possible. The generosity of individuals and grant making foundations such as Andeavor Foundation, American Honda Foundation, Wells Fargo Foundation, Dwight Stuart Youth Fund, Beneficial State Bank Foundation and the Port of Los Angeles Community Investment Grant Program enabled AltaSea to provide a wide variety of Blue Technology (Blue Tech) programs. Many students benefiting from our workshops live in the harbor community and attend Los Angeles Unified School District (LAUSD) and Long Beach Unified School District (LBUSD) and are members of the Boys and Girls Clubs of LA Harbor.
Andeavor Foundation funded professional development for 200 LAUSD and LBUSD educators. AltaSea's main education partner in ocean exploration and tenant, Dr. Ballard's Ocean Exploration Trust, has an excellent professional development platform for middle and high school teachers. Together, we have launched a training program incorporating best practices in teaching deep-sea exploration and how to effectively encompass the STEM Modules into their instruction. This program connects classrooms to the hands-on, real time scientific ocean research in ocean mapping, carbon based ecosystems, the importance of coral reefs, principles of underwater robotics and ocean floor geology.
Funds from the American Honda Foundation and from the Wells Fargo Foundation provided two 12 week long series of interactive workshops to the Boys and Girls Clubs of LA Harbor. Educators from the Cabrillo Marine Aquarium explored sustainable aquafarming by introducing bioengineering, genomics, cryogenics, water-quality and the importance of food security to our planet.
The members were also immersed in the high-tech field of underwater robotics – from an overview of underwater robotic engineering to the exploration of underwater and surface unmanned vehicles. Students had hands-on experience designing and building their own Remotely Operated Vehicles (ROVs).
Thanks to the generosity of The Port of Los Angeles Community Investment Grant, the children participating in these workshops completed the series with a field trip to AltaSea. They toured Catalina Sea Ranch, a sustainable aquaculture company and the Boys and Girls Club members had a chance to test their own submersibles they built in class and piloted these ROVs off the AltaSea wharf.
The Dwight Stuart Youth Fund and the American Honda Foundation made it possible for 200 students from LAUSD and LBUSD to sail onboard Los Angeles Maritime Institute tall ships built specifically for youth education at sea. The students became a part of a working sailboat crew learning the importance of teamwork, nautical navigation and the physics of sailing. An added extra bonus was Dr. Marcus Eriksen, Co-Founder 5 Gyres, sailing with the students and introducing them to the local ecosystem offering a close-up look at marine life and discussing various elements of ocean plastic pollution. The students captured and viewed water samples through microscopes delivering an experience that demonstrated how STEM is applied to the ocean plastic initiative and to sailing and navigation.
The Beneficial State Bank Foundation and the Port of Los Angeles Community Investment Grant sponsored our special events; namely, our quarterly Open Houses. AltaSea embraces the community by inviting the public to our campus to learn from leaders in the environmental sustainability world. Our network of speakers is vast including Dr. Robert Ballard of Ocean Exploration Trust, partners and tenants including Helena Group, Blue Robotics, Braid Theory, Catalina Sea Ranch, Dr. Marcus Eriksen and professors belonging to the Southern California Marine Institute. All of our featured speakers highlight public awareness and support for ocean conservation and sustainability. Thanks to the dedication of our benefactors, our Open Houses are free and open to the public.
AltaSea's goal is to utilize its growing cross-sector partnerships to train a workforce for sustainable careers in Blue Tech and Sustainable Aquaculture that can support the innovation of the Port of Los Angeles for many years to come. Our programs can expand based on what is most relevant in the ocean environment and to the world's most crucial challenges. AltaSea's programs are evolving and flexible, yet firm on the promise to continually deliver relevant and inspiring education programs that will enable today's youth to be successful and make a positive impact on our planet. Through the generosity of the mentioned foundations, we successfully close out school year 2018-2019 and look forward to next fall.
https://altaseamedia.s3.us-west-1.amazonaws.com/wp-content/uploads/2019/05/31134351/IMG_0033-e1559170662158.jpg
478
478
Natasha Berendzen
https://altaseamedia.s3.us-west-1.amazonaws.com/wp-content/uploads/2018/04/31134647/AltaSea_Logo.png
Natasha Berendzen
2019-05-31 08:00:36
2019-05-29 16:14:41
AltaSea: Beacon – May 31, 2019