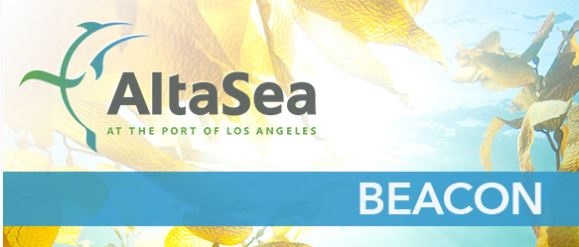 Unveiling the Vision – La Kretz Blue Economy Incubator
On December 11th, AltaSea literally pulled back the curtains at our facilities in the Port of Los Angeles, revealing our next major step forward as we launched construction of the La Kretz Blue Economy Incubator.
As Mayor Eric Garcetti said that day, "What we're doing here is incredibly hopeful because … the challenges we face are the ones we can resolve here at AltaSea, (as we) build a world-class facility that's dedicated to research, to education, to sustainable business incubation right here."
Behind our doors at AltaSea are people researching solutions to some of our planet's most pressing problems, creating sustainable businesses based on those findings, and educating the youth to work at those companies and continue that research.
As Los Angeles Councilmember Joe Buscaino said, "Today's ground-breaking is about our planet and about our future. What will happen here will affect our planet for generations to come."
The incubator is funded by entrepreneur and philanthropist Morton La Kretz, whose previous project support includes the La Kretz Innovation Campus in downtown Los Angeles. The Los Angeles Cleantech Incubator is also a partner in running the Blue Economy Incubator.
"I strongly share AltaSea's vision to create the infrastructure of science, education and business incubation that will help the Los Angeles region thrive in a fast-changing future," said La Kretz. "The La Kretz Blue Economy Incubator will find and support entrepreneurs developing aquaculture, undersea mapping and other businesses vital to understanding the largely unexplored frontier at our doorstep."
The La Kretz Blue Economy Incubator will be part of the future-forward ocean innovation campus that AltaSea is creating on 35 acres in one of the port's oldest sections on City Dock No. 1.
We're building the future of the blue economy, and the future of our city, here in the Port of Los Angeles. In 2017, AltaSea created momentum through many important achievements and milestones.
12 Doors to the Future
December 12th marked the day 12 exterior doors at AltaSea's Warehouse 58 became available for naming opportunities. These beautifully designed Gensler storefront doors are the Doors to the Future housing Dr. Bob Ballard's Ocean Exploration Center, the La Kretz Blue Economy Incubator, the Sustainable Aquaculture cluster and the Blue Economy cluster.
For further information and door pricing details, please inquire with Robin Aube raube@altasea.org.
AltaSea Adds Five Board Members
AltaSea has named five new board members to its Board of Trustees, including some of the region's leading banking, construction and development executives and the head of the Los Angeles city tourism agency.
"They share AltaSea's vision for the future of the Port of Los Angeles and its neighboring communities. Just as importantly, they bring a range of vital skills and relationships that will be crucial in helping us achieve that vision. We're fortunate to have them," said Camilla Townsend, AltaSea board chair.
AltaSea's new members are (L-R):
Doane Liu, Executive Director, Los Angeles Department of Convention and Tourism Development;
Yehudi "Gaf" Gaffen, Chief Executive Officer, Gafcon Inc.;
Monique Johnson, Senior VP and Director of Client and Treasury Management, Beneficial State Bank;
Eric Johnson, Principal of the Victory Group of Companies;
Alex Rose, Senior VP of Development, Continental Development Corporation.
UrgentSEA 2017-2018
Please consider backing AltaSea as we continue to renovate existing warehouses and other facilities into a center of innovation transforming our future.
We need an ocean that can sustain future generations. With your support, we can make it happen. Join our campaign for a better Los Angeles and a better world.
Please join today!

https://altasea.org/wp-content/uploads/2020/12/AltaSea_Logo.png
0
0
Natasha Berendzen
https://altasea.org/wp-content/uploads/2020/12/AltaSea_Logo.png
Natasha Berendzen
2017-12-29 08:00:40
2019-04-15 12:45:58
AltaSea: Beacon – December 29, 2017