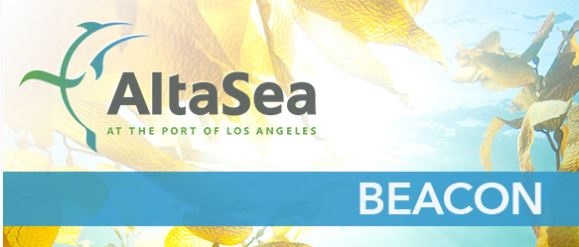 AltaSea: Beacon provides updates on AltaSea's activities, education and community programs and other priority initiatives.
Ocean Exploration Trust's West Coast Outreach Theatre
The Ocean Exploration Trust, led by Dr. Robert Ballard, is building a west coast outreach theatre at AltaSea as a complement facility to the University of Rhode Island's Inner Space Center (ISC). The ISC, a longtime partner of the Ocean Exploration Trust, is an international leader in connecting ocean science and exploration with global audiences via telepresence and education.
Located at the University of Rhode Island Graduate School of Oceanography, the ISC captures, displays, and disseminates high bandwidth streams of undersea video and data in real-time, expanding the capacity for ocean scientists to engage in mission operations. It uses cutting-edge technology, including telepresence, to support sea-going research and ships of exploration. Through their partnership with the Inner Space Center, the Ocean Exploration Trust and Dr. Ballard are able to bring the excitement of ocean discoveries to onshore audiences worldwide and inspire the next generation of ocean explorers.
The outreach theatre at AltaSea will enable students, educators, and the public to engage in participatory dialogue with explorers aboard the Ocean Exploration Trust's ship of exploration, E/V Nautilus, and to be there during moments of discovery as the team investigates unexplored regions of the deep sea.
The outreach theatre is coming to San Pedro but we still need seats! Please help us locate 100 folding chairs to be donated to AltaSea and Dr. Ballard's west coast outreach theatre. Contact Robin Aube for more information at raube@altasea.org.
Dr. Robert Ballard and the Battleship USS Iowa
In addition to the outreach theatre, we are excited to announce the new partnership between, the Ocean Exploration Trust, Dr. Ballard, and the Battleship Iowa. Pacific Battleship Iowa is currently looking to expand its educational programming by creating a new state-of-the-art, innovative Virtual Learning Center for students in 2017. Support from Dr. Ballard's Ocean Exploration Trust will go a long way towards providing accessible education materials in addition to content from many of Dr. Ballard's expeditions exploring sunken WWII ships and maritime history. Battleship IOWA President, Jonathan Williams, is looking forward to partnering with AltaSea and the Ocean Exploration Trust on this exhibit that will encourage locals and tourists alike to experience the Los Angeles waterfront.
Battleship IOWA is the West Coast's only Battleship open to the public. Operated by the nonprofit Pacific Battleship Center (PBC), the IOWA opened on July 7, 2012, as an interactive naval museum at the L.A. Waterfront. It is dedicated to "Celebrating the American Spirit" through the preservation and interpretation of the Battleship IOWA. By sharing the accomplishments and sacrifices of American patriots and engaging visitors in unique and exciting ways PBC brings the ship to life by connecting the past with the future.
Successful LA2050 Workshops
Over the course of 5 workshops in March, 142 students attended from Stephen White Middle School STEAM Magnet classes in Carson, LA Harbor Boys & Girls Club, Dodson Middle School STEM Robotics class, Toberman Neighborhood Center, Boy Scout Troop 783, and the San Pedro High School Global Environmental class. These clinics worked towards strengthening STEM education, developing career skills, inspiring entrepreneurialism and giving students opportunities to see firsthand careers in the blue economy sector.
The clinics included LA Waterfront STEM Network Workshops by Catalina Sea Ranch staff members, Marlin Spike (Nautical Knot Tying) presented by Los Angeles Maritime Institute volunteers and Plastic Ocean Pollution and Plankton presented by LAMI employee, Mark Friedman. And, there was a special surprise appearance by Dr. Robert Ballard who inspired and challenged the students from Stephen White Middle School to follow their dreams and pursue STEM driven careers.
UrgentSEA: Become an Innovator, Explorer or Argonaut – Donate Today for a Better Tomorrow
We are looking for new members to be part of a sea change and strengthen AltaSea's impact. From community education programs inspiring local students to underwater robotics helping us discover new resources; AltaSea makes ocean-related solutions possible.
We need your support to accelerate scientific collaboration, facilitate job creation and motivate the next generation for a more sustainable ocean. We bring innovators together from science, business and education to address critical challenges facing our planet: climate change, food security and clean energy.

Celebrate Cinco de Mayo on a Tall Ship
Next Honorary Mayor Event – Friday May 5th
Who's interested in a Sunset Sail Aboard a Tall Ship? Please sail with us and support Ann Carpenter for the San Pedro Chamber of Commerce Honorary Mayor position by celebrating Cinco de Mayo on a tall ship. A major portion of the funds raised will go to AltaSea and its education programs with our partners, Cabrillo Marine Aquarium and Los Angeles Maritime Institute.
Our Cinco de Mayo itinerary is:
5:30 pm – Dockside Reception: Unwind after a long week with friends and colleagues! Enjoy appetizers with a south-of-the-border flair and Ports O'Call Restaurant's famous margaritas.
6:30 pm – Sunset Cruise: The ship leaves promptly at 6:30 pm for a one-hour narrated cruise around the LA Harbor. Check out the sea life. Enjoy spectacular views of the San Pedro coastline and the Port. Learn about the future plans of AltaSea while motoring past the facility.
7:30 pm – Dockside Return: Savor the last moments of the setting sun, with plenty of time to head on to your next Cinco de Mayo celebration or home to a relaxing weekend.
Click here for tickets and more information.
Cabrillo Marine Aquarium Grand Grunion Gala
Saturday, April 22nd, 5:00-11:00pm
Our founding partner, the Cabrillo Marine Aquarium is mixing it up this year: NO TENT. NO TABLES. NO SIT-DOWN DINNER. Who needs a tent when you can transform the Frank Gehry-designed space into a hip beach resort with fire pits, cabanas and gourmet food stations? Mix and mingle with your friends while sipping exotic cocktails and shopping for one-of-a-kind auction items.
Tired of being forced to endure lengthy programs? CMA is keeping it short and rewarding participants with a chance to win a trip for two to Hawaii. Finally, dance the night away under the stars with live music by honoree Russ Lesser and his band, Thin Ice.
For more information, call 310-548-2031 or email gala@cmaqua.org.
Angels Gate Cultural Center Open Studios Day
Sunday, April 30th, 2017 12 to 4pm
Open Studios Day | Spring is an annual event at Angels Gate Cultural Center celebrating who they are and what they do. Over 50 Studio Artists will open their doors for you to see what they create in their studios. The Artist in Classroom and Community Class programs demonstrate the work happening onsite and in the community throughout the year. .
Please join us for art, food, music and fun: all ages will find something to celebrate!
Click here for more information.
AltaSea is grateful to Amy Eriksen, Executive Director of Angel's Gate, for her service on our Community Ambassador group.
https://altasea.org/wp-content/uploads/2020/12/AltaSea_Logo.png
0
0
Natasha Berendzen
https://altasea.org/wp-content/uploads/2020/12/AltaSea_Logo.png
Natasha Berendzen
2017-04-19 07:00:18
2019-04-15 12:57:22
AltaSea: Beacon – April 19, 2017