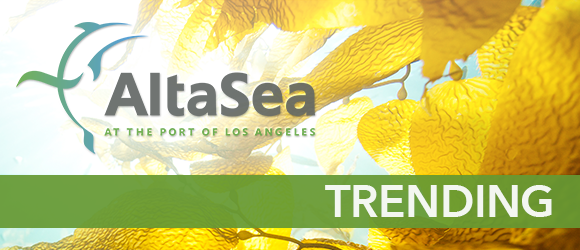 April 14, 2021 Edition
A monthly round-up of news and trends important to the AltaSea community.
UPCOMING VIRTUAL EVENTS 
Philanthropist Melanie Lundquist and Councilman Joe Buscaino on Tax Day! – Thursday, April 15, 2021 at 10:00 am
AltaSea's Earth Day Special: The Importance of Marine Protected Areas to our Planet – Thursday, April 22, 2021 at 12:00PM
Blue + Green 2021 webinar series
MARINE SCIENCE
How Industrial Fishing Creates More CO2 Emissions Than Air Travel (Time)
It's been well established by now that the agricultural systems producing our food contribute at least one fifth of global anthropogenic carbon emissions—and up to a third if waste and transportation are factored in. A troubling new report points to a previously overlooked source: an industrial fishing process practiced by dozens of countries around the world, including the United States, China, and the E.U.
The study, published today in the scientific journal Nature, is the first to calculate the carbon cost of bottom trawling, in which fishing fleets drag immense weighted nets along the ocean floor, scraping up fish, shellfish and crustaceans along with significant portions of their habitats.
Largest Glowing Shark Species Discovered Near New Zealand (The New York Times)
As they prowl the oceans, sharks aren't just hunting. Some of them are glowing. And now researchers have identified the largest glow-in-the-dark species with a spine — on land or sea — that has ever been found.
A study published last week in Frontiers in Marine Science established that kitefin sharks — a species that grows to almost six feet in length — emit blue-green light. The scientists who led the monthlong expedition in waters off the coast of New Zealand also expanded the scientific understanding of what makes several species of tiny, deep-swimming lantern sharks glow.
Gray's beaked whales 'resilient' to ecosystem changes (ScienceDaily)
An elusive whale species in the Southern Ocean could be resilient to near-future ecosystem changes, according to a new study by the universities of Exeter and Copenhagen.
Gray's beaked whales living in the deep oceans of the Southern Hemisphere are rarely seen alive and their ecology has remained a mystery to scientists until now.
The study used genome sequencing of 22 whales washed up on beaches in South Africa, Australia and New Zealand to investigate the history of the population over the past 1.1 million years.
SUSTAINABLE AND INNOVATIVE BUSINESS
What's Good for the Ocean May Also Be Good for Business (The New York Times)
Marty Odlin, who grew up and lives on the Maine coast, remembers what the ocean used to be like. But now, he said, "It's like a desert and just within my lifetime." In the last few years, he said, he has seen lots of sea grass and many other species virtually disappear from the shoreline.
Mr. Odlin, 39, comes from a fishing family and has a passion for the history of the ocean and the coast, both of which have informed his sense of the ocean's decline, a small part of the catastrophic deletion of marine life over the last several hundred years.
Using his training as an engineer, Mr. Odlin has decided to try to reverse that decline with his company, Running Tide, which is based in Portland. Using a combination of robotics, sensors and machine learning, he is building an aquaculture operation that is selling oysters now and eventually clams. He is also using that system to grow kelp, with the goal of producing enough of this seaweed to pull carbon dioxide from the atmosphere and permanently sequester it by burying it on the ocean floor, and sell carbon offsets.
Interest in kelp farming is on the rise in Alaska, but infrastructure still catching up (KNBA.org)
For years, Bret Bradford has lived the seasonal rhythm of a commercial fisherman. He spends summers gillnetting salmon out of Cordova, and in the winter, he looks for odd jobs around town.
When a friend asked if wanted to spend the winters growing kelp instead, he saw an opportunity for stable, year-round work.
"I thought, man, how hard could it be to grow kelp?" he said.
Bradford already has a boat and knowledge of the water. And the timing is perfect: kelp farmers plant seeds in the fall and harvest them in the spring, just before fishing season.
Deep-sea 'Roombas' will comb ocean floor for DDT waste barrels near Catalina (The Los Angeles Times)
When Californians learned in October that the waters off Santa Catalina Island once served as a dumping ground for thousands of barrels of DDT waste, the ocean science community jumped into action.
A crew was swiftly assembled, shipping lanes cleared, the gears set in motion for a deep-sea expedition aboard the Sally Ride, one of the most technologically advanced research vessels in the country.
EDUCATION
Meet the first Black woman chemical oceanographer paving the way for minorities in STEM (Face 2 Face Africa)
Being the only Black student in a chemical oceanography class during graduate school, Dr. Ashanti Johnson made it her life's goal to thrive in her chosen field of work and create a support system for other people, especially people of color.
A conversation with a female marine biology student when she was in fifth grade, coupled with watching the works of French naval officer, conservationist and scientist Jacques Cousteau, piqued her interest in oceans.
Ocean Activists Planning to "Flood" the Nation's Capital Next Week (Our Daily Planet)
Hundreds of citizens will fan out across the nation's capital next week to meet with lawmakers in what's projected to be the largest ocean lobby effort in US history. On Tuesday and Wednesday, they will meet with Biden administration officials, federal agencies, and members of Congress for a nonpartisan Ocean Climate Action Hill Day. The goal is to promote a number of priorities from the Ocean Climate Action Plan (OCAP), which has been developed by a broad national coalition over the past two years.
Women in aquaculture: Julie Kuchepatov (The Fish Site)
Julie Kuchepatov describes her dedication to environmental sustainability and social responsibility, what inspired her to establish SAGE and why driving tractors in Sakhalin can be a perilous occupation.
Environmental Kids' Books for 2021 (Publishers Weekly)
These varied, informative books for young readers provide introductions to the Earth's environment, its history, and its inhabitants, while offering guidance on how to live sustainably for a better and enduring future.
COMMUNITY
USC's Center for Sustainability Solutions Council Names AltaSea's CEO to Advisory Board (AltaSea)
Tim McOsker, CEO of AltaSea at the Port of Los Angeles, was tapped to join the regional advisory board of the Center for Sustainability Solutions Council at the University of Southern California (USC). The USC Center for Sustainability Solutions serves as a global partner to international agencies, national and local governments, corporations, and NGOs in developing solutions to the most pressing urban environmental challenges.
https://altasea.org/wp-content/uploads/2020/12/AltaSea_Logo.png
0
0
Natasha Berendzen
https://altasea.org/wp-content/uploads/2020/12/AltaSea_Logo.png
Natasha Berendzen
2021-04-14 08:00:19
2021-04-13 14:06:19
AltaSea: Trending – April 14, 2021